The 16bit clone console (with a cartridge slot) Sega could never make...
​
Thanks to ThorHammerstein whose Super Nt OT I pretty blatantly used as the template for this OT.
Mega Sg home page
Introducing the Mega Sg: To be this good takes Analogue
A re-imagining of the underdog that led a 16-bit revolution. Engineered with an FPGA. 1080p. Zero lag. Total accuracy. Mega Sg is not a plug n' play toy. Compatible with the 2,180+ Sega Genesis, Mega Drive and Master System game cartridge library. Explore and re-live one of the greatest video game systems of all time with no compromises.
High Definition Graphics: 1080p with Zero Lag
Just like Super Nt, Mega Sg uses the most advanced retro-gaming video upscaling on the planet. No other game system is like one from Analogue. Every pixel is razor sharp with accurate, stunning colors. Not to mention true lagless video output.
Reference Quality Control
Mega Sg is a reference quality video game system with reference quality control. Featuring aspect ratio preservation, multiple video resolutions, scanlines, scalers and more.
High Fidelity Sound
With the YM2612 at it's helm, Sega's 16-bit era is home to some of the most iconic music in video game history. Music this significant should be experienced in high fidelity. Mega Sg outputs the highest quality digital audio: 48KHz 16 bit stereo. It's like hearing Sega for the first time.
Unparalleled
Compatibility
Mega Sg uses an original-style cartridge slot and controller ports. Included in every box is a special made Sega Master System adapter. Mega Sg even has an edge connector for the Sega CD and Mega CD. This means it is compatible with the original Sega Genesis, Mega Drive and Master System game cartridges plus the original hardware and accessories. All the way from the Game Genie to the Sega CD.
Welcome to the next level: Sega CD in HD
Mega Sg plugs directly into your original Sega CD & Mega CD with its edge connector, hidden behind an expansion door. Just like the original. But now in stunning, lag free 1080p.
Analogue does it all: Mark lll, Game Gear, Sega MyCard, SG-1000, SG-3000 & Sega Master System
Sega's early console history is a rich and unique era to explore- which is why we designed Mega Sg to support it all. We will be releasing a series of game cartridge adapters for Mark III, Game Gear, Sega MyCard, SG-1000, & SC-3000 (Sega Master System adapter comes included with each Mega Sg). Each individual system totally implemented into Mega Sg via FPGA. Coming 2019 and sold separately.
We're preserving history with FPGA hardware
Mega Sg has the same unparalleled compatibility as Super Nt. The core functionality of each system is engineered directly into an Altera Cyclone V, a sophisticated FPGA. We spent thousands of hours engineering each system via FPGA for absolute accuracy. Unlike the knock off and emulation systems that riddle the market today, you'll be experiencing Sega's 16-bit and 8-bit era free of compromises. Mega Sg is designed to preserve video game history, with the respect it deserves.
Available in four styles
USA, EU (PAL), JPN, White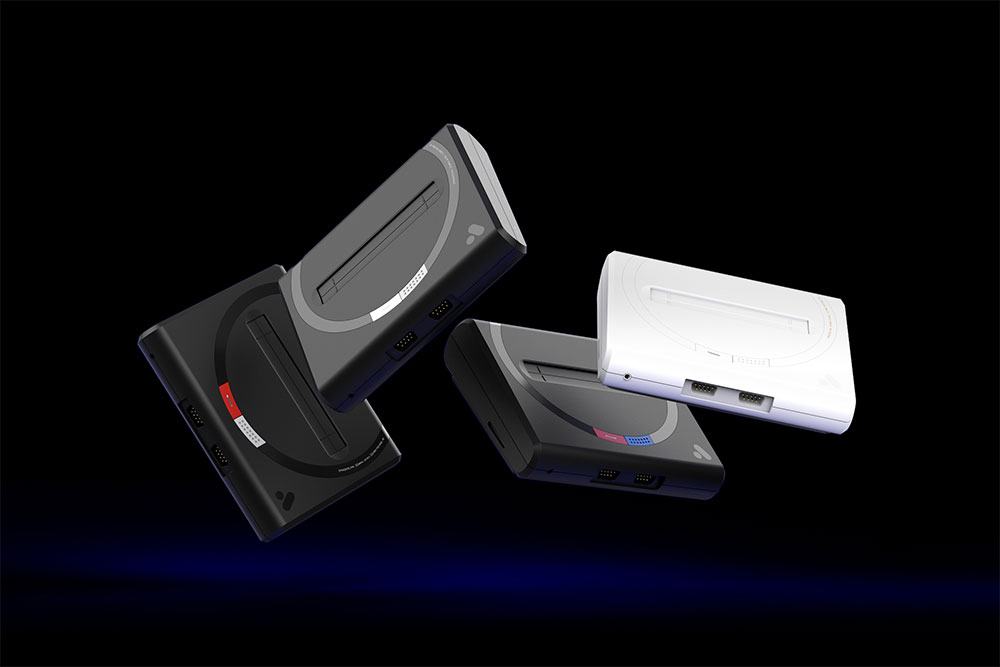 Play Sega ...wirelessly
You can finally play Sega wirelessly and lag-free with 8BitDo's high quality retro M30 controller. We partnered up with 8BitDo to offer matching controllers for Mega Sg, including a wireless 2.4g receiver at discounted price. In classic black and and in white.
Technical Specifications
​
Compatibility
Genesis cartridges, Mega Drive cartridges
Sega Master System cartridges [with included Analogue cartridge adapter]
Mark III, Game Gear, Sega MyCard, SG1000/1000II, SC-3000 [requires Analogue Cartridge Adapters]
Sega CD & Mega CD [requires original Sega CD & Mega CD]
Region Free
Worldwide Compatibility [PSU: 100-240v, 50-60hz]
Video
HDMI 1080p/720p/480p
NTSC & PAL Support
Lag free, zero signal degradation
Audio
48KHz 16 bit
Digital audio via HDMI
Headphone jack, 3.5mm
Special Features
Original-style Genesis/Mega Drive/Master System Controller Ports
Original-style edge connector for Sega CD and Mega CD
SD card firmware updating [via Mega Sg's SD card slot]
Other Features
Scanline options
Scaler options
Horizontal position adjust
Horizontal stretch
Vertical position stretch
& more
8BitDo M30 Gamepad w/ 2.4g wireless receiver:
20hr Battery Life
Auto sleep mode after 15min
Lag free
Includes 2.4g wireless receiver
Product Information​
Mega Sg Dimensions
138mm length
168mm wide
47mm high
What's in the box
Analogue Mega Sg
Analogue Sega Master System game cartridge adapter
Ultracore (original game title: Hardcore) (digital)
HDMI cable
USB cable
Worldwide USB Power Supply [100-240v, 50/60hz, USA/JPN plug-type]
​
Ultracore (AKA Hardcore): An unreleased Sega Genesis/Mega Drive game from DICE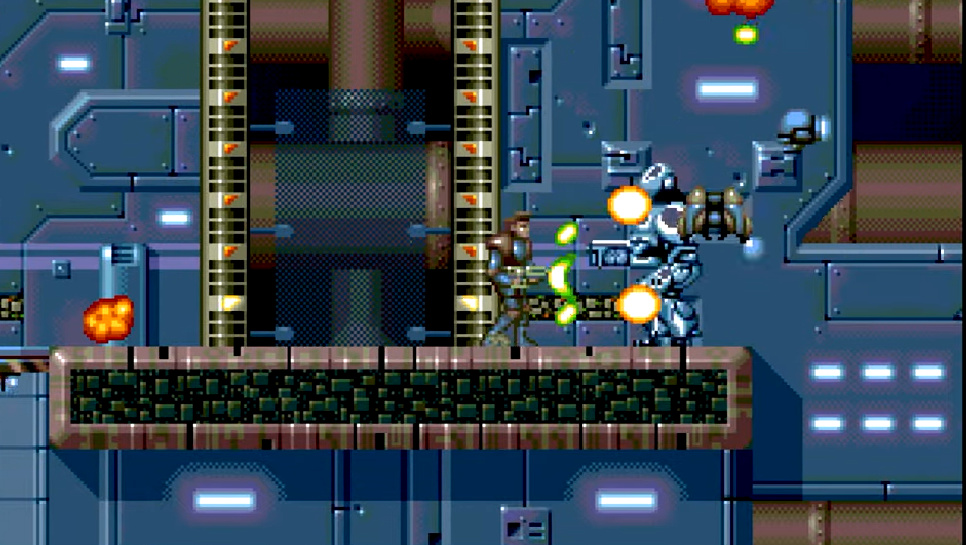 In 1994, Digital Illusions (DICE) cancelled a AAA, 99% complete Sega Genesis/Mega Drive game called Hardcore. For 23 years Hardcore has gone unreleased. It has become one of the most sought after unreleased video games. The only know source code of the game was stored on a single, dead hard drive that was barely recovered so we're is thrilled to announce that Hardcore is being released for the first time ever on the Mega Sg.
Hardcore is a fast paced, euro-style run'n'gun, space base thriller. We're dedicated to preserving this piece of video game history and Hardcore is included digitally on each Mega Sg system.* For legal reasons, Hardcore's name has been changed to "Ultracore". The game remains the same.
*Firmware update required to play game
​
​
IGN Review by Jeremy Parish
https://www.ign.com/articles/2019/03/25/analogue-mega-sg-review

Polygon Review by Chris Grant
https://www.polygon.com/2019/3/25/18278800/mega-sg-review-analogue-sega-genesis-mega-drive

My Life In Gaming
https://youtu.be/vq5eQhCN6Co

Digital Foundry
https://youtu.be/_ZCQ6kN9Ie0
GameSpot Review by Peter Brown
https://www.gamespot.com/articles/analogue-mega-sg-review-the-best-sega-genesis-cons/1100-6465807/

Nintendo Life Review by Damien McFerran
http://www.nintendolife.com/news/2019/03/hardware_review_analogue_mega_sg_forget_the_mega_drive_mini_this_is_the_real_deal

Gizmodo Review by Andrew Liszewski
https://gizmodo.com/the-mega-sg-is-the-only-sega-clone-you-should-buy-1833471663

VG24/7 Review by Alex Donaldson
https://www.vg247.com/2019/03/25/mega-sg-review-ultimate-sega-mega-drive/

Kotaku (not technically a) Review by Chris Kohler
https://kotaku.com/mega-sg-is-an-amazing-hdmi-sega-genesis-for-the-hardcor-1833582326
​
Firmware Updates
​
Just like the Nt systems that came before the Mega Sg offers firmware updating via the Mega Sg's SD
card
slot. kevtris will most likely be rolling out updates here and there over the next few months squashing bugs (and maybe adding features). I will update this section as needed.
Go to Analogue's main support page to download the firmware updates as they release.
Here's information on the latest update:
v4.4 notes:

- Sega CD - adjusted timing for several games, i.e. Micky Mania
- Overdrive 2 demo border cropping fix
- X-men 2 character select fixed
- Fixed player 2 XYZ (6 buttons) bug
- Allow no controller on player 2
- SMS fixes for X7 and flash everdrive
- You now stay in the file browser when selecting a font
- Changed "hotkeys" to "hotkeys & controllers"
8bitdo M30 2.4g Receiver Firmware Update​
The 8bitdo M30 2.4g Receiver requires an update in order to function properly. Go
here
for step by step instructions on this process. I believe this update is only for the 2.4g receiver and not the Bluetooth Retro Receiver.
UPDATE (Thanks
andshrew
)
There are people reporting to have received controllers with the 2.0 firmware already installed, so you may not have to immediately. There's also people saying new revisions come with one of the screws in the receiver replaced with a rubber cap, as apparently the screws may have been causing some interference in the connection.

You can tell what version of firmware you have by pressing L+R+START. The two LEDs on top will start flashing, plug it into your computer and the firmware version is shown in the name of the removable drive that appears.
SD card ROM loading​
The "jailbreak" firmware is
here
! SmokeMonster covers everything you need to know so I'll just re-post the changelog and some important information about saves below:
Changelog

JB7.42019-04-16

includes all fixes from official firmware v4.4, plus:

Sega CD BIOS substitution works properly now on games like Snatcher
Fixed speech on Coleco Wizard of Wor
Fixed random crashes in Wizard of Wor and majikazo
Fixed graphics issue on Juno First and Astrododge
Fixed sprites sticking around between games
Added warning: CD BIOS replacer only works if fix region is turned on
SMS BIOS now also works for cartridges
Game Gear buffer changed to zero delay by default

PDF user guide with documentation

Saves

NEVER insert or remove cartridges while your Mega Sg is powered on. Doing so may risk damaging the console and/or losing saves. It is good practice to backup saves before updating firmware.

When a game is exited to the menu, it will prompt you to save. Return to the file menu and save your progress before powering down.
SAMPLE VIDEO SETTINGS
​
The Mega Sg's guts are pretty similar to the Super Nt but there's definitely some differences to consider. I will update this section when I've had time to properly research this. In the meantime Digital Foundry's video seemed to have some good settings (maybe I'll just put those to text when I have a moment).
GAME GENIE (OR GAME GENIE-ESQUE) CHEAT CODES
​
The Mega Sg has cheat support built-in with no firmware updates required. Here is a free database of many, many cheats available. Cheat away~
Sega Genesis/Mega Drive Era OT
​
I've been told that Sega does what Nintendon't. Talk about the games you grew up loving or the ones you just discovered. Also, show off your collection or talk about the deals you got on some amazing Sega Genesis/Mega Drive thing.
Soooooooooooooooooooooooooooo lets try to keep the shipping issues relegated to the
Mega Sg shipping thread
. This OT should be focused on the console itself, accessories, system settings, games, etc.
A Quick Thank You
​
Shout outs to ThorHammerstein &
ShinJohnpv
for the OT template and for generally just being helpful (I will expand this section over time no doubt). Also, thank you
SmiteOfHand
for just generally being helpful in these Analogue threads.
Last edited: