note: these were writeups I made at airing time that I'm just now getting around to cleaning up into a coherent post so some theories have already been proven/disproven. better late than never, though. images in spoiler tags cause they're big
sarazanmai #02-03
- one of ikuhara's most recognizable directing trademarks is the contrast between his distinctly human characters and the cruel dystopian worlds that they reside in. penguindrum and yurikuma owed much of this contrast to art director chieko nakamura, who evokes argento and hitchcock with her unsettling, angled designs. however, both series also take a different approach to the home setting, grounding its characters with a setting that exudes familiarity and warmth unlike anywhere else in these worlds.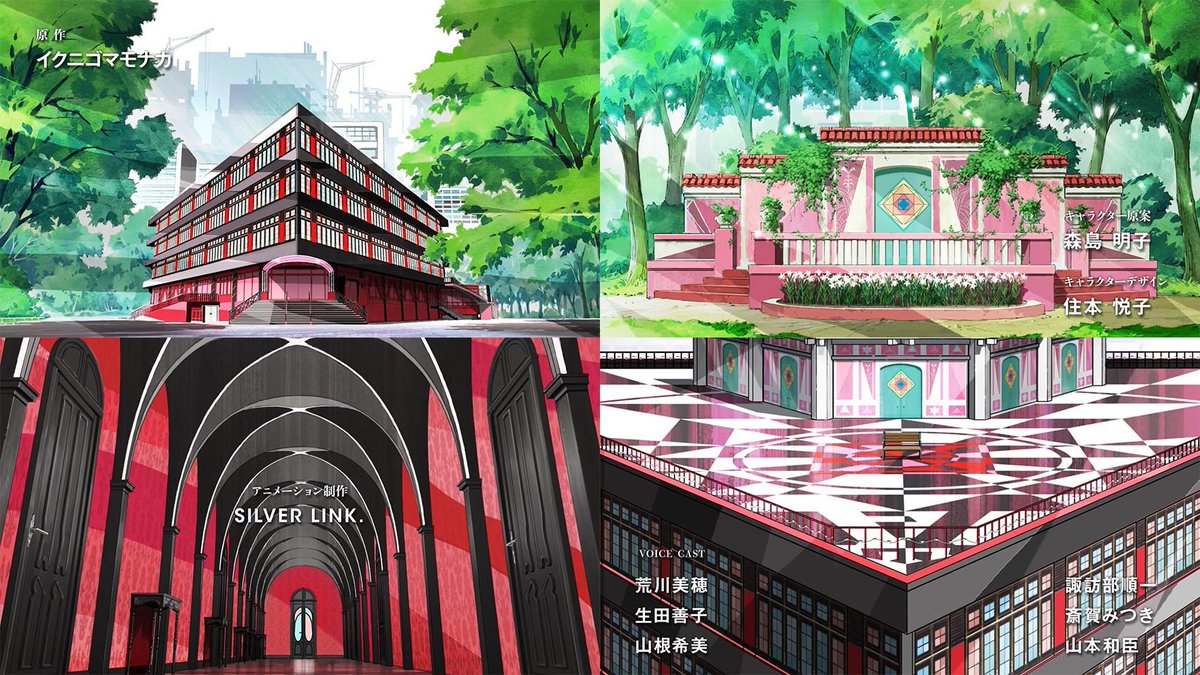 anyway, this is interesting because sarazanmai so far seems to be taking the complete opposite approach, depicting all of asakusa with the same warmth afforded to the takakura home. at least on a surface level, the households of sarazanmai are so far some of the most complete family units ikuhara has depicted - neither kazuki nor enta's households have the ominous sense of emptiness of kureha's deserted house or the incompleteness of the parentless takakura home. in fact, ikuhara seems to have made it a point to depict the parental units of both households as actual characters and not generic toilet icons, suggesting that these family units may form important connections later on.
the glaring exception here so far is toi, whose troubled past is already being heavily hinted. it's possible ikuhara's sense of the dystopian and horror influences will start to take shape in his story arc, in a contrast to the other two. I think it's also plausible that ikuhara has done a role reversal here, setting up the entire real world as the characters' "home base" where everything feels lived-in and warm so that the online world of social media and its temporary connections becomes the true dystopia, as in the exclusion ceremony of yurikuma. with the constant appearance of the A logo and smartphones, a look at how the internet has changed our notion of connection might be coming soon. this idea is also hinted in tao tajima's juxtaposition of animated characters and real-life backgrounds for the ED - again, the internet obscuring human connection through the disconnect between the characters and the world they're depicted in.
- a new motif that's been hinted at but fully established in episode 3 is kazuki's quitting of soccer. with the revelation of his brother's disability, it's almost inevitable there's a backstory there. enta's desire to go back to the soccer days I think also creates an important chain of connections defined by the desire to live through somebody else - enta to kazuki from their golden combi days, and then kazuki in turn to his brother through the crossdressing and selfies.
- kazuki's crossdressing being presented as part of his connection with his brother I think also raises an interesting point of how our gender identities are inherently linked to the connections we make with others and how we present ourselves to society. would gender be necessary if there were no human connections? is gender even necessary if there's no society? this all feels like a broader revisiting of yurikuma's factions of the bears and the humans and how society is ultimately what defines otherness, especially in queer relationships.
- three episodes in, the role of the gay cops is still largely unknown. it seems like they're creating the zombies that our main trio have to fight, so I suppose that makes them the villains. however, we have to remember that the villain in an ikuhara series is always society itself - a possible interpretation is that as part of the extremely societal institution of cops, they're acting as personifications of the society that prevents us from connecting. I do wonder how this fits in with the actual zombies, whose desires so far have all been wildly exaggerated societal deviations. maybe some flavor of the exclusion ceremony from yuri kuma arashi on display here, although the excluded here so far all have pretty good reasons to be excluded. this is a bit at odds with ikuhara's penchant for depicting underrepresented subgroups - as ikuhara tropes come and go, they might be closer to the exaggerated villains of the fairytales that he frequently incorporates.
- episode 3's zombie fight used a lot of wedding imagery, depicting the spiritual battleground as the aisle with the otter (?) ghosts as flower girls. ikuhara seems to be drawing attention to how our society treats marriage as the ultimate connection and views lust as a vice, which keith (the zombie) seems to exemplify. the wedding aisle alongside a zombie whose temptation seems to be for girls is an interesting contrast wrt how our desires go from lust to a sacred bond between two people depending on how it's reciprocated. this of course ties into enta's unrequited love and episode 3's title "I want to connect, but it's not meant to be." connection is all about desire but it's still a two-way street. the wedding imagery in an episode centering on a gay boy's crush also seems like ikuhara is taking aim at societal ideas of "marriage between a man and a woman," which is probably more present in japan these days than in the US.