Part 1
Synopsis
Several hundred years ago, humans were nearly exterminated by giants. Giants are typically several stories tall, seem to have no intelligence, devour human beings and, worst of all, seem to do it for the pleasure rather than as a food source. A small percentage of humanity survived by enclosing themselves in a city protected by extremely high walls, even taller than the biggest of giants. Flash forward to the present and the city has not seen a giant in over 100 years. Teenage boy Eren and his foster sister Mikasa witness something horrific as the city walls are destroyed by a super giant that appears out of thin air. As the smaller giants flood the city, the two kids watch in horror as their mother is eaten alive. Eren vows that he will murder every single giant and take revenge for all of mankind.
Season 3
After recovering Eren and Historia, the recruits are put under the care of Levi. Stuck out in the middle of nowhere, Hange subjects Eren to a series of experiments in an attempt to find out more about his ability. But when their link to the secrets behind the wall is murdered, the squad must move out and find a new refuge. Except, a figure from Levi's past has his own plans to stop them.
Broadcast and Streaming
Japan: July 22 at 24:35 (effectively July 23 at 12:45 a.m.) on NHK
Simulcast: July 22 7 pm BST/ 11 am PST on
Crunchyroll
,
Funimation
,
Hulu
,
AnimeLab
(AUS),
Wakanime
(FR/BE)
English dub: August 18 on Toonami.
Trailer
English dub trailer
Opening Theme:
"Red Swan" by YOSHIKI feat. HYDE
Ending Theme:
"Akatsuki no Chinkonka" (Daybreak Requiem) by Linked Horizon
Part 2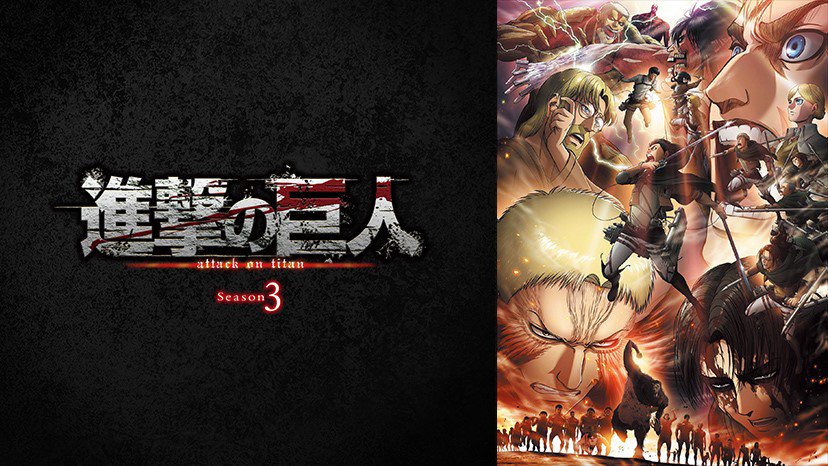 Season 3 part 2

The battle to retake Wall Maria begins now! With Eren's new hardening ability, the Scouts are confident they can seal the wall and take back Shiganshina District. If they succeed, Eren can finally unlock the secrets of the basement—and the world. But danger lies in wait as Reiner, Bertholdt, and the Beast Titan have plans of their own. Could this be humanity's final battle for survival?

Broadcast and Streaming

Japan: April 27 at 24:10 (effectively April 28 at 12:10 a.m.) on NHK

Simulcast: April 28 6:35 pm BST/ 7:35 pm CEST/ 3:35 am(Mon) ACT / 10:35 am PST / 1:35 pm EST on

Crunchyroll

,

Funimation

,

Hulu

,

AnimeLab

(AUS),

Wakanime

(FR/BE/Nordic)

English dub: May 25 on Toonami, May 26 on Funimation.

Trailer


SPOILER WARNING!!

Opening Theme: Linked Horizon

Ending Theme: Cinema Staff

Staff

Chief Director:

Tetsuro Araki

Director:

Masashi Koizuka

Series Composition:

Yasuko Kobayashi

Music:

Hiroyuki Sawano

Original creator:

Hajime Isayama

Character Design:

Kyoji Asano

Chief Animation Director:

Kyoji Asano Satoshi Kadowaki

Assistant Director:

Hiroyuki Tanaka

(p1)

Tetsuya Wakano

(p2)

Action Animation Director:

Arifumi Imai / Takanori Hashimoto / Takuma Ebisu / Tatsuya Miki

Cast (JP/ENG)

Eren Jaeger:

Yuuki Kaji

/

Bryce Papenbrook

Historia Reiss:

Shiori Mikami

/

Bryn Apprill

Armin Arlelt:

Marina Inoue

/

Josh Grelle

Levi:

Hiroshi Kamiya

/

Matthew Mercer

Mikasa Ackerman:

Yui Ishikawa

/

Trina Nishimura

Sasha Braus:

Yu Kobayashi

/

Ashly Burch

Conny Springer:

Hiro Shimono

/

Clifford Chapin

Bertholdt Hoover:

Tomohisa Hashizume

/

David Matranga

Erwin Smith:

Daisuke Ono

/

J. Michael Tatum

Beast Titan:

Takehito Koyasu

/

Jason Liebrecht

Hange Zoë:

Romi Park

/

Jessica Calvello

Rod Reiss:

Yūsaku Yara

/

Kenny Green

Jean Kirschtein:

Kishō Taniyama

/

Mike McFarland

Kenny:

Kazuhiro Yamaji

/

Phil Parsons

Dot Pyxis:

Masahiko Tanaka

/

R Bruce Elliott

Reiner Braun:

Yoshimasa Hosoya

/

Robert McCollum

Dhalis Zachary:

Hideaki Tezuka

/

John Swasey

Pastor Nick:

Tomohisa Asou

/

Francis Henry

FAQ

When will Attack on Titan return?

Episode 49(12) was the last episode of part 1 of season 3. Part 2 of Season 3 will return in 28th April 2019 with episode 50(13). Part 2 will be 10 episodes long ending with 59.

What chapters might this season adapt?

Volume 13-22,

Part 1 and 2 of the season 3 manga box set is available to pre-order.

Can I discuss the manga here?

There are most likely many anime only viewers here so please be considerate and keep manga discussion in the manga thread.

No hinting or teasing future events!!!! I think I read a spoiler online?

If you don't want to be spoiled I strongly suggest not going to the wiki, avoid searching for any characters online, don't watch the trailer particularly the trailer for the video game!!!!

What chapter comes after part 1?

Chapter 73(vol18)

YouSeeBIGGIRL/T:T ? Yes

Links

Manga Thread

<---- Go here to discuss manga

Official Website

Credit to Dynedom for OT title.
Last edited: