https://www.independent.co.uk/news/world/australasia/new-zealand-terror-attack-mosque-shooting-christchurch-fraser-anning-twitter-a8824036.html
An Australian politician has sparked outrage after blaming immigration for a terror attack at two mosques in New Zealand.

While he said he was "utterly opposed to any form of violence", independent Queensland senator Fraser Anning claimed "what it highlights is the growing fear within our community, both in Australia and New Zealand, of the increasing Muslim presence".
"As always, left-wing politicians and the media will rush to claim that the causes of today's shootings lie with gun laws or those who hold nationalist views but this is all clichéd nonsense.

"The real cause of bloodshed on New Zealand streets today is the immigration programme which allowed Muslim fanatics to migrate to New Zealand in the first place."

Senator Anning also claimed that while Muslims "may have been the victims today, usually they are the perpetrators".
"As we read in Matthew 26:52, "All they that take the sword, shall perish by the sword" and those who follow a violent religion that calls on them to murder us, cannot be too surprised when someone takes them at their word and responds in kind."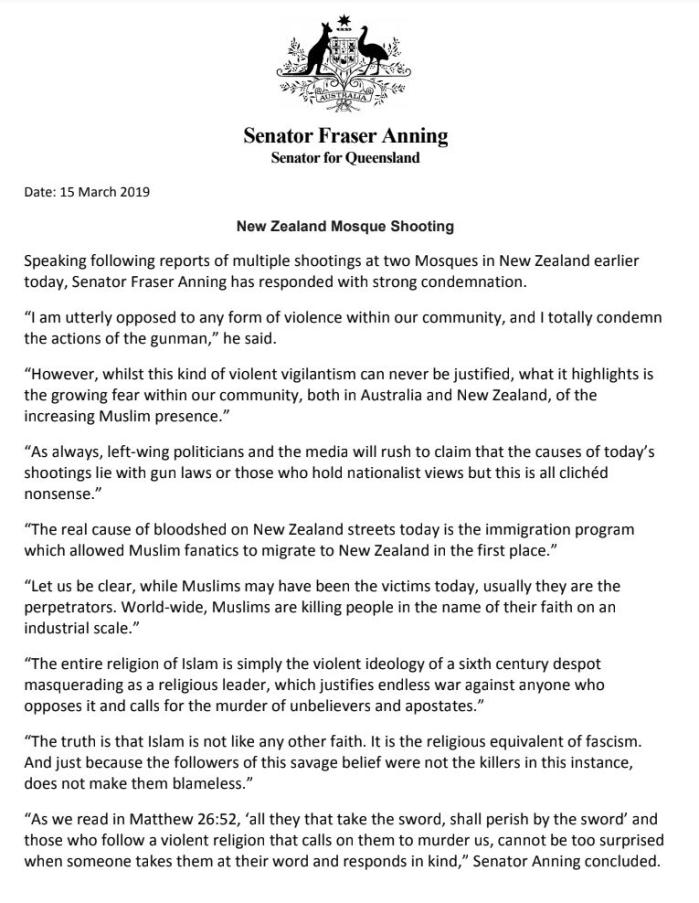 ]
Does Australia have any type of recall mechanism?