http://www.hempuli.com/baba/
$14.99 (
Steam
,
Humble
,
Itch.io
)
Switch
Releases March 13th
​
Baba Is You is an award-winning puzzle game where you can change the rules by which you play. In every level, the rules themselves are present as blocks you can interact with; by manipulating them, you can change how the level works and cause surprising, unexpected interactions! With some simple block-pushing you can turn yourself into a rock, turn patches of grass into dangerously hot obstacles, and even change the goal you need to reach to something entirely different.

The game has over 200 levels that experiment with the game's mechanics in a multitude of ways, requiring the player to understand and manipulate the rules of the game and figure out devious ways to make the objects in the game world interact.
Out of all the GIFs and videos, this one most succinctly showcases this wild possibilities of the game's concept
​
Also noteworthy, the creator
Arvi Teikari
is donating a
10% of his personal income
to the charity
GivingWhatWeCan.org
Something that is expressed in the initial introductory screen:
Eurogamer
Somewhere in amongst all this you get to see the illicit magic of games, where lava is only hot if you say it is, and where hot things only make you melt if you say they do anyway. There's a chuckling thrill to ignoring a door and simply changing the text to allow you to walk through the surrounding walls instead.
RockPaperShotgun
Completely wonderful. Original, inspired, challenging, and most importantly of all, that constant sense of "Oh no, how will I ever do this one!" so quickly followed by, "I AM A GENIUS!" It's a very, very smart game, that has the humility to let you, the player, feel like the clever one.
Polygon
One of the best puzzle games in years...

Baba Is You asks me to toss my assumptions about how rules in video games work, to analyze how and why they exist in the first place. And that sort of reprogramming of my brain, oddly enough, happens best when the game is turned off. It's easier to scrap all my tired video game instincts when I'm away from it.
Kotaku
Even when it's hard, Baba Is You is delightful. The simple art and chirpy soundtrack help to offset frustration, as does the ability to skip certain puzzles in a cluster if you're really stuck. While playing, I find myself both swearing and smiling. I'm charmed by the game, even when I rage against the devilish placement of words that make a level that seems breezy into a maddening brainteaser. Similar to coding-based games like The Magic Circle and Human Resource Machine, changing a level's rules is a powerful feeling. Puzzling through code logic is a lovely insight into what's going on under the hood of video games.
TechRaptor
Baba Is You takes a decades-old puzzle concept and flips it on its head in a very innovative manner. The game's charming atmosphere goes well with the relaxing yet thoughtful stages that force players to do crazy things with what the game gives them. If you're a fan of puzzle games, this is definitely a game you'll want to pick up.
CGM
Baba is You is a delightful puzzle game filled with absurd solutions and situations, asking players to discard what they think they know about games to solve them. Its fluid ruleset makes for some complex solutions for players to find, and its playful nature draws a wonderful creativity from its players.
Nindiespotlight
Quibbles aside, it's hard to deny that Baba is You is a pretty brilliant breath of fresh air in the puzzle space. I love the concept of winning in a game being tied to rejecting and then changing the rules to find success, and would be intrigued to see this applied elsewhere. The notion of circumventing traditional rules and encouraging people to apply more creativity is a great one, and deserves to be explored further. As an initial foray into this concept Baba Is You manages to be refreshing and also frustrating but true puzzle fans would be making a mistake not to give it a spin.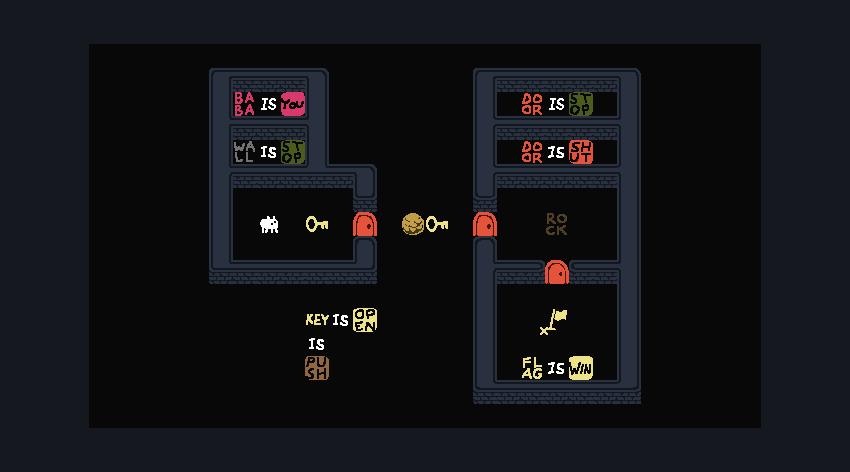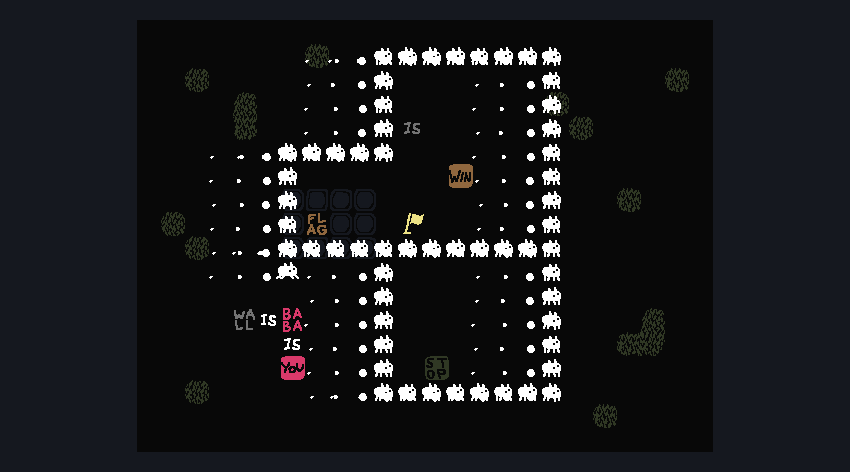 Last edited: