DON'T JUST POST PICTURES/NAMES
This is one of my favorite character archetypes. The complete inverse of the princess in need of aid, the warrior woman is usually portrayed as extremely confident and capable, and is sometimes put in the position of mentor or teacher. Maybe I love it because it seems kind of rare, or because it's an inversion of ye age olde princess trope, or maybe simply because their aesthetic designs are usually just really damn cool.
My favorite example is Titania, from Fire Emblem 9/10.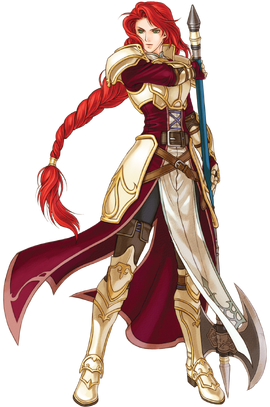 The "Oifey" of the game, in Fire Emblem terms. For the uninitiated, this means she starts out as a mentor more powerful than the other characters, but can still hold her own even after everyone catches up to her.
She acts as a mother figure to our protagonist Ike, wields an axe in mounted combat, is cool and collected, and has a fantastic, striking design that accentuates her red hair with with flashy, golden armor. Her design and personality are portrayed in a respectable way and she is a complete tank in combat. One of my favorite game characters of all time.
Any other examples?
Last edited: