Price: F2P with in-app purchases
Genre: 3D Action
Languages: English, French, and Japanese (on JP server only)
Developer:
KLAB Games
App Store
Google Play
Official Site
English Twitter
Japanese Twitter
Gameplay
Brave Souls is a 3D action game where you can use characters from the Bleach universe to clear quests whether it be Single Player or Co-Op. Navigate your character using the touch screen and set off attacks using the buttons on the UI. The biggest button has your Normal Attacks that has no cooldown while the buttons surrounding it are your Strong Attacks that have a cooldown. The purple button is your devastating Special Move. Each character has a Soul Trait and depending on your playstyle can help determine how you build your character. Want to rely on your normal attacks? Equip your characters with Normal Attack Damage links. Want to rely on your strong attacks? Equip your character with Strong Attack Damage and/or Strong Attack Recharge links. Want to do both? Mix and match until you find the balance you like.
Attribute Advantage is necessary in higher difficulty content. These are the 5 attributes
Speed (Blue) -> Power (Red) -> Technique (Green)
Heart (Purple) <-> Mind (Orange)
There is a stamina system that consists of Soul Tickets. Soul Tickets regenerate once every 15 minutes until you have a full 25 soul tickets and each quest takes up 1 or 5 soul tickets, choosing 5 gets you the rewards for 5 quests. You can stock up on soul tickets by attaining them from event lotteries or completing orders that reward them. If you're out of soul tickets you can join Co-Op rooms as they only consume soul tickets if you are the room owner.
Single Player mostly consists of Story mode where you can complete story quests to earn Spirit Orbs as you go through the Bleach story. There are also Events each week that have a special story or challenges where you can earn even more orbs and items such as summon tickets by completing the Orders assigned to the event.
Co-Op is for the higher leveled players as the difficulty is increased in exchange for better drops. This is where most players farm for materials to max characters and accessories. You can join random rooms, your friends, or host some rooms to earn the room owner bonus.
Spirit Orbs
Spirit Orbs are the currency that this game uses for premium content such as Summons and expanding inventory. Here are some ways you can get them:
Story Mode - There are currently 12 chapters in story mode not including the Side Stories. Each time you complete the quest conditions you are given 5 spirit orbs
Events - There are new events weekly and completing those quests also gives you spirit orbs, each event comes with a brand new 4* character
Max characters - Each time you max a character you receive orbs depending on the rarity of the character. 1* gets you 5 orbs, 2* gets 10 orbs, 3* gets 25 orbs, 4* gets 35 orbs, 5* gets 50, and 6* gets 75. You can only do this once so when your character receives a medal on its card you can no longer farm orbs from that unit
Co-Op - Mainly for newer players, each time you complete a Co-Op quest with another player you get 3 spirit orbs until you have received a max of 600 orbs from this promotion
Login and Orders - throughout the month there are days where logging in gives orbs and completing the Daily Orders provides 5 orbs everyday which add up
Gacha
You can attain characters from the Shop/Summons. New characters are added to the game during the mid-month summons and end of month summons. Rates for mid-month selection are 3% for a 5*. Rates for the end of month are 6% for a 5*, but there are 9 characters in the summons instead of just 3. In between these summons there are filler selections available that are usually Brave Selections or Attribute Selections which contain 3 characters at 3% for a 5*. There are single pulls which cost 25 Spirit Orbs and multi pulls which cost 250 Spirit Orbs, the only difference between the two is that multis guarantee at least one 4* character. Recently 3% selections have included one Hogyoku for each multi pull which is a good incentive for newer players.
Maxing Characters
5* characters are maxed using Crystals. Maxed 5* characters can be evolved to 6* using Hogyokus. Hogyokus drop from the Training Grounds and can be earned from Orders. 6* characters are considered new as they are reset to level 1 and their level limit has increased. Maxing 6* characters requires Jewels and Raid characters. Raid characters unlock skills for your 6* character that make them more powerful. It is recommended that you acquire the Raid characters before you evolve a character because a lower leveled skill-less 6* character is a lot weaker than a maxed 5* character.
A new feature was added where a 6* characters level limit is increased to 200 from 150 using a new item called The Hogyoku's Will. Hogyoku's Will can drop from a Raid boss but the chance is small, they are also available from Weekly Orders. Once released a character needs Droplets to increase the level limit, 160 of the characters attribute and 80 of the rest of the attributes. Droplets are attained from Raids.
Accessories

Can get through Fusions and Accessory Tickets
Chappy Dispenser 4-5* Increases STA, ATK, DEF, FCS, and reduces SP to 0
Pupples Dispenser 4-5* Increases STA, ATK, and reduces FCS to 0
Yuki Dispenser 4-5* Increases STA, SP, and reduces FCS to 0
Fortification Pill 4-5* Increases SP and FCS, reduces STA
Hollow Bait 4-5* Increases ATK and FCS, reduces STA
Tenshintai 4-5* Increases Special Move Damage
Captains' Robe 3-5* Increases Shinigami STA
Incomplete Hogyoku 3-5* Increases Arrancar STA
Enraku 3-5* Increases Human STA
Isshin's Charm 3-5* Increases No Affiliation STA
Headband of Justice 2-5* Reduces Attribute Weakness
Hojiku-Zai 2-5* Increases Healing Effect
Gokon Tekko 1-3* Increases ATK
Shinten 1-3* Increases SP

Gacha Exclusive (Can get through Accessory Tickets)
Golden Chappy Dispenser 5* Increases STA, ATK, DEF, FCS, and reduces SP to 0
Golden Yuki Dispenser 5* Increases SP and STA, reduces FCS to 0
Golden Pupples Dispenser 5* Increase ATK and STA, reduces FCS to 0
Seireitei Bulletin Special Edition 4-5* Greatly Increases EXP Gained
Shihoin Shield 4-5* Increases Range Attack Evasion
Spirit Core 4-5* Reduces Status Ailment Duration
These items increase the stats of your characters. You can get them as drops from events or from Accessory Summons. It is not recommended that you spend your spirit orbs on accessories so what you can do instead is use premium accessory tickets that drop from event lotteries. When you max the level of your accessories you can fuse two of them to get a higher rarity accessory (up to 4*), but the result is random so be careful. To alleviate this you can fuse along with an Immutable Ball which gives you higher rarity accessory of the first accessory chosen to fuse.
After maxing a 4* accessory you an evolve it to 5* using 10 Evolution Powders and 1 Book of Secrets matching the attribute of the accessory. The easiest way to get these materials are by doing Co-Op Fusion Trials. Evolving the accessory gives it a higher stat increase and a Second Effect. Second Effect can be any stat increase such as +30% ATK or the dreaded +6% FCS. This is where most end game content leads to as there is no way to influence the RNG of the stat increase. Using a Reroll Brush or feeding a 5* accessory into another lets you reroll the Second Effect and gives the choice of keeping the old effect or settling for the new one
Useful Links
bravesouls.fyi is a great database that shows every character in the game and what resources you will need to max them out
Brave souls reddit is fast in posting about new summons and events as they are announced
Recently made a Discord as it is easier to set up Co-Op through there, feel free to join!
Hidden content
You need to reply to this thread in order to see this content.
Current Events


Destruction Frenzy until June 15
Frenzy Uryu has a 18% Stamina Recovery/Strong Attack Recharge 10% soul trait when awakened to 6*
Frenzy characters are monthly free characters that have unique double soul traits. Their soul trees are powered up by unique crystals instead of the ones used for regular characters. It is recommended to farm this event in Co-Op and for the character you are using to be equipped with Crystal/Jewel Drop+ to gain even more crystals per run. These include
5/6* - Past Kisuke/Christmas Kisuke/Moe (Medal Exchange)/Akon (Medal Exchange)/Omaeda
4* - Kisuke/Donkanonji (Medal Exchange)

Arrancar Tales The Dark Path Before Dawn until June 10
Point event with 4 Chapters and up to Hard difficulty
New 4* Nel in the lottery, Rewards up to 600,000 points including Orbs, Revival Candles, and Editing Brushes.

Orihime The Warrior of Hope until June 2
3 Chapters with Very Hard Difficulty.
New 4* Orihime and Tech Books/Powders in the lottery.
Intensive Course until June 3
Get the raid material for the featured characters or use them as ascension fodder for your other characters.
Featured characters: Ganryu, Heart Gin, TT Koga, Mind Tessai, Ambassador Seaweed, and Pesche
ACTIVE
3 Difficulties for 15 orbs. Special quests that drop every kind of droplet. Available in single player and co-op. Like in Inheritance Zone killer effect is increased.
Current Gacha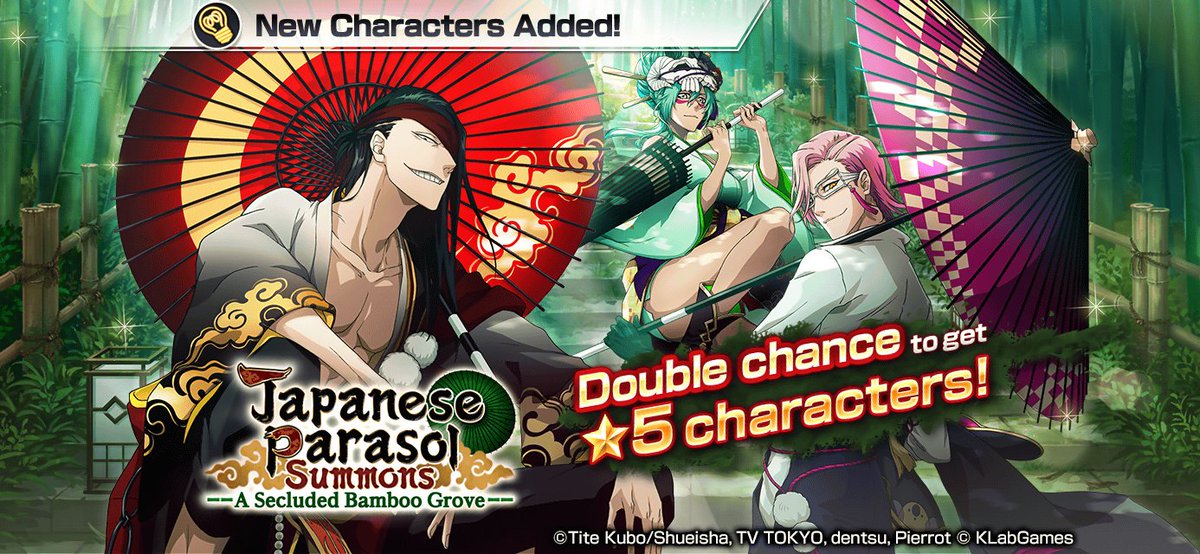 Japanese Parasol Summons A Secluded Bamboo Grove until June 6th ft. Parasol Nnoitra, Szayel, and Nelliel
Fillers: Ryuken, TT Ichigo, Sun Sun, Tensa Zangets, Power Yoruichi, and FH White Ichigo

Movie Summons Skull-Clad until June 6th ft. Skull-Clad Ichigo, Heart Stark, and Tag Team Koga,
Last edited: