I decided to step up to the plate, since no one made the thread yet. I chose the book of the month based on some suggestions by other posters at the end of the last thread.
Obligatory:
December Book Club Title
The Seven Deaths of Evelyn Hardcastle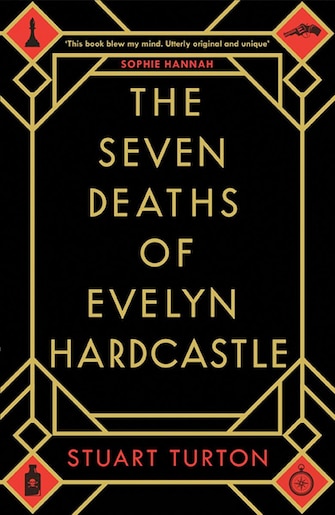 Evelyn Hardcastle will be murdered at 11:00 p.m.
There are eight days, and eight witnesses for you to inhabit.
We will only let you escape once you tell us the name of the killer.
Understood? Then let's begin...
Evelyn Hardcastle will die. Every day until Aiden Bishop can identify her killer and break the cycle. But every time the day begins again, Aiden wakes up in the body of a different guest. And some of his hosts are more helpful than others...
The most inventive debut of the year twists together a mystery of such unexpected creativity it will leave readers guessing until the very last page.
Just in case you are wondering ...
This is the same book. It is the American edition. The title had to be changed because of copyright issues.
-----
Join the ResetEra Goodreads Book Club to track your progress on our monthly read threads.
-----
Previous Book Club Threads
:
Putin Country by Anne Garrels and Enlightenment Now by Steve Pinker
Bird Box by Josh Malerman
Astrophysics for People in A Hurry; Guns, Germs, and Steel (April 2018)
The Left Hand of Darkness(March 2018)
Meditations by Marcus Aurelius (Feb 2018)
Blindness by Jose Saramago (Feb 2014)
The Quiet American by Graham Greene (Jan 2014)
If on a winter's night a traveler by Italo Calvino (Sept 2013)
Lolita by Vladimir Nabokov (July 2013)
Atlas Shrugged by Ayn Rand (Feb-Mar 2013)
The Brothers Karamazov by Fyodor Dostoyevsky (September 2012)
Catch-22, by Joseph Heller (January 2012)
The Shadow of the Wind, by Carlos Ruiz Zafón (December 2011)
Blood Meridian: Or the Evening Redness in the West, by Cormac McCarthy (Oct 2011)
The Master and Margarita, by Mikhail Bulgakov (Sep 2011)
The Count of Monte Cristo, by Alexandre Dumas (Aug 2011)
Master and Commander, by Patrick O'Brian (July 2011)
The Happiness Project, by Gretchen Rubin (June 2011)
A Visit from the Goon Squad, by Jennifer Egan (May 2011)
The Afghan Campaign, by Steven Pressfield (Apr 2011)
Stranger in a Strange Land, by Robert A. Heinlein (Mar 2011)
Flashman, by George MacDonald Fraser (Feb 2011)
-----
Support ERA authors:
Explore
Happy reading!
Last edited: