​
The original shooter-looter returns, packing bazillions of guns and an all-new mayhem-fueled adventure. Blast your way through new worlds and enemies as one of four brand new Vault Hunters, each with deep skill trees, abilities, and customization. Play solo or join with friends to take on insane enemies, collect loads of loot and save your home from the most ruthless cult leaders in the galaxy. Become one of four extraordinary Vault Hunters, each with unique abilities, playstyles, deep skill trees, and tons of personalization options. All Vault Hunters are capable of awesome mayhem alone, but together they are unstoppable.
Play with anyone at any time online or in split-screen co-op, regardless of your level or mission progress. Take down enemies and challenges as a team, but reap rewards that are yours alone – no one misses out on loot.
FRESH GUNS:
Borderlands 3 features bazillions of guns, courtesy of the same reputable manufacturers that Vault Hunters like you have been trusting to tool them up since forever. Firearms with self-propelling bullet shields? Check. Rifles that spawn fire-spewing volcanoes? Obviously. Guns that grow legs and chase down enemies while hurling verbal insults? Yeah, got that too.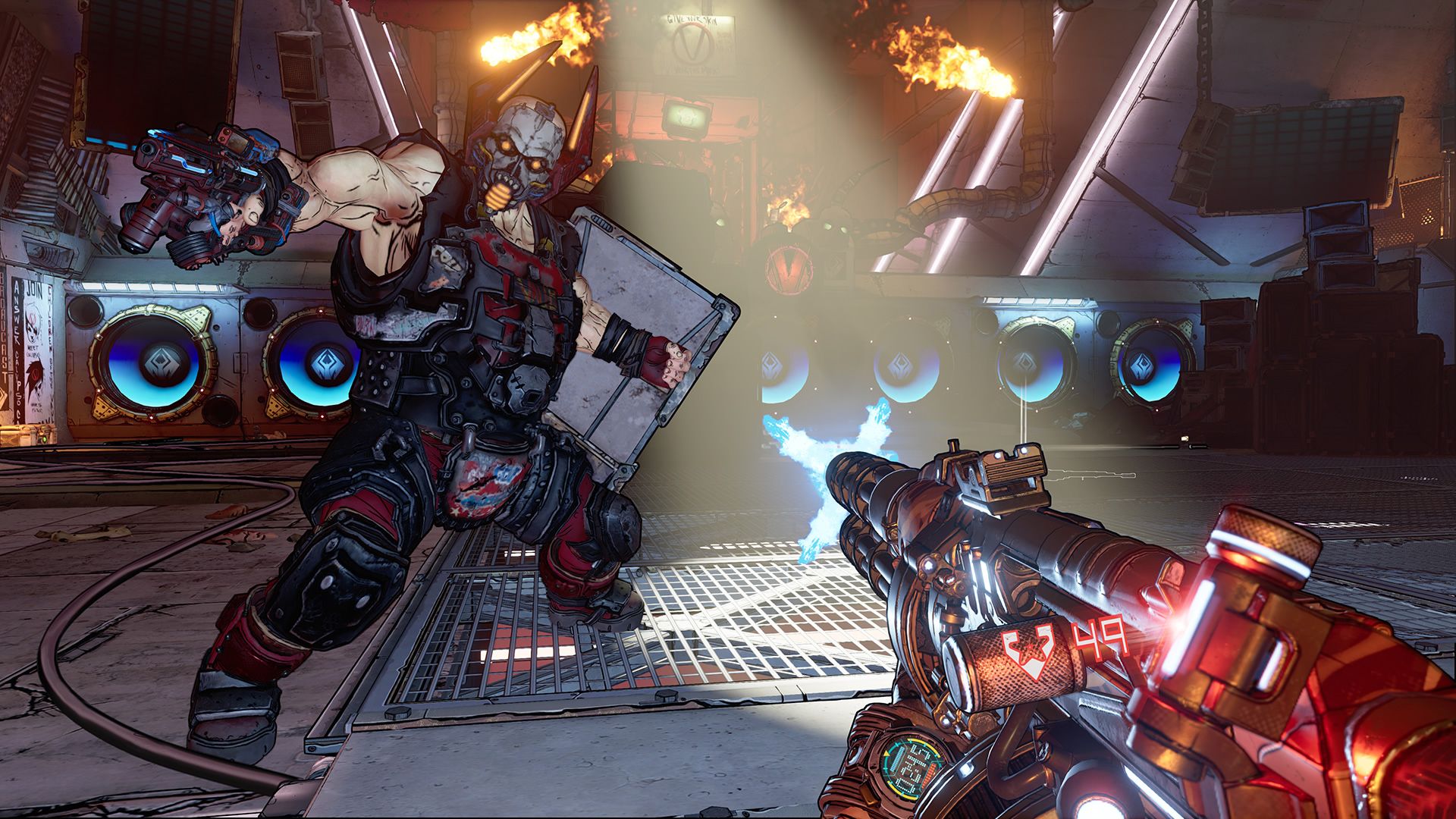 MEET THE FAMILY:
Out to save the galaxy in Borderlands 3 are four all-new Vault Hunters, each more customizable than all their counterparts from previous games combined. Moze is a gunner who can digistruct and pilot a mech. Amara is a siren who can summon and smash enemies with ethereal fists. FL4K is a beastmaster whose pets prey upon bandits. And Zane is an operative who uses gadgets to cause chaos on the battlefield.
Moze as THE GUNNER: When Moze needs backup, she digistructs her mech - Iron Bear - for a sucker punch of additional firepower.
Amara as THE SIREN: A confident, capable brawler with the ability to summon ethereal fists, Amara uses her Siren powers to smash her enemies.
FL4K as THE BEASTMASTER: FL4K lives for the hunt. So do the loyal beasts that follow their master's every command. Their preferred prey? Unsuspecting bandits, those poor suckers.
Zane as THE OPERATIVE: Specializing in battlefield gadgetry, Zane is extremely proficient at slipping into combat, creating chaos, and sneaking back out as if he were never there.
IT'S NOT THEIR VAULT:
Your enemies in Borderlands 3 represent the very worst that this untamed corner of the galaxy has to offer. Psychos, skags, and super badasses of all shapes and sizes will do everything in their power to stop you, and they're smart enough to seek cover, to support each other, and to coordinate their attacks. Look out!
CHAOS IN THE COSMOS:
Discover new worlds beyond Pandora, each featuring unique environments to explore and enemies to destroy. Tear through hostile deserts, battle your way across war-torn cityscapes, navigate deadly bayous, and more!
THE CALYPSO TWINS:
Stop the fanatical Troy and Tyreen from uniting the bandit clans and claiming the galaxy's ultimate power. Only you, a thrill-seeking Vault Hunter, have the arsenal and allies to take them down.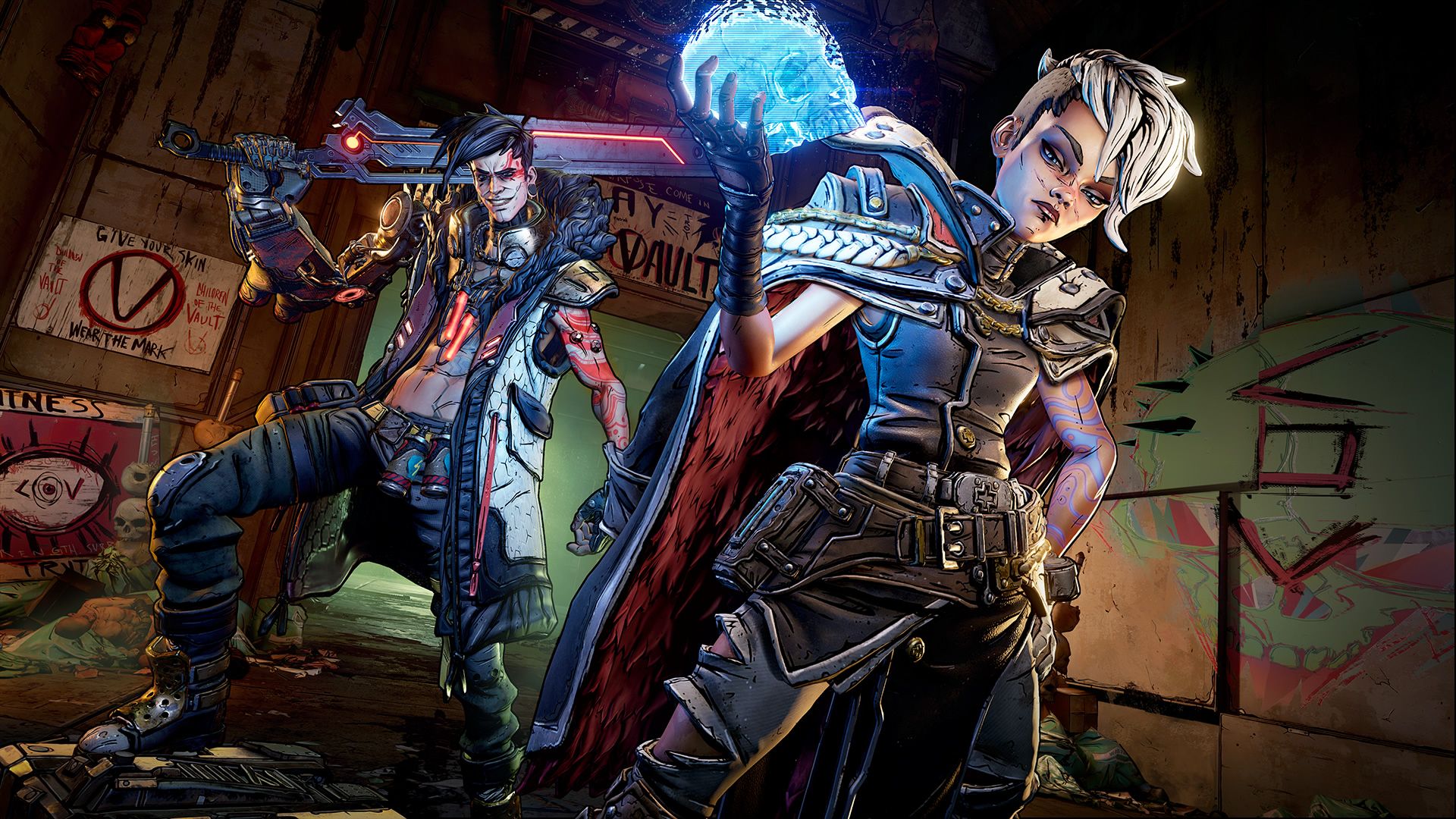 ​
ATLAS:
Step 1: Hit your enemies with tracker tags. Step 2: Unleash a hail of Smart Bullets that track towards your targets. Step 3: Loot!
VLADOF:
Augment these rapid-firing, ammo-hungry guns with under-barrel attachments including tasers, rocket tubes, and additional gun barrels.
MALIWAN:
Toggle between two elements, charge your weapon, and deal guaranteed elemental damage with your finger glued to the trigger.
JAKOBS:
Deliver devastating critical hits to enemies' soft-and-sensitives, then joy-puke as your bullets ricochet towards other targets.
TEDIORE:
Toss your gun like a grenade to reload, then watch it pursue a nearby enemy as a fully loaded version digistructs in your hand.
HYPERION:
Aim down the sights to take cover behind your weapon-mounted shield and keep your finger on the trigger for increased accuracy.
TORGUE:
Switch between regular and sticky-projectile fire modes. Stickies do more damage if a bunch of them detonate on the same target.
DAHL:
Toggle between alternate fire modes depending on your play style, your predicament, and your predilection for bonus damage.
CHILDREN OF THE VAULT:
Enjoy uninterrupted damage-dealing courtesy of "infinite" ammo magazines, occasionally interrupted by unpredictable overheating.
Cross-play potentially leaked between Xbox One and PC (Epic Games Store), 2K and Gearbox are currently in talks about this
Jesper Kyd back to compose
Ashley Burch will reprise her role as Tiny Tina
Gameplay reveal event set for May 1st
The game will have the option to switch between the new instanced loot system or the classic one
Split-screen couch co-op will be there day one
Multiple planets
Set five years after Borderlands 2
Each vault hunter has multiple action skills
Children of the Vault (cult headed by the Calpyso Twins) will be replacing bandits/scavs as the default human mob
Children of the Vault have their own weapon brand, no more bandit and scav weapons
Sanctuary 3 will serve as the hub environment to which you travel to different planets
Multiple vaults
There will be changeable gun parts of various rarities/stats
Nuclear/Radiation are in
No melee weapons
You'll be able to alter the type of gun, the firing rate, the reload speed, the stability, and element as you find new parts
NPCs can revive you if you get close
FL4K's action skills allow them to summon multiple beasts at once (the AI for this is why the announcement got delayed from Oct 2018 to March 2019)
Zane's action skills consists of him using different gadgets
Moze's bear mech can be used by other players
You can slide on-foot
UPDATE 1 (1/5/19 - Gameplay Reveal Event)
Tedidore guns are explode into MIRV rockets
Refill all ammo button added to vending machines
Zane can use two action skills at once
Item of the day deals appear on the vending machines without having to click in
Borderlands 3 is bigger than all the other Borderlands games
More boss fights than any of the previous games
Destructible environments
Some guns have alt fire modes
Gore is back
Guns have ratings like light levels from Destiny
New gun manufacturers
Map is now 3D
Radiation explodes enemies as they die
Meleeing barrels launches them forward
Player character is voiced like Pre-Sequel
Gun manufacturers have their own new gimmick (Atlas has tracking darts)
Loot lost and found has been added. It will grab loot that lands in unreachable places
You have player quarters themed to your vault hunter that can be modified with decorations and features
Marcus is taking over for Crazy Earl as the upgrade merchant (Costs cash to upgrade)
Moxxi is back as is her slot machines and tip jar
Can go between planets at will
Hammerlock gives missions to kill certain beasts and has a trophy room to display kills
Elle runs the docking bay
Crazy Earl is back with "Veteran Awards"
Vehicles can be looked at in the bay
Drop Pods get you to a planet
Maliwan guns can change elements
Cryo can be used to cool weapons
Varkids are back
Laser beams are back
Campaign DLC planned
Maliwan are trying to take over Atlas
Last edited: