The New York City Fire Department is investigating whether a first responder posted about Jeffrey Epstein's death on a notorious internet message board prior to officials announcing it to the public, BuzzFeed News has learned.
Less than 40 minutes before ABC News first reported Epstein's death on Twitter, someone posted still-unverified details on 4chan, the anonymous message board popular with far-right trolls and white nationalists.
"[D]ont ask me how I know, but Epstein died an hour ago from hanging, cardiac arrest. Screencap this," read the post, which was published at 8:16 AM alongside an image of Pepe, the green frog that has become a mascot for the right-wing internet trolls.
That post was 38 minutes before the
first tweet about Epstein's death from Aaron Katersky
, an ABC News reporter, at 8:54 AM. Five minutes later, the main ABC News account
tweeted an article about Epstein's death.
After publishing the post, other 4chan users egged on the author. When they said they didn't believe that the information was true, the original poster added more information to the discussion thread, including a detailed breakdown of the procedures allegedly used to resuscitate Epstein, which suggest the poster may have been a first responder, medical worker, or otherwise privy to details about efforts to resuscitate the disgraced financier.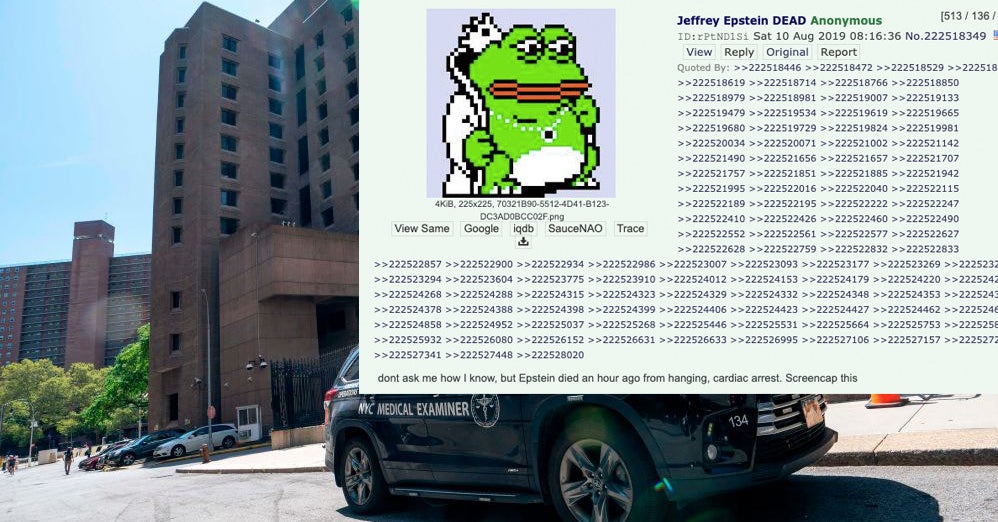 About 38 minutes before news outlets first reported Jeffrey Epstein's death in prison, a 4chan user published a detailed post about it.
www.buzzfeednews.com

Last edited: