Capcom has released the Fiscal Report for the Forth and Final Quarter of the Fiscal Year 2018/2019 that ended March 2019
Their title for the press release was
"
All Profit Figures Hit Record-High for Second Consecutive Year Driven by Digital Contents Business in Consolidated Results for the Year Ended March 2019
"
Here is the Press Release
http://www.capcom.co.jp/ir/english/news/html/e190507b.html
Some highlights from the Press Release
-
Overall Performance
During the fiscal year ended March 31, 2019, in Capcom's core Digital Contents business, in addition to the great success of Resident Evil 2, Devil May Cry 5 also performed well, backed by its established popularity overseas. Further, Monster Hunter: World, which shook up the market last year, broke 12 million cumulative units shipped following the additional release of the PC version, marking a record high for any single title in the Company's history. Meanwhile, in its Amusement Equipments business, market conditions worsened, presenting Capcom with a challenging situation; nevertheless, the strong performance from its Digital Contents business has offset this, delivering sales and profit growth in the company's consolidated results. As a result, Capcom has achieved its sixth consecutive year of operating income growth, and second consecutive year where all profitability figures from operating income down set record highs.
-
Resident Evil 2
the popularity of major title Resident Evil 2 (for PlayStation 4, Xbox One and PC) exceeded expectations, driving the Company's business performance
-
Devil May Cry V
Devil May Cry 5 (for PlayStation 4, Xbox One and PC) targeted overseas markets and also performed strongly, backed by consistent demand
-
Monster Hunter World
the Monster Hunter series contributed significantly to improving profits: flagship title Monster Hunter: World (for PlayStation 4 and Xbox One), which was a phenomenal success in the previous fiscal year, maintained popularity through the expansion of its user base, while the Steam version for PC also performed solidly, boosting profits
-
Monster Hunter Generations
Monster Hunter Generations Ultimate (for Nintendo Switch) enjoyed robust sales through its release in markets outside of Japan
-
Megaman 11 and Street Fighter 30th Anniversary
Mega Man 11 (for PlayStation 4, Nintendo Switch, Xbox One and PC) and Street Fighter 30th Anniversary Collection (for PlayStation 4, Nintendo Switch, Xbox One and PC) performed well
-
Catalog Titles
high-margin catalog titles, including Resident Evil 7 biohazard (for PlayStation 4, Xbox One and PC), increased sales through their enduring popularity
-
Overall Financial Performance
Capcom Co., Ltd. today announced that in its consolidated business results for the for the fiscal year ended March 31, 2019, net sales increased to 100,031 million yen (up 5.8 % from the previous fiscal year), operating income increased to 18,144 million yen (up 13.1 % from the previous fiscal year), ordinary income increased to 18,194 million yen (up 19.3 % from the previous fiscal year), and net income attributable to owners of the parent increased to 12,551 million yen (up 14.8 % from the previous fiscal year).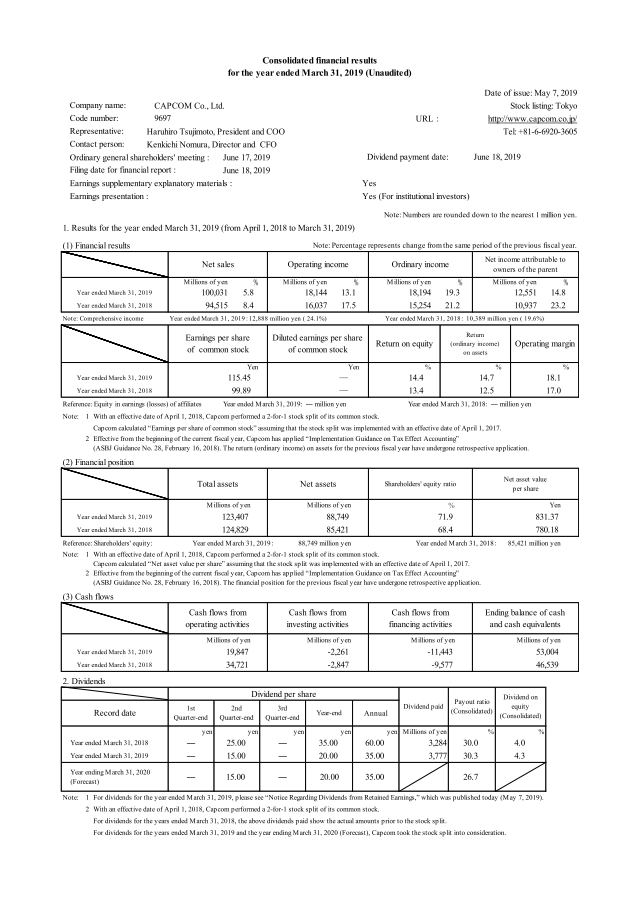 -
Digital Contents Financial performance
The resulting net sales were 82,982 million yen (up 11.9% from the previous fiscal year) and operating income was 23,315 million yen (up 22.0% from the previous fiscal year).
-
Financial Forecast for FY 2019/2020
For the fiscal year ending March 31, 2020, Capcom anticipates net sales of 85,000 million yen and operating income of 20,000 million yen, which would result in seven consecutive years of operating income growth and three consecutive years of record high profit.
Capcom's Net sales forecast is lower than the result of their previous two Fiscal years , but at the same time they expected a Third year in a row with record high profits
- Capcom Outlook
The company expects an increasingly high-tech landscape, where high-resolution graphics and the adoption of AI (Artificial Intelligence) and VR (Virtual Reality) will enable greater realism and natural movement by characters in home video games.

As such, to generate synergy with its popular games via greater global brand awareness and value, the Company has been producing world-leading content, with brands such as Street Fighter and Resident Evilbeing made into Hollywood movies, now followed by Monster Hunter and Mega Man, which are also scheduled for live-action film adaptation. In recent years, as the domestic market matures, further efforts to increase sales in the larger overseas market have become essential to maintain sustained growth. The Company will, therefore, develop and sell titles that appeal to diverse customer needs, including games that are popular overseas, thereby enhancing customer satisfaction and ensuring its competitive advantage.

Moreover, in the fast-growing esports business, the Company, in addition to leveraging its abundant experience and operational knowhow accumulated over the years in the US, intends to make a full-scale entry into the market and gain a firm footing through the allocation of the necessary funds and human resources. Furthermore, by focusing its management resources in growth areas and priority divisions, as well as reinforcing existing divisions and downsizing and withdrawing from unprofitable divisions, the Company will rebuild its businesses in line with environmental changes. It will also aim for more cohesive business development and higher management efficiency while at the same time enhancing the corporate value of the entire Group by carrying out the business strategies and priority measures that utilize the Company's strengths.
Last edited: