Update: After Nancy Pelosi and other Dem leadership issued a statement in which they condemned anti-Semitism but also made reference to the "shared values and strategic interests" with Israel, Ilhan Omar apologized for any hurt she caused with her statements, but reiterated that all lobbying, including by AIPAC, is a threat to Democracy. Max Rose, the Representative who initially took issue with her tweets and a retweet that was deleted by Omar, accepted the apology and called for us to move on to the larger issue: the hypocrisy of inflated media coverage on this compared to the antisemitism by Kevin McCarthy who in turn has been pushing to label both Omar and Rep. Rashida Tlaib as anti-Semites. His antisemitism, posted after a bomb was sent to Soros' house in 2018, is below: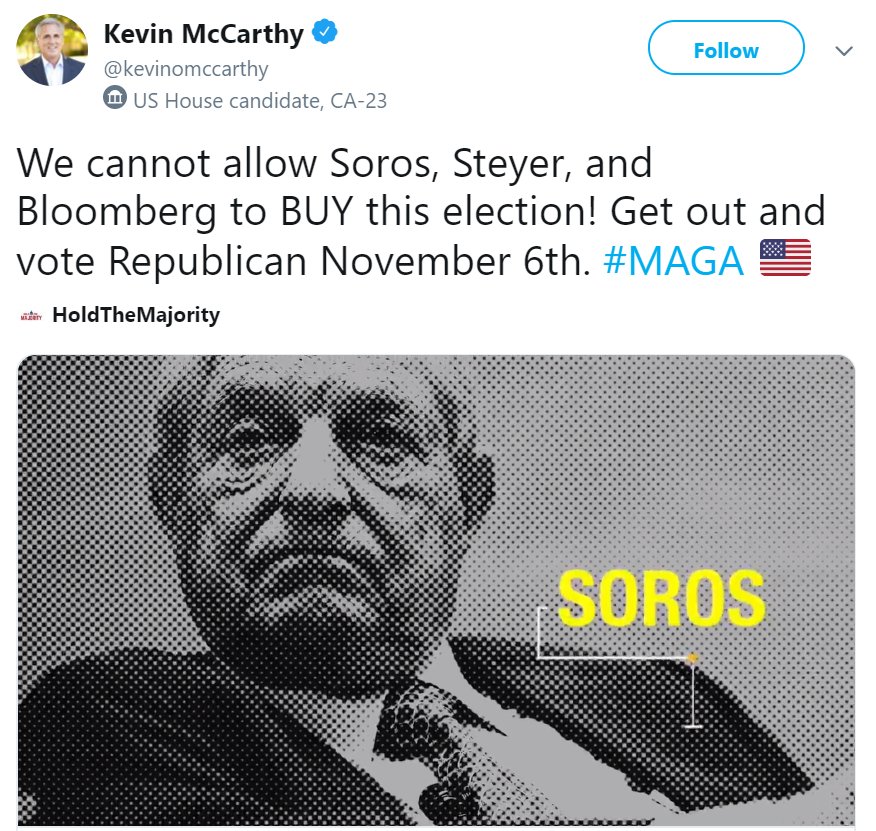 Original OP below:
To be clear, a "controversy" borne out of accurate statements.
Summary
from Politico.
Freshman Minnesota Democrat Ilhan Omar ignited a new controversy on Sunday night when she suggested GOP support for Israel is driven by campaign donations from a prominent pro-Israel group.

Omar singled out AIPAC, one of the most influential lobbying groups in Washington, as the source of those donations.


Omar's comments touched upon a long-running, and particularly ugly, thread of the anti-Semitic movement — that Jewish money fuels backing for Israel in the United States and elsewhere. A freshman Democrat, Max Rose of New York, said, "Congresswoman Omar's statements are deeply hurtful to Jews, including myself."

And the American-Israel Public Affairs Committee is a non-profit that doesn't donate directly to candidates. AIPAC, however, does relentlessly push a pro-Israeli message on Capitol Hill and inside the executive branch, and its members donate to pro-Israel lawmakers and candidates while seeking to defeat those it considers a threat to U.S.-Israeli relations.
On Sunday night, Omar was responding to a tweet from prominent journalist Glenn Greenwald, who said, "Equating [Omar and Tlaib's] criticism of Israel to Steve King's long defense of white supremacy is obscene (McCarthy said it's worse). In the US, we're allowed to criticize our own government: certainly foreign governments. The GOP House Leader's priorities are warped."

In response to Greewald's post, Omar tweeted, "It's all about the Benjamins baby," followed by a music emoji, which suggested that money was calling the tune for McCarthy.

When asked to explain where the money she was referring to came from, Omar tweeted: "AIPAC."

An Omar spokesman said the tweets "speak for themselves."
Some choice reactions.
accurately describing how the Israel lobby works is not anti-semitism
AIPAC wants "AIPAC" to be synonymous with "Jews" and "pro-Israel" to be synonymous with "pro-Netanyahu." Neither are true.
Please learn how to not try to tear down Black Muslim women for having the courage to take on the Israel lobby and defy hegemony in this country. Please learn to not speak for all American Jews. Sincerely, an American Jew who loves and supports
@IlhanMN
.
Whatever you views on Ilhan Omar or Israel, the idea that a senior pro-Trump Republican congressional leader, who has covered for Steve King for years, gives a damn about bigotry of any kind is just absurd, sorry. Come on, these are not good faith attacks on Omar or Rashida Tlaib
AIPAC doesn't speak for all American Jews, and criticizing them does not make you anti-Semitic. Cut out this nonsense.
Last edited: