PLEASE CHECK OUT THE UPDATED IN THE OP TO FULLY UNDERSTAND HOW THE STORY PROGRESSES
cdgexe or just Chad is a console modder who created input displays for controllers that usually don't work on PC.
Bascially you can display your button inputs on your PC and show it to your video/stream viewers.
Before AGDQ, which he wanted to attend and where he is right now (in one of the hotels near the venue to be more specific), he approached to
a femaled Zelda speedrunner named Mari on Discord. Since he is also a Zelda Speedrunner, he seems to know her and offers her to
attend AGDQ with her, even paying her flight and hotel.
Over the course of the private Discord-conversation leading to the event, which he made public on twitter just now, the conversation shifted
more towards a way to having sex.
Well, GDQ berma banned him and if you wanna read up the whole Thread of tweets, here ya go:
UPDATE His accountis back up open.
It really is creepy if you ask me.
Right now he wants to cancel her planeticket home
And here is a response to that tweet Thread, retweeted by Mari
EDIT:
1) Some new responses
2) Had to reupload the pictures, so that they are hidden on Imgur. Will delete them if it leads to a worse situation for Mari or if she demands to delete them, due to privacy
Here some new tweets:
1. What happened at the first morning accordning to Chad
2. Another response to the whole twitter thread by one of the friends of Mari and a person she is hanging out with during the event
3) A twitter like by him and new added screenshots from his Discord conversation were added
Yeah, he
really wants
to cancel her ticket back home
Plus he added two new screenshots from the Discord conversation
https://twitter.com/cdgexe/status/1083522374144835585
4) As requested, this will get added to OP
Mazzle
I really think this tweet should be in the OP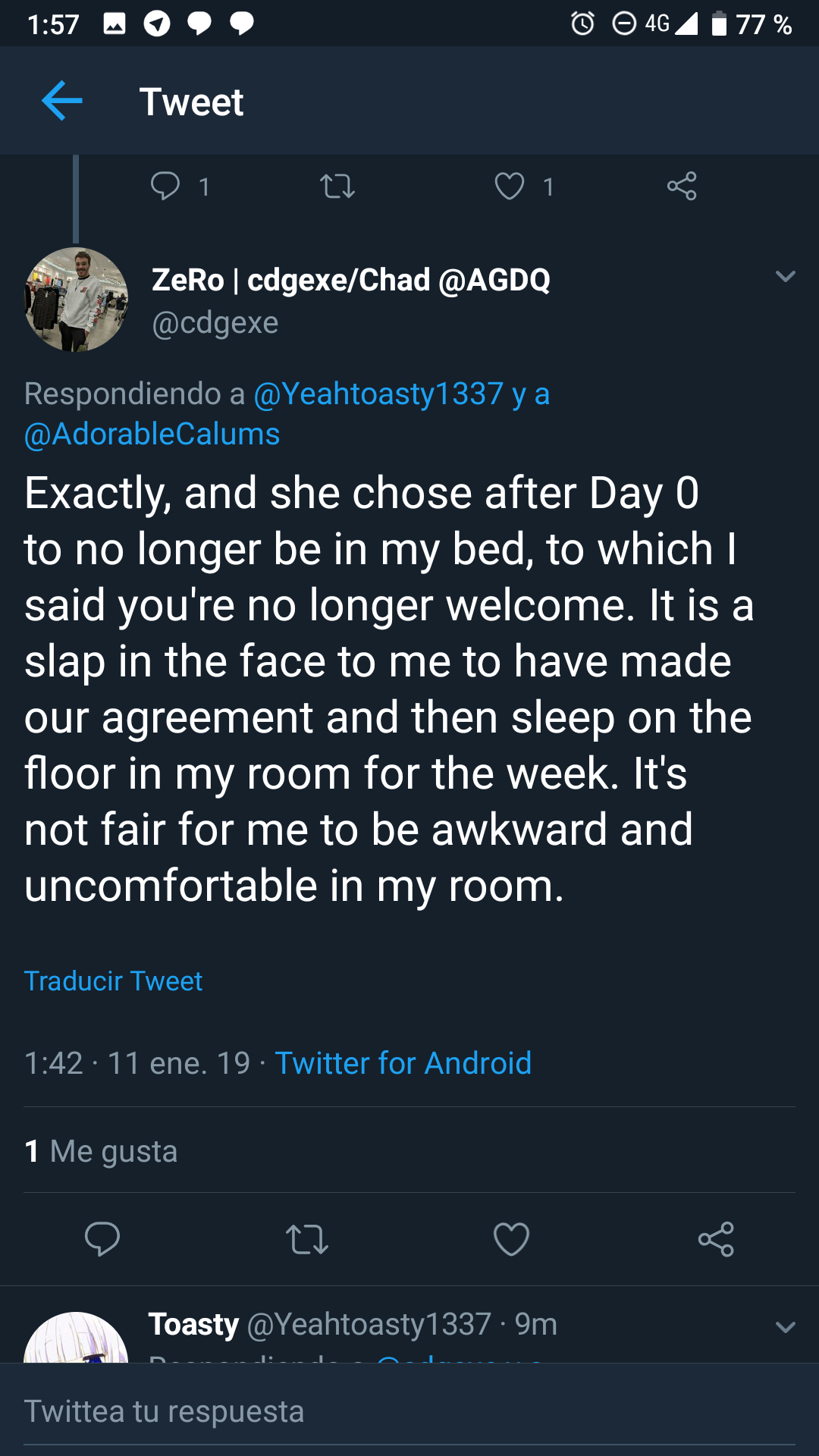 5) Some Screenshots were removed
UPDATE His account is back up open.
6) New Update or rather starting point about Chads true intentions by his
former girlfriend
. She created a short twitter Thread with screenshots from a conversation with Chad, before he got banned and after Mari didn't want to sleep with him.
Actually this might be a better starting point


I was looking at the replies in cdgexe's thing and one guy said he had more info and not to believe his shit.

I went to his twitter where he linked to her stuff.

Looking at her post history looks like she and cdgexe might've been together at one point (not sure if still together or not)
7) His final Statement. He (at least says) that he wants to go legal ways and undergo a lie detector-test
8) His final final (?) Statement
9) Maris final Statement
MOD EDIT: This thread title has been updated for clarity.
Thx Mod Team
Last edited: