It's in the
OT
, but I thought it was worth a thread as it's a big update:
Nintendo Switch向けの完全新作メカアクションゲーム『DAEMON X MACHINA(デモンエクスマキナ)』で、新たに「対戦プレイモード」が追加される更新データ(無料)が、本日より配信開始しました。 また、ニンテンドーe ショップにて、書道家・武田双雲氏による題字をモチーフとしたデカールセットを無料で配信開始されています。
Details
via Gematsu:
In "Versus Mode," you can use your Arsenal to battle via local wireless or online against other players. There are both "1-vs-1" and "2-vs-2" options, and you can search for friends from your friends list to invite to your room. Rules consist of "Ranked Match," where you compete in the global leaderboards with set rules, and "Custom Match," where you can set your own rules.

Additionally, in the online "Co-Op Mode," you can also challenge other players to a "Duel" by attacking them in the time between completing an order and returning to the base. Duels support up to four players, and begin when the player the challenged player returns fire.
There's also wallpapers available on MyNintendo
Here's the update roadmap that was previously in Japanese only I believe: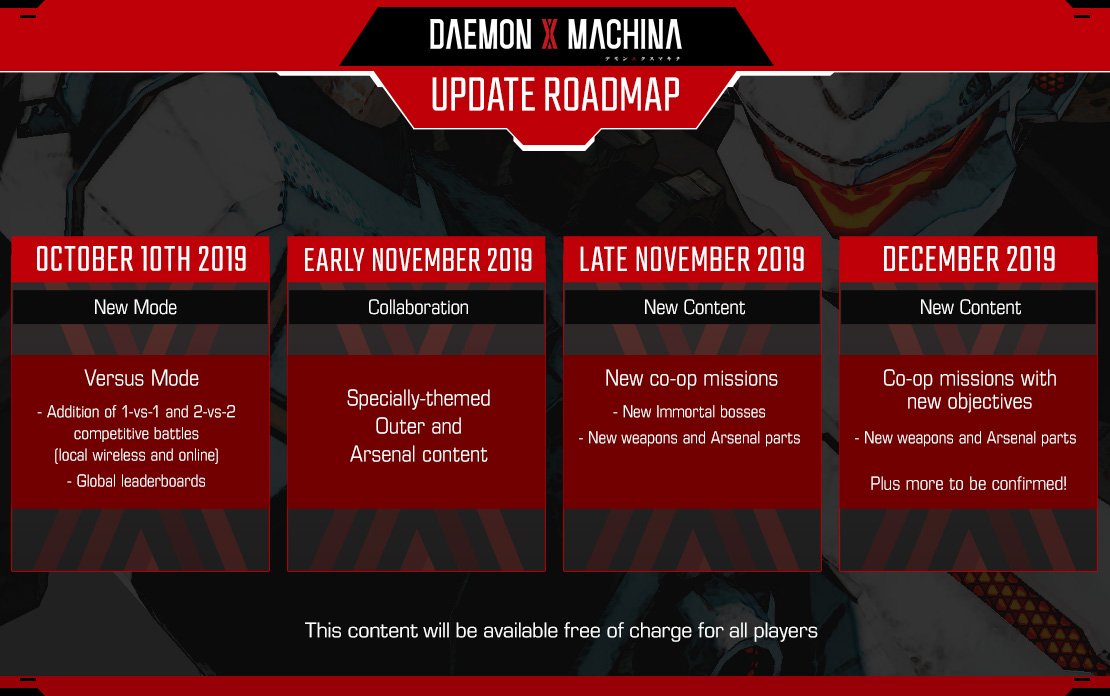 It will be interesting to see what are the collaboration (Gundam and other anime, XCX...).
Really nice to see the game supported that much, I put it aside due to the ton of games released last month.