Hello all, welcome to the Dead by Daylight Community |OT|, I figured we should get a general thread going instead of relying on new threads about DLC information to discuss the game.
Dead by Daylight is an asymmetrical multiplayer (4vs1) horror game where one player takes on the role of the savage Killer, and the other four players play as Survivors hoping to escape.
Each game consists of the Killer, the Survivors, generators, hooks, hexes, chests, a hatch and exit gates.
Everyone playing can use usable tokens called Offerings and Skills / Perks to their advantage; these will change the gameplay in each encounter that can put the game in the favour of the Survivors or the Killers if used effectively.
Developed by
: Behaviour Interactive
Published by
: Starbreeze Studios
Release date
: June 14, 2016 (PC),
June 20, 2017 (PS4 & XBO)
The objective is simple. The Killers objective is to please the Entity by sacrificing the Survivors on Hooks. The Killer is to hunt and mercilessly kill each Survivor by hitting them, picking them up and taking them to hooks located around the map. The Entity will then attempt to steal the soul of the Survivor.
Note: The Killer can kill Survivors without using Hooks if they use a Memento Mori Offering.
The Survivors objective is to fix 5 generators located around each map which give power to the exit gates. The Survivors can then open the Exit Gates and escape. The Survivors can also escape if they locate a secret hatch that is hidden in the map when 4 Generators are fixed / 1 Survivor is left alive. A key is required unless you are the last Survivor.
Survivors have to help their comrades by taking them off Hooks so they don't get sacrificed to the big ol' Entity.
There is now a store where players can spend Iridescent Shards or Auric Cells on Costumes, Characters and the Shrine of Secrets.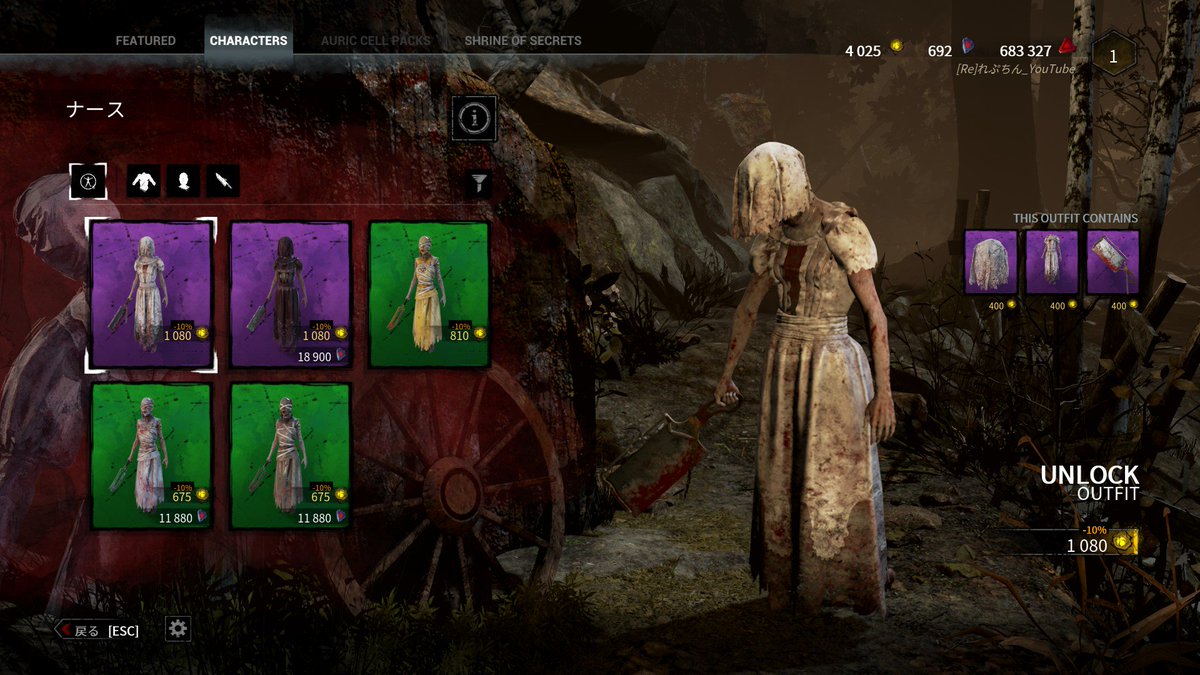 There are three currencies currently implemented in the game.
Auric Cells
are a Microtransaction type of DLC currency that can be bought from the PSN / XBL / Steam store and used to purchase Costumes, Characters and Killers from the Store.
Iridescent Shards
have been reworked into currency that players get for free when levelling up their Player Level, a new type of levelling system for your account that levels up with EXP earned from every game session you play. They are used to unlock Costumes, non-licenced Characters and Killers for free, and to be used in the Shrine of Secrets.
Bloodpoints
, these are used to upgrade your characters in the Bloodweb, allowing them to level up and unlock new Perk Slots, new Perks and Offerings to use in trials.
Each week, the Shrine of Secrets is a place players can use their Iridescent Shards to unlock Character / Killer Exclusive Perks in other characters / killers Bloodweb so that any character / killer can unlock those character / killer specific perks.
It looks a bit like this:
Dead by Daylight ERA Community Discord
Hidden content
You need to reply to this thread in order to see this content.
Finally updated, sorry it took so long. :')
Last edited: