Contains some minor world-building spoilers for both of the games mentioned in the thread's title
As an asexual person it sometimes feels that my own sexuality doesn't exist to the wider world and, for the most part, it doesn't. Asexuals (or aces for short) are such a small part of the population and even people who are asexual might not know about the existence of it; as such representation, especially in the media, means quite a lot to me and more importantly it will mean a lot to people like me-of-one-year-ago who have no idea
who
they are and feel 'broken' because of it.
That's why I was so happy to realise that two of the biggest games of the Autumn/Fall have actual ace representation!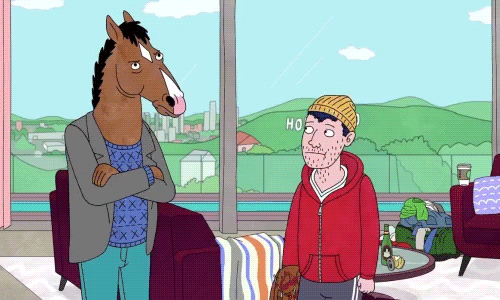 But, as that gif (with famed ace Todd Chavez) implies, not all is as good as it seems. So let me explain and complain and then refrain about two games that make up this thread's name.
Hooray! - The Outer Worlds
This is perhaps the best example of ace representation in modern gaming, and perhaps the
only
example where it's explicitly said instead of implied or shoved into headcanon. The first companion you get in The Outer Worlds, Parvati, is asexual. It's not implied, it's not hinted at, it's directly said towards the player in multiple instances:
Quote (due to tiny text size):
I'm not much interested in... physical stuff. Never have been. Leastways not like other folk seem to be. It's not that I can't? I just don't care for it.
And if that wasn't obvious enough, the writer behind her character explicitly says that she is asexual:
So why is this representation good? It's because it forgoes all of the typical stereotypes surrounding being ace and simply shows how a character in that universe might deal with being one herself. It shows how ace people can often be seen as cold, as robots, and then subverts that my making Parvati into one of the most warm and loveable characters in the entire game. It also shows the difference being asexual and being aromantic (Parvati has a pretty big romantic crush for another female character in the game) , and the difference between aesthetic attraction and physical, sexual, attraction (the aforementioned crush is based a little on looks, but like with many ace people that affection is not sexual in any way). And
even better you
can make your own character ace by saying that you feel the same way as Parvati in a conversation with her!
It's just... so good, and for myself it has lifted my feelings towards The Outer Worlds as a whole in a really big way. I love it, and from reactions throughout various ace communities I lurk in, it seems many/most of the ace community do as well.
...question mark? - Death Stranding
However, where The Outer Worlds succeeds Death Stranding fails, and it does so in a way that it would have been much better if the game had no reference to asexuality whatsoever. I'm referring to an 'Interview' (text log) in the game which appears at
some
point, it's not too clear as I've only seen it appear on Twitter. It is as follows: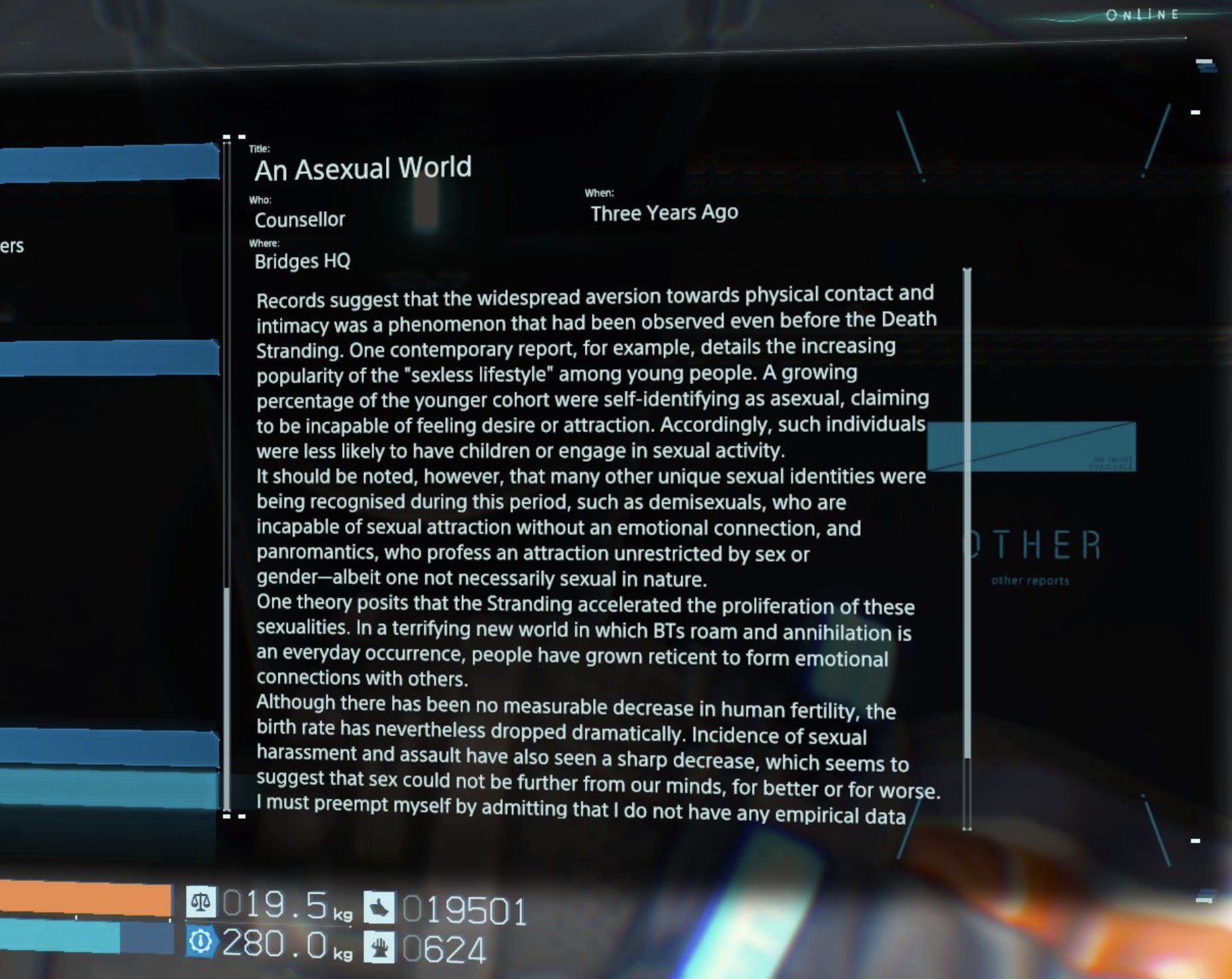 TL:DR
- Before the 'Death Stranding' (the game's titular apocalyptic event) happened there was a rise in 'sexless lifestyles' and people self-identifying as asexual
- Asexual people claim to be incapable of feeling desire or attraction
- The Death Stranding supposedly proliferated these sexualities
- Asexuality is a bad thing because it means you're reticent to form emotional connections to others
- Sexual harassment/assault decreases and birth rate decreases are linked (?!?!?!?!?)
So as you can probably tell this is not good asexual represention whatsoever. It propagates the kinds of myths that make it so that many asexual people are given shit for who they are or feel bad for who they are. Below I'll show what myths this is showing and then explain why they're wrong:
Asexual people are incapable of feeling desire or attraction
The only inherent difference between asexual people and non-asexual people is that asexual people don't feel
sexual
attraction towards others. As The Outer Worlds and any cursory glance at any actual ace community shows, ace people can feel attraction romantically, platonically, aesthetically, etc. One of the things that makes asexual lives worse is the notion that one cannot be in a relationship or feel 'love' unless they want to have sex with the other person, and this quote directly implies that they can't. Similarly the use of the word "incapable" instead of just "don't" implies that asexuality is a condition instead of a sexuality.
Similarly this myth propogates the notion that all asexual people can't, or don't want to, have sex (or have sexual fantasies, fetishes, etc). This is undoubtedly not true.
Asexuality is something that people "self-identify" as and is something "proliferated" by external factors
Firstly, asexuality is definitely mostly done through self-identification, but the same thing goes for literally every other sexual orientation out there; however, I feel that the term 'self-identify' implies a lack of provedence to those identities, and whilst not the biggest issue I can't help but feel it's not great.
However the worst part here is the implication that asexuality is something that can be caused by external events instead of being something that is inherent to the person themselves. Nobody's going to deny that asexuals may not be asexual or vice-versa, butwhat every ace in the community would deny is that their asexuality was
caused
by something outside of themselves. There may be correlations somewhere (most notably the lop-sided split between female asexuals and male asexuals) but there are no causations as asexuality is something internal to one's self instead of just a "phase" that some people either decide, or are made, to go through.
Asexuality will contribute to the downfall of civilisation
Well I wouldn't exactly say this is a very wide-spread 'myth' but it's one that has plagued the entire LGBTQ+ community for centuries. Whilst I doubt many people believe that asexual people will actually cause the downfall of civilisation, many parents and friends of aces believe that an asexual lack of sexual attraction towards others will cause negative things both in and out of their own lives.
As has been said to me by others, this could also point to a misunderstanding between KojiPro and the definition of asexuality in that the game believes asexuality is the cause of Japan's currently low birth rates. However,
that is not what asexuality is
, and the journal article that someone linked me itself misconstrues asexuality as simply 'not having sex.' Additionally the fact that whoever wrote that part of the game did the liberty of doing some basic research to explain who demisexuals and panromantics are shows that it's not a simple misunderstanding because it's made clear that it's referring explicitly to the asexual community instead of a societal drop in birth rates.
Rates of Sexual Assault/Harassment and Birth Rates are Linked
OK this has nothing to do with asexuality but...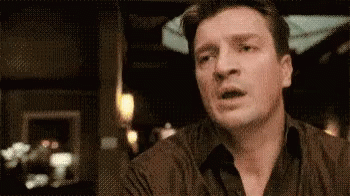 So what's the point, you Plum?
Well, like with many instances where representation is criticised, the point of this thread is to point out how ace representation can be both very good and very bad, and try and make it so that people are more educated in the future. However the fact that ace representation is so incredibly limited means that every little bit of it is something that should be looked at closely because there's the chance that it could be many people's
only
interaction with asexuality and the ace community.
I don't expect you to start crucifying Kojima or anything like that as, in the grand scheme of things, this isn't the end of the world; however I do ask that you don't dismiss the concerns of actual ace people regarding the myths that the DS representation propagates, similarly if an ace person says that this doesn't bother them then please don't then use them as a way to do what I just asked you not to do. As with all other cases of minority representation only the minorities themselves have the real right to say what is and isn't 'good' or 'bad'.
I have questions!
That's great! However I want to go play more Death Stranding (as, despite the bad taste its awful ace representation has left in my mouth, I am still enjoying it so far) so I will instead link you to the most comprehensive Asexual FAQ I can think of:
Go there if you want to know more, and of course if you do have a question ask here and either I or someone else from the Era Ace community will be able to help you.
Now without further ado: