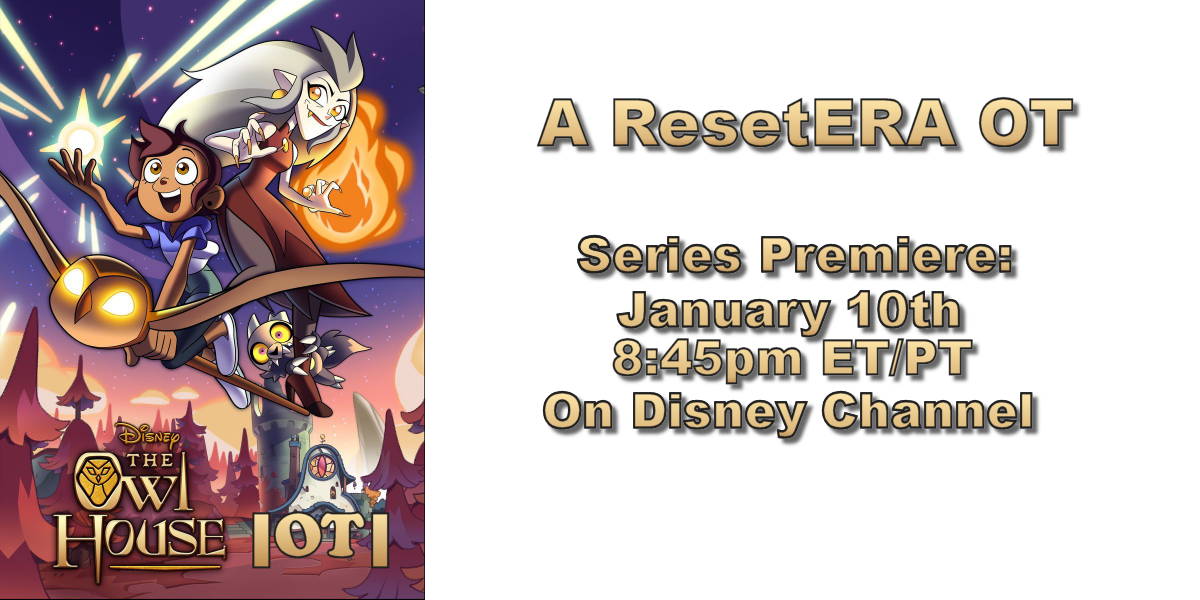 Welcome to the official thread for discussing the newest DTV animated series,
The Owl House
. Created and executive-produced by Dana Terrace (former storyboard artist on "Gravity Falls" and was a director on "DuckTales"), "The Owl House" is an animated fantasy-comedy series that follows Luz, a self-assured teenage girl who stumbles upon a portal to a magical realm where she befriends a rebellious witch, Eda, and a tiny demon warrior, King. Despite not having magical abilities, Luz pursues her dream of becoming a witch by serving as Eda's apprentice at the Owl House and ultimately finds a new family in an unlikely setting.
The show has already been greenlit for a second season, and is in production now.
- After the principal airing, you can view each episode online via DisneyNOW and VOD cable services (sometimes a day early).
- You can also purchase HD episodes via iTunes, Google Play and Youtube TV the next day.
- The first episode will debut in Canada on Family Channel on January 12th.
- It's been confirmed that the show will debut on Disney+ some 30 odd days after the season finale airs.
PRINCIPAL CAST INFORMATION:
Luz Noceda
| Voice Actor: Sarah-Nicole Robles
The show follows Luz, a 14 year-old girl from our world who one day finds a portal that transports her to the Demon Realm, a land populated by all sorts of magical creatures with a town located in the remains of a dead titan. Luz decides to make her dream come true of becoming a witch by attending the local witchcraft school. This proves to be difficult due to Luz's lack of magical abilities as well as the demons being very prejudiced towards humans which forces Luz to hide her identity.
Eda "The Owl Lady"
| Voice Actor: Wendie Malick
Eda lives in the titular Owl House on the cliff outside the town and runs a stand at the market place where she sells objects found in the human world, which the inhabitants of the Demon Realm consider mysterious. We soon learn that Eda, due to her rebellious nature, is pretty much an outcast in town. She's also the type of teacher that "not only will throw you into the deep water but also will set the entire lake on fire".
King
| Voice Actor: Alex Hirsch
King was the powerful master of all demons, now trapped in a small, cute, furry body, who feels a bit like a mix of Cubone and Lucy from Disenchantment. He lives with Eda in the Owl House.
The Hexside Academy students:
Willow | Voice Actor: Tati Gabrielle
Described as "a bubbly and friendly witch" on the Disney Press site, Willow appears to specialize in plant-based magic and/or botany.
Gus | Voice Actor: Issac Ryan Brown
Not much is known about Gus, other than him being "a young and precocious witch". Gives off a bit of a Beast-Boy (Teen Titans) vibe. Will he prove to be just as annoying to his peers?
Amity Blight | Voice Actor: Mae Whitman
Amity is another student at Hexside and specializes in magical "abominations". She is very particular and can get flustered if things don't go her way. She tries to be prickly but is a softy at heart. The Disney site describes her as a "bright and competitive witch". A potential magical rival for Luz.
PRINCIPAL LOCATIONS INFORMATION:
The Owl House:
The Owl House is a living structure that Eda has charmed so that she could live there and be safe from outside forces. Quaint and cottage-like on the outside, with a storefront facade, the inside of the Owl House is full of secret rooms, with a labyrinth for a basement. Hooty, the door knocker, serves as the home's defense system.
The Boiling Isles:
Most of the series takes place on the Boiling Isles, formed from the bones of an ancient, giant Titan.
Bonesborough:
Bonesborough is a lively town in the Boiling Isles filled with creatures, witches, ghosts and monsters.
Luz's Room:
Once a storage closet, now a comfy hideout. Luz has made this room her own with the few possessions she brought from the human realm - and lots of Eda's stuff.
Hexside Academy of Magic and Demonics:
Hexside Academy of Magic and Demonics is a prestigious high school for witches, demons and magic folk.
Witch Arena:
Witch Arena is a gathering place located on the most mysterious part of the Boiling Isles: the Knee. Set within the ruins of a castle, groups will meet here for rituals and social functions.
The Covention Center:
The Covention Center is an arena for magical entertainment and competition. It is the site of the annual COVENTION, in which the covens of the Isles vie for new recruits.
The Playground:
The Playground is in the midst of the hustle and bustle of Bonesborough. It is a popular destination for kindergarteners, their parents and King.
The Conformatorium:
The Conformatorium is a heavily-guarded prison. It was built to hold dissident witches, demons and oddballs who are too weird (even for the Boiling Isles).
The Library:
The Library is a hulking structure that is home to the largest collection of magical books on the Boiling Isles.
Did You Know?
It was stated that the main reference point for the architecture in the series was from the work of Belgian painter
Charles Leickert
and the other artistic inspirations were drawn from the work of Dutch painter
Hieronymus Bosch
, Russian illustrator
Ivan Bilibin
and Spanish artist
Remedios Varo
.

Official Trailer:
Other videos:
Opening Title Sequence
NYCC Sneak Peek
Promo Vid 1
Promo Vid 2
The World of Owl House!

These are all the Season 1 episodes we currently know about. I assume the show will go into hiatus in late March and we'll get another 10 or so episodes at a later date. It is confirmed each episode is the standard 22-minute length and will (so far) be aired weekly on Fridays. Only the first episode is confirmed to air @ 8:45pm (Dana says this is due to a show marathon that airs beforehand), following episodes may air at a different time. This section of the OT will be periodically updated as new episode titles and synopsii are made available.
Episode 1 - A Lying Witch and a Warden
(January 10, 2020)
When 14-year-old outcast Luz discovers a portal to a new world, she meets a witch named Eda, and a demon named King; in order to get home, Luz has to help them with a mission.
Episode 2 - Witches Before Wizards
(January 17, 2020)
When an ancient wizard gives Luz a map for a mystical quest, she wonders if she is actually a Chosen One.
Episode 3 - I Was a Teenage Abomination
(January 24, 2020)
Luz sneaks into the local magic school to help a friend and makes a new enemy in the process.
Episode 4 - The Intruder
(January 31, 2020)
Luz and King must defend The Owl House from a mysterious intruder.
Episode 5 - Covention
(February 7, 2020)
Luz learns about witch covens, but her lesson goes awry when she finds herself thrust into a witch's duel.
Episode 6 - Hooty's Moving Hassle
(February 21, 2020)
When Luz, Willow and Gus accidentally animate the Owl House, the house runs amok around Bonesborough.
Episode 7 - Lost in Language
(February 28, 2020)
While checking out the library, Luz's pranks lead to unintended consequences.
Episode 8 - Once Upon a Swap
(March 6, 2020)
Episode 9 - Something Ventured, Someone Framed
(March 13, 2020)
Episode 10 - Escape of the Palisman
(March 20, 2020)
Promo art for tonight's debut episode via Dana Terrace:
assorted NYCC2019 panel quotes, so nice I had to post about them twice:
"Luz is completely cut off from the real world. Any part of her culture that she brings is directly tied to her mother and how her mother influences Luz's life" ------ @DanaTerrace
"Stories are compelling when there's high stakes. They're compelling when there are villains and there's peril. Sometimes parents worry about the peril But kids LOVE peril. It's cool that Disney is allowing part of its brand to bring this into it." ----- @_AlexHirsch
"Owls have a reputation for being wise, but owls are actually dumb. They're STUPID. And I thought that was the funniest thing in the world. They look so smart and soulful. But they're just dumb as hell. I thought that was great." --- @DanaTerrace on why an Owl?
"They were a little concerned when they found out the entire show takes place on the bones of a dead body. I said it's cool, it's a fantasy world, it's not a human body." ----- @DanaTerrace says on Standards and Practices
Last edited: