What is Alexa?
Alexa is a voice assistant that can be accessed on many device and apps, the most popular of which is Amazon's Echo line. Alexa can get music, books, audiobooks, weather, timers, lists, news, calendars, sports updates, facts, calls friends, phone numbers control lights, smart locks, tvs, plugs, buy stuff, and tell jokes (oh God the jokes) via your voice. Tens of thousands of skills to do all sorts of others things like call ride share services, order pizza, or play audio games. Alexa gets new features constantly (something new almost weekly).
Echo Lineup
Unless noted all Echo products have far-field microphone technology (4-8 microphones), a speaker, 802.11n wifi, 3.5mm audio out, and bluetooth support for audio in/out, playback control and accessories.
Echo (3nd Gen)
The third-gen Echo is basically a recycled Echo Plus minus the zigbee hub and tempurature sensor. Improved sound over 2nd gen.
MSRP $100
Echo Dot (3rd gen) with Clock
The Echo Dot now has an LCD display for telling time, tempurature and timers. Non-clock version still avaialble for $10 less.
MSRP $60 ($50 without clock)
Echo Plus (2nd gen - 2018)
Improved sound over both the 2nd gen Echo and the 1st gen Echo Plus. Comes with a built in ZigBee support which allows you to use many types of smart-home devices without an additional hub. Also adds a temperature sensor for triggering actions, e.g. turn on a connected fan when the temperature gets high. Also supports "local voice" ability that lets you perform certain things like switching lights via the hub functionality even if the internet is down. The Echo Plus also supports audio in via 3.5mm jack.
MSRP $150
Echo Spot (2018)
Part Echo Show, part Echo Dot, much more stylish than either. Sports a rounded screen that can play videos, camera feeds, or just visually show information as well as a camera for calling.
MSRP $130
Echo Show 10" (2018), 8" and 5"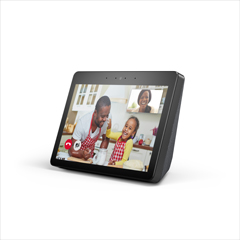 The show line comes in a variety of screen sizes. Can access Amazon Prime Videos, Youtube, Vimeo, Dailymotion, Hulu and Amazon'stored pictures as well as most of the top brands of security cameras. No 3.5mm audio out.
The 10" comes with a Zigbee hub, the 8" and 5" have physical camera shutters. Echo Show 8 and 10 have the best audio in the lineup excluding the Studio.
MSRP $230 (10"), $120 (8"), $90 (5")
Echo Studio
Highest quality audio of any Echo Device. Calibrates itself to the room and is capable of outputing 3D audio (Amazon Music HD). Can be paired with Fire TV to produce a Dolby Atmos setup.
MSRP $200
Echo Flex
The cheapest full Echo with a lower quality speaker. Can simply be plugged in to an outlet. Also has a USB port for use as a charger or for plugging add-on like a motion sensor or night-light.
MSRP $25
Echo Input (2018)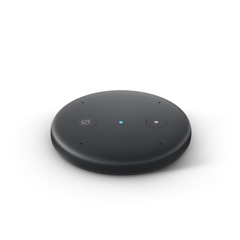 It brings the microphone you bring you own speaker, connects over Bluetooth or 3.5mm out.
MSRP $35
Echo Auto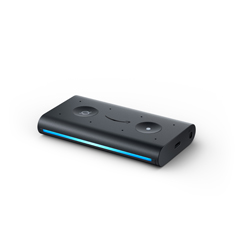 An Echo device that mounts to a car dashboard and comes with a cigarette lighter adapter. Uses your car's audio (BT or aux) and your phone's cellular connection to enable Alexa services. Can give directions or offload to you favorite navigation app (Google Maps, Waze etc).
MSRP $50
Echo Buds
True wireless earbuds with Bose noise reduction. 5 hours of play with an additonal 15 from the carrying case. Has access to hands-free Alexa via voice, or long-press to get you phone's native assistant.
MSRP $130
Echo Frames (invitation only)
Glasses that shoot Alexa into your ears and offer hands free communication. Can get prescription lenses. Audio quality is not really for music, no iOS support.
MSRP $180
Echo Loop (invitation only)
Talk to Alexa like a secret spy! Has a tiny speaker you need to put up to you ear and a microphone you can talk to with the push of a button. Has haptics to incoming messages. Get about a day of battery with "typical" use.
MSRP $130
Accessories
Unless noted Echo Accessories do not contain microphones themselves.
Echo Sub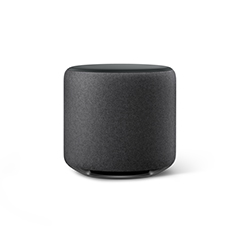 Wireless subwoofer designed to work with existing Echo devices to give them more bass. It can be set up in 1.1 or 2.1 configurations.
MSRP $130
Echo Link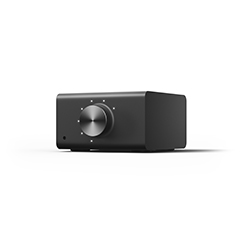 A Preamp designed to integrate your existing high-quality audio system and add Alexa playback. Has coax, RCA, and optical inputs/outputs.
MSRP $200
Echo Link Amp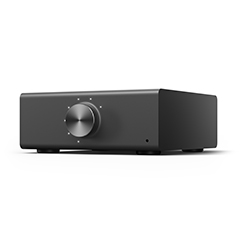 A 60 Watt 2-channel Amp that connects directly to Alexa services. Has coax, RCA, and optical inputs/outputs.
MSRP $300
Echo Wall Clock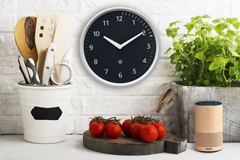 An analog wall clock that visibly shows your Alexa timers with LEDs and can automatically change for Daylight savings time. Doesn't contain any audio functionality of it's own, connects to an Echo over bluetooth.
MSRP $30
Others
Anyone can build an Alexa compatible device. Whether it be a Raspberry Pi DIY project or hardware partners like Trilby and Ecobee, lamps, cars, refrigerators etc. Alexa is also supported on Amazon tablets, Fire TV, Amazon Tap (portable bluetooth speaker), Amazon Dash Wand, Amazon Cloud Cam and third party apps on iOS and Android. Not all devices support all features.
Integrations:
Alexa can interface with a number of things without the need for specific skill invocation words. These include:
- Music services such as: Amazon Music, Apple Music, Pandora, Spotify, Sirius XM, Deezer, Tidal
- TV Devices such as: DISH Hopper, Sony Bravia TVs, Fire TV
- TV Services like: Neflix, Hulu, Showtime, PlayStation Vue, CBS, NBC, Bravo, CNBC etc.
- Camera Devices such as: Ring, Nest, Amazon Cloud Cam (audio-only devices can get audio streams)
- Smart lights, plugs and other on/off devices such as: Hue, Lifx, Wemo, Smartthings
- Thermostats such as: Nest, Ecobee, Honeywell
- Smart locks such as: August, Yale
- Speakers: Sonos
- Sensors: SmartThings
- Smart Doorbells: Ring
These all use a common interface so you can even mix and match product brands. The Alexa app also allows you to arrange devices into groups so you can target several devices at the same time. You can also add an Echo to that group to make it context aware. So if you add a group called "kitchen" with 2 lights and an Echo, if you tell that Echo "turn on lights" it will turn on just those 2 lights.
Skills:
Skills are the primary way Amazon enhances Alexa's functionality. Anyone can build skills and Amazon offers some free AWS Lambda hosting for mild traffic. Skills can create Flash Briefing items, use certain bluetooth accessories, display video and send notifications. Top skill authors will receive some payment or they can have subscriptions (these are free to Amazon Prime members) but may not contain ads. Skills are invoked with a phrase such as:
Alexa, ask Lyft for a ride
Alexa, tell Starbucks to check my balance
Alexa, ask Fitbit how I'm doing today
However, Alexa is able to use skills even without a specific invocation if it knows one is able to handle your request. As of writing there are over 100,000 skills available.
Other Features
Echo Spacial Perception (ESP) - Echo devices can determine which one you are likely talking to so as not to duplicate requests.
Whisper Mode - Alexa can talk back to you at low volume if you whisper
Alexa Gaurd - Alexa can be used as a make-shift security system. You can arm it by saying "Alexa, I'm leaving." It will be put into a listening mode and can detect smoke or CO2 alarms as well as broken glass, or common people noises like talking, water, or footsteps and send you a message if something happens. Also can simulate typical smart light patterns as if you were home.
Alexa Hunches - Alexa can use machine learning to understand more about your routines. Alexa can give you reminders such as turning off a light that you normally turn off around bed time, creating routines from common invocations, or alerting you when devices might need a new battery
Local Voice - Certain Alexa devices with built-in hubs can continue to do common tasks like turning on and off lights when the internet is not working.
Your Voice - Alexa can determine who is speaking and do things based on that user's preferences.
Stereo Mode - Alexa devices can be arranged in stereo configuration
Alexa Routines - Alexa lets you create macros that do several actions with a single command. For example you could say "Alexa, Good Morning" and have the lights turn on and have Alexa read you the news. These can respond to specific invocation words or be triggered based on sensors like temperature, contact, motion etc.
Alexa Calling - Alexa has several methods to communicate including Alexa's built-in calling function (with video if supported), sending messages, SMS, phone calling and Skype
Frustration Mode - Alexa can tell when you are upset and apologize.
Audio Settings - Control audio mix settings, speaking rate
Languages
English (US,UK,IN,NZ,AU)
Spanish (US,ES,MX)
French (CA,FR)
German (DE)
Italian (IT)
Japanese (JA)
Hindi (IN)
Portugese (BR)
Bilingual support for en-US/es-MX, en-CA/fr-CA, en-IN/hi-IN coming soon.
FAQ

Doesn't my phone do this?
It has some of the functionality but the real killer is that Echo's far-field microphones can pick you up across the room which greatly increases the usability as well as Amazon's massive ecosystem.
Are there ads?
As per Amazon's developer agreement skills will be rejected if they have advertising content. Skills can suggest deals and such as long as it's directly related to it's function (e.g. Starbucks skill could let you know of a BOGO deal). Music services may still contain ads as they normally would.
What's the privacy situation?
Echo is always listening for the wake word but anything it hears in it's short buffer will not be sent to the server unless it's reasonably sure you said the wake word. If so, it undergoes secondary verification and if it passes, the audio is processed by Amazon's servers. In the case of a third party skill, the invocation text will be sent to their web server to process. Amazon will retain records of your voice to help improve the recognition and these may be listened to by actual people (you can manually opt-out). You will need to manually remove these if you don't want them there or opt-in to auto-deletion in periods of 3 or 18 months. If you do not wish for the Echo to listen in or see you on camera, you can press the mute button. This physically breaks a circuit and thus cannot be overridden by software. Newer Echoes with cameras also have physical shutters. You may remotely enable Echoes using the drop-in feature which functions like an intercom, but do not enable this for anyone but very close friends or family (see link in calling section for an overview of the privacy implications).
How does calling work?
Calling is done to other Echoes or the Alexa app. There are several types:
Calling phones: e.g. "Alexa call, [person]'s mobile" / "Alexa dial 555-123-4567"
Alexa audio/video calls: e.g. "Alexa call, [person/device]"
Drop-in (two way intercom functionality, explicit pickup not required): e.g "Alexa drop-in on [person/device]"
Messaging: e.g. "Alexa message [person]"
Broadcast (one-way intercom): e.g. "Alexa, broadcast 'dinner is ready'"
Skype: e.g. "Alexa, call [person] with Skype"
First you need to register your phone number and contacts and it will pull in anyone else who has done the same in the app. Call blocking is available if you do not wish to receive calls from a particular person on you list. Calls can be directed to specific echoes (even within your own home) by using the device name, otherwise all devices will ring. The app, Echo Show and Echo Spot support video calls. You may also leave voice or text messages and pending messages are indicated on the Echo by a yellow light. If enable drop-in you can ask Alexa to "drop-in on [person/device name]" which works like an intercome and does not require the other end to specifically pick up. For information on the privacy nuances of drop-in check this writeup by AFTVNEws:
http://www.aftvnews.com/warning-alexas-drop-in-permissions-extend-to-all-members-of-an-amazon-household/
Echoes in the US are able to call phones for free, either by contact or by number. A separate product called
Echo Connect
will allow you to use a plugin phone line so that the Echo can use your same number, receive calls or dial 911.
While normal Echoes are incompatible with keypad menu systems, touchscreen Echoes like the Show and Spot have keypad support.
How do multiple Echoes work
Amazon uses a feature they call ESP (Echo Spacial Partitioning) to activate the closest Echo to respond. However some features are tied to the particular device that was activated such as music and timers. You may communicate between Echoes using drop-in or calling. Echoes can also be arranged into groups for shared music playback. They can also be arranged in stereo groups.
How does buying stuff work?
You may ask Alexa to order products, it will surface the most relevant from a pool of highly rated and prime eligible products and tells you the price. The order must be confirmed before placed and you are free to cancel or return (for free) items ordered this way. It is paid for via the primary card on your account. You can use a passcode to prevent erroneous orders or use the My Voice feature.
How do accounts work?
Multiple users can setup accounts and Alexa can differentiate them by voice. This is used for shopping, music preferences, and calling. To setup voice recognition you must go to "My voice" in settings and go through an exercise.
How do third party devices work?
Largely the same though not all features are available on all devices and quality can vary (feature support is consistently improving).
Can I use other assistants?
Technically yes, but it involves making your own skill:
http://alexamods.com/guide-install-ask-google-alexa-skill/
. Amazon and Microsoft have an official partnership that allows Alexa to forward to Cortana and vice-versa. Amazon is also part of the Voice Interoperability Initiative (
https://developer.amazon.com/en-US/alexa/voice-interoperability
).
Last edited: