Fairy Tail Ep. 291
This was a really fast moving episode. We went from a "calm before the storm" bunch of exchanges to only the first wave that "maybe we can handle this" to "oh shit we're so totally screwed with this battle" in the span of an episode. Personally, it's lame that we didn't a full "calm before the storm" episode, as I woulda liked to see the other Guild characters (that weren't shown off during the recruitment episodes), but eh, I guess I was expecting too much.
The actual battle started off fine, and I appreciated them *actually* using some strategy, though it got absolutely ridiculous at the end with the whole "omigod we're surrounded we're so dead" angle. It just broke my suspension of disbelief. Like, I could buy Ajeel and his fleet sneaking in overnight from one direction, but like, fleets from all directions, including ground troops too? What? How does such a large force go unnoticed by like, regular folk? Let alone the other Guilds or Magic Council? That was stupid, though FT not having any sense of world building isn't new.
I did like the deep cuts (is that how you use that word?) in this episode, at least. The Phantom Lord cannon is rather obvious, Evergreen calling Erza the Fairy Queen and Fried using his magic on Magnolia are also some throwbacks to the Fighting Festival arc (both of these arcs my absolute favorite, so you better believe I'm gushing at this fanservice). The jokes also weren't too bad, and the music was on point for this episode as well.
Fairy Tail Ep. 292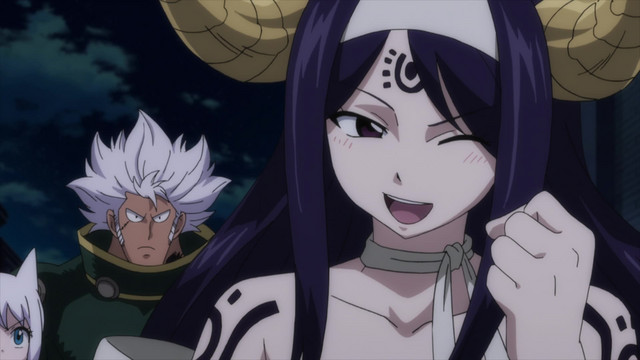 I got mixed feelings on this episode. Let's start with the bad: that Lucy and Brandish encounter.
I'm used to Mashima's patented
Fairy Tail Bullshit
™
but this honestly was way more uncomfortable than your usual FTBS. When Lucy loses her clothes because the dragon that she and Natsu are fighting has clothing removal magic, because idk,
the dragon eats naked humans better
, I'll eyeroll really hard, at best. The stuff with Brandish, where she's actively like "I'll destroy Magnolia if you don't do this for me" was hella uncomfortable though.
It's not the worst FT has been with this (that'd be Yukino's banishment from Sabre Tooth, which is the low point... so far). The show really undercut the mood of scene with its dumb jokes, and at least Lucy manages to turn the situation into a good one when she steals and crushes that magic-removing goon... buuut it's still not great. It still dragged down the episode for me and it's just another reason why I gotta keep telling my younger sister (who loves Erza and the episodes of Season 1 she's seen) that she can't continue watching this show til she's much older
As for the good stuff: the continued throwbacks are cool (this time with Avatar and Tartaros / Seilah), the smaller scale battles are well-handled, and they've done a good job keeping track of all the characters and fights going on (this is a massive improvement over Tartaros, imo). I loved that they didn't even bother with Ajeel's goons; yeah we know they're trash fodder, let's not even waste screentime on them.
The Ajeel vs. Erza fight was mostly bland (Ajeel is honestly the blandest mfer ever), though the ending to that fight, with Erza signalling Bisca, was legit clever. Even Warren (useless telepath man) and Max (useless sand guy) had a moment in this episode (Warren even got bloody character development), which is cool. Oh yeah, Natsu holding back, for a change, and getting a joke out of that, were great.
I guess that's it for right now. The arc is in full swing, so there's not a lot to really talk about. That OP continues to be banging though.
Last edited: