​
Full Schedule of Events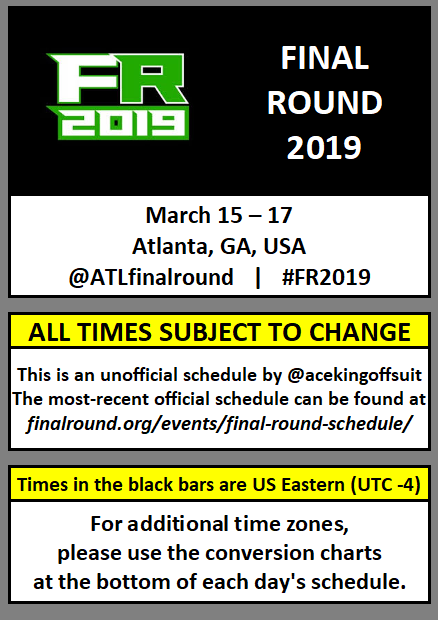 ​
Streams
Click on each link to be re-directed to the channel on your device's app or website.
www.twitch.tv/CapcomFighters
www.twitch.tv/Brawlhalla
www.twitch.tv/Bifuteki
www.twitch.tv/FunkyP
www.twitch.tv/TypoHouseGames
FINAL ROUND 2019

Due to the outcry and general love shown towards the event, we've decided to continue the tradition that is FINAL ROUND. We can't wait to host you guys/girls again! And of course I personally would like to thank the players of the FGC, vendors, sponsors that have supported FINAL ROUND throughout the years because without you guys there wouldn't be any FINAL ROUND or scene! We're going back to our old home at the Hilton Atlanta Airport.

This will make it easier for everyone who is staying at the hotel because the event isn't separate from the place you will be staying! We know this is a smaller venue than what we have used the past two years, but we have already started planning to better utilize all of the space including the pavilion area! We also will be enforce a hard cap for each game due to the limited space we have to ensure a quality event at this venue so don't be left out and pre register today!
CAPCOM PRO TOUR 2019

Hello World Warriors. As we confirmed at Capcom Cup in December, Capcom Pro Tour (CPT) is coming back for a brand new season. We're gearing up for another exciting season featuring Street Fighter veterans and up-and-coming new players as they battle to become the world champion.

To help get CPT competitors and community ready for the 2019 season, we have a lot of new details to share with you today, including the

schedule

, beginning with Final Round in Atlanta, GA March 15-17 format changes for 2019, and new events!

Street Fighter V: Arcade Edition (SFV:AE) will once again be the focus of CPT 2019. Players will compete for a total prize pool worth over $600,000.
As usual let me know if there is anything to update. Enjoy!
Credit to:
https://smash.gg
https://twitter.com/acekingoffsuit
Last edited: