Currently sitting at 100% Fresh after 32 reviews.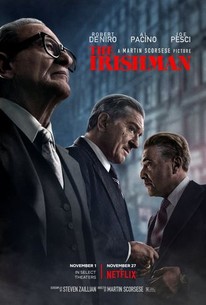 This biographical crime thriller follows Frank Sheeran (Robert De Niro) as he recalls his past years working for the Bufalino crime family. Now older, the WWII veteran once again reflects on his most prolific hits and, in particular, considers his involvement with his good friend Jimmy Hoffa's...
www.rottentomatoes.com
Scorsese's return to the gangster milieu is anything but a greatest-hits compilation from a filmmaker in his autumn years; as a storyteller and a crafter of images, he remains as bold and as provocative as ever.
The Irishman confirms [Scorsese] as one of the greatest living, though still largely unsung, comedy directors, and De Niro as one of the great scene-stealing straight men in movies.
The Irishman is so layered with detail, and shifts so gracefully through so many eras, that it's hard to tease out a clearly defined plot. Even so, the movie is beautifully constructed-you willingly follow wherever it goes.
Well, chug a 5-hour Energy, because the terrific "Irishman" deserves your full, un-fatigued attention.
Scorsese knows his audience and reputation so well that the film constantly plays with, and defies, expectations.
There's an almost meta-maturity, as if Scorsese is also looking back on his own career, the film leaving us with a haunting reminder not to glamorise violent men and the wreckage they leave behind.
It's pretty nimble for such a behemoth and can be extremely funny; Pacino is just a scenery-chewing riot as Hoffa.
The Irishman feels like an epilogue to Scorsese's storied career - but it also makes clear that Marty is far from being obsolete.
Martin Scorsese's "The Irishman" is a coldly enthralling, long-form knockout - a majestic Mob epic with ice in its veins.
September 28, 2019
A monument is a complicated thing. This one is big and solid - and also surprisingly, surpassingly delicate.
This is the Scorsese of Silence, patient and methodical, and it brings out a subtle agony from De Niro one might have assumed the actor could no longer summon.
September 28, 2019
A highly ambitious crime epic from a dream team delivering standout work all around. De Niro, Pacino & Pesci are phenomenal as is the work of editor Thelma Schoonmaker who makes a story that spans decades and clocks in at a whopping 209 minutes seamless.