Shiny Meltan are now officially available to get in Pokemon GO for the next month. This is the first time that they've been revealed and apparently the wait time for Mystery Boxes via Let's Go will also be reduced.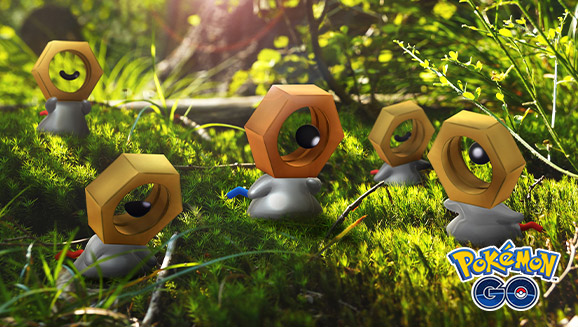 Since the launch of
Pokémon: Let's Go, Pikachu!
and
Pokémon: Let's Go, Eevee!
on November 16, 2018, Trainers have been busy transferring Pokémon from
Pokémon GO
into these games! To show our appreciation, a Shiny version of the Mythical Pokémon Meltan will appear in Pokémon GO for a limited time. A Shiny version of this Pokémon has never been seen...until now. The Shiny version has a slightly darker face than normal, as well as a blue tail instead of the usual red.
Meltan is a rare Pokémon that appears only when a Mystery Box is used in Pokémon GO. In turn, a Mystery Box can be obtained only by linking Pokémon GO with
Pokémon: Let's Go, Pikachu!
or
Pokémon: Let's Go, Eevee!
Use your Mystery Box anytime Tuesday, February 5, 2019, through Monday, March 4, 2019, for the chance to catch Shiny Meltan. And it seems as if the time players have to wait between Mystery Box uses might get reduced, too!
For those wondering how the heck can you get a Mystery Box, well it's simplish!
How to catch Meltan in Pokémon Go using the Mystery Box
Want to catch a Meltan before the 'Let's Go, Meltan' quest is complete, or simply more to help you evolve into Melmetal? Then you'll need a copy of
Pokémon Let's Go on Nintendo Switch
.
There are several steps involved, so here's a step-by-step explanation.
How to catch Meltan in Pokémon Go using Pokémon Let's Go
Connect your Pokémon Go account to a Nintendo Switch copy of Pokémon Let's Go Pikachu or Eevee.
Transfer a Pokémon from Pokémon Go to Pokémon Let's Go Pikachu or Eevee. (The Let's Go account needs to have reached the Go Park in Fuchsia City to do this, which is about three quarters of the way through Let's Go's story.)
As soon as you do so, you'll be given an item in Pokémon Go called the Mystery Box.
Select the Mystery Box in your items menu and open it when you're ready. This will cause Meltan to spawn around you for 30 minutes.
Catch as many Meltan as you can, and don't forget to use Pinap Berries on every one, as you're going to need that Candy!
You can only do this a maximum of once per week.
Last edited: