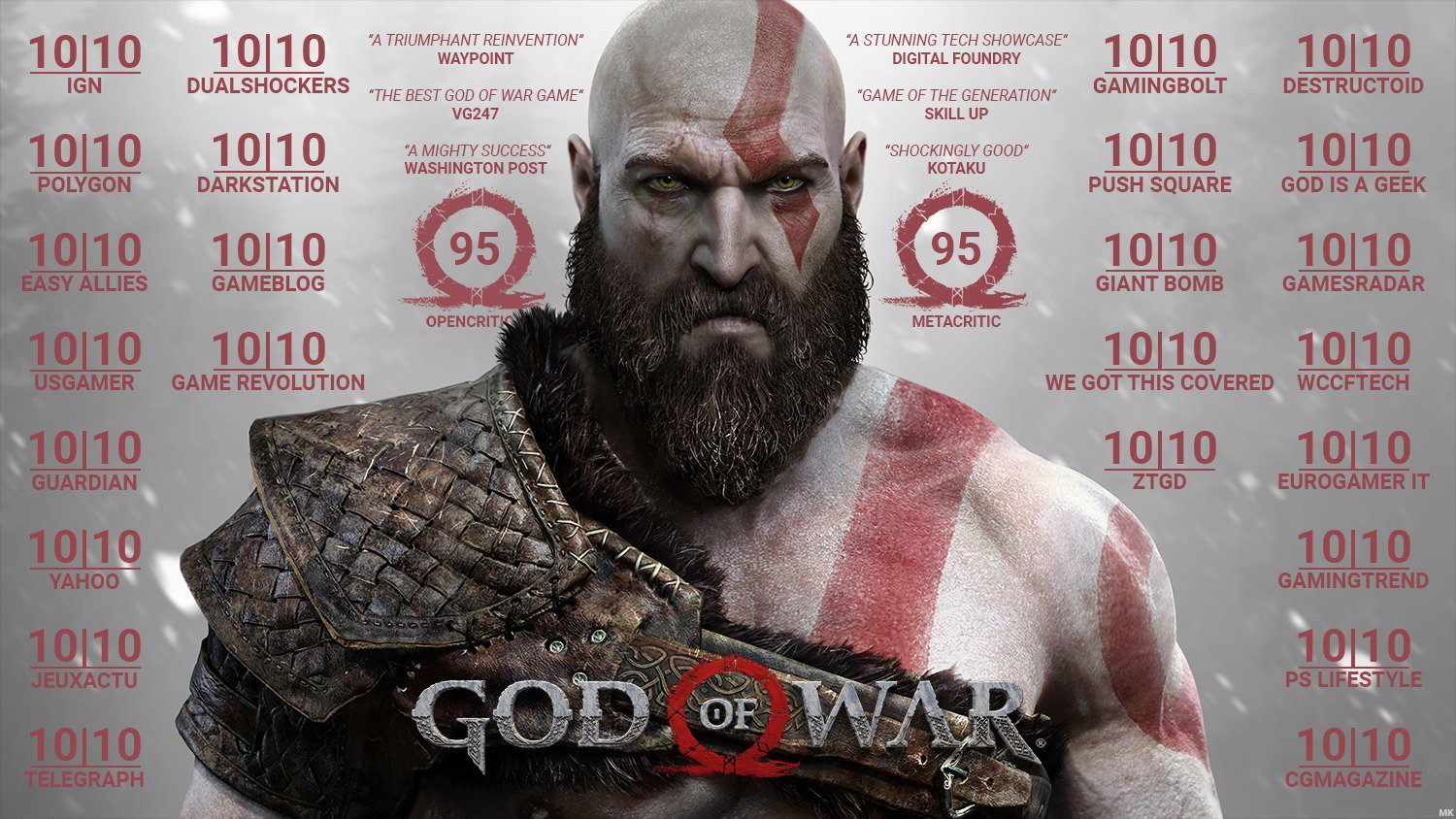 *thanks to
GreyFox
for the fantastic accolades image!
METACRITIC: 94
OPENCRITIC: 95
3DJuegos: 9.5/10
Ars Technica: Buy It
Attack of the Fanboy: 4/5
Destructoid: 10/10
EasyAllies: 10/10

God of War doesn't just feel like the next step for the franchise, but for the entire video game industry. Phenomenal visuals, rewarding exploration, and a deep, nuanced combat system contribute to an epic adventure that should be experienced by every human on earth. Santa Monica Studio is taking us all to Valhalla.
EGM: 9.5/10
Eurogamer: Recommended

Yes. Like Kratos, the god of fury who must learn not to fear his son, this is a strange beast, really. The latest technology and astonishing craft and artistry are employed to deliver a game of extremely simple pleasures - a wash of new pseudo-ideas that cannot hide the fact that the basics remain unfixed because they were not broken. God of War dresses things up, in other words, but it is ultimately the same deal it always was. As is the way with myths, I guess. As is the way with gods.
Forbes: 9.5/10
GameInformer: 9.75/10

Kratos' reinvention serves as a narrative hook, but it also parallels the series' evolution as a whole; where God of War once relied on bombast and bloodlust, now it leaves space for strategy and nuance. It still has superb action and plenty of jaw-dropping moments, but it supports them with a new level of depth and maturity. God of War learns from its past while clearing an exciting path for the future, and emerges as one of the best games of this generation.
GameKult: 8/10
Gamepro: 9.3/10
GamesRadar: 5/5
GameSpot: 9/10
God of War is no longer an old-fashioned action series. With this reboot, it confidently walks a new path that will hopefully lead to more exciting adventures to come.
GiantBomb: 5/5
God is a Geek: 10/10
Hardcore Gamer: 4.5/5
IGN: 10/10
I expected great action from God of War, and it delivers that handily. But I didn't expect it to be a thrilling journey in which every aspect of it complements the others to form what is nothing short of a masterpiece. It's a game in which Kratos, a previously one-note character, becomes a complex father, warrior, and monster, embattled both on the field and within his own heart about how to treat his son; one in which the world opens up and shifts, offering rewards in both gameplay and knowledge of its lore that I treasured with each accomplishment. The obvious care that went into crafting its world, characters, and gameplay delivers by far the most stirring and memorable game in the series.
Jeuxvideo: 20/20
Kotaku: Very Positive
2018's God of War seems more content to borrow from other successful recent games: it's a little bit Witcher, a little bit Dark Souls, a little bit The Last Of Us, and a little bit old-school God of War. It feels like more of a trend follower than a trendsetter, a pastiche of ideas. But they are good ideas, done well enough to bring a once-stale series back up from the depths of Helheim.
Metro: 9/10
PlayStation Lifestyle: 10/10
PlayStation Universe: 9.5/10
Polygon: 10/10

Some die-hard fans may fear this isn't really God of War. I suppose they're right. It's even better.
PushSquare: 10/10
USgamer: 5/5

This is how you do a reboot. After Kratos lost his way, Sony Santa Monica has set the God of War on a new path. A more measure, nuanced character, a great supporting cast, an excellent combat system, and some of the best graphics in the PlayStation 4 game to-date add up to a winner.
The Guardian: 5/5
TheSixthAxis: 8/10
Twinfinite: 4/5
Waypoint: "A triumphant reinvention"
Wccftech: 10/10
WWG: 5/5
Videogamer: 9/10
Thanks to
corybarlog
and the team at SSM for all the amazing work on this fantastic game!!
Last edited: