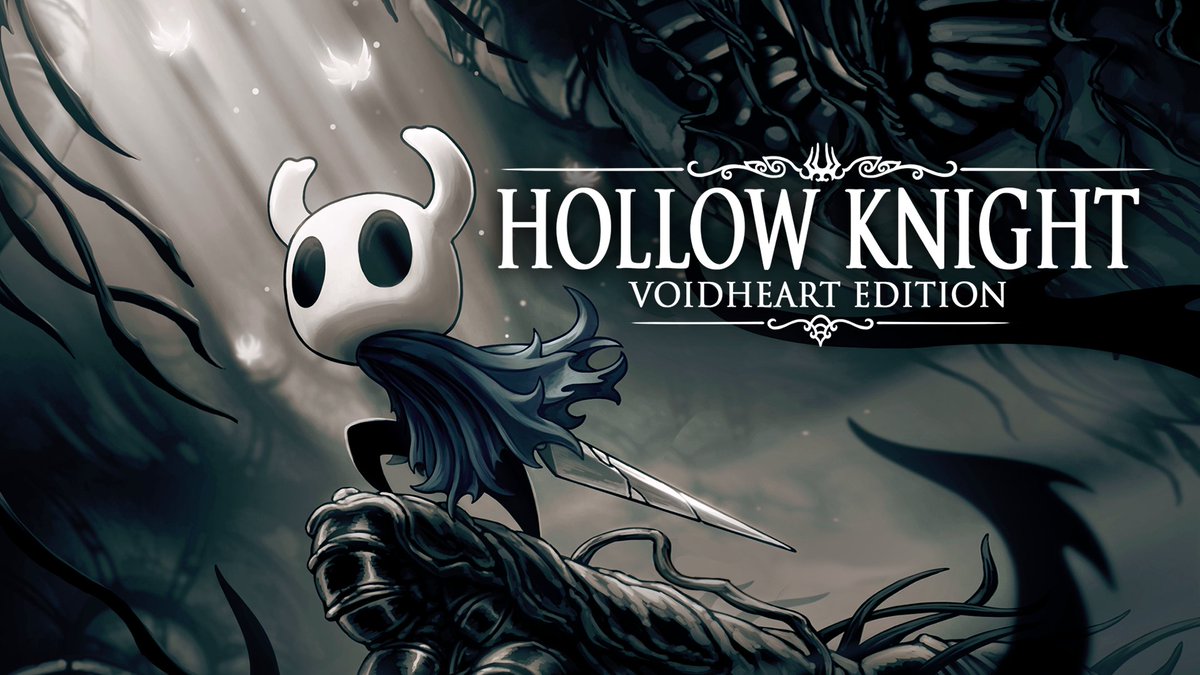 Descend into the Dark
Beneath the fading town of Dirtmouth sleeps an ancient, forgotten kingdom. Many are drawn beneath the surface searching for riches, or glory, or answers to old secrets. As the enigmatic Hollow Knight, you'll traverse the depths, unravel its mysteries and conquer its evils.
Original OT
​
Platforms: PC (Linux, Windows, Mac), Switch
Release Date:​
​
PC: (Linux, Windows) February 24th, 2017
Mac: March 28th, 2017
Switch: June 12th, 2018
PS4/XB1: September 25th, 2018​

Price: $14.99/£10.99
Player(s): 1
Format: Digital/Physical (Physical coming Spring 2019)
Developer: Team Cherry
File Size: 9GB (PC), 3.5GB (Switch)​
What kind of game is this?
Hollow Knight is a 2D platformer in the vein of Metroid where you will move through a, hand-drawn, interconnected world while gaining abilities and combating enemies.
What are some of the features/mechanics in Hollow Knight?
A Hunter's Journal that you can add enemies and bosses to, a Dream Nail that allows you to leap into the minds of NPCs/enemies and equippable charms that offer bizarre new powers and abilities.
Are there unlockable modes?
Beating the game will unlock Steel Soul Mode which is described as "the ultimate challenge".
Any enhancements for Pro and X Consoles?
TBA.
Do the console versions include all the previous updates?
Yes, the Voidheart Edition and Switch version includes all content updates (Hidden Dreams, The Grimm Troupe, Lifeblood and Gods & Glory) from the PC release.
Are there still more content updates coming to the game?
A paid update will be coming in the future featuring a new playable character, Hornet.
Physical Release?
Early Next Year on PS4, Xbox One and Switch.
Cancelled.
How long is it?
Around 30 hours to complete, 40-50 hours to 100% it. And then there are still some optional parts (DLC and stuff) that add a whole other couple of hours.
Metacritic
Destructoid 10/10
Hollow Knight is not only what I'd say is the best game so far this year, it also very well may be the best metroidvania title out there right now, and it is easily one of my favorite games of all-time. Truly a masterpiece of gaming if there ever was one, and certainly art worthy of being in a museum.
PC Gamer
92/10
The more effort I put into it, the more Hollow Knight rewarded me with thrilling challenges and beautiful, storied caverns to discover. I reached 100% completion practically by accident. I just wanted to keep exploring all the mysteries the world had to offer me—and I still managed to completely miss the Mr. Mushroom side quest without knowing it—but others could happily choose to stop sooner and it would still be worth the journey. I overlooked it initially, but 35 hours later I can confidently say Hollow Knight is one of the best games I've played.
Steam
GOG
Switch
Playstation 4
Xbox One
​
Last edited: