Honkai Impact 3 portrays the story of 3 girls from St. Freya High School who are actually Valkyries fighting against the "Honkai."
You, as the player, will take the role as captain of the Hyperion warship, commanding the Valkyries against Deadwalkers and Honkai beasts around the globe, and fight for all that is beautiful in the world.
Click on portraits for gameplay videos~
L
e
t
'
s
b
r
e
a
k
d
o
w
n
t
h
e
g
a
m
e
p
l
a
y
~
Honkai Impact 3rd is a mobile action RPG with gameplay very similar to Bayonetta, but obviously toned down a bit, complete with perfect dodges and all.
You select three characters. Each character has an element, and enemies are weak to certain elements and resistant to others. You can swap out characters with ease, and they will come in with a switch attack. If you attack the enemy in a certain way, you'll initiate strong QTE attack. Let's give an example:
You attack with Kiana and have a Mei in reserves that has a QTE attack that can be triggered when a character launches the enemy in the air. So you do Kiana's tap-tap-hold attack which launches enemies. You then tap Mei, she switches in (so you're now controlling Mei), and she goes into a devastating tornado attack.
You know what? Just look at the gif.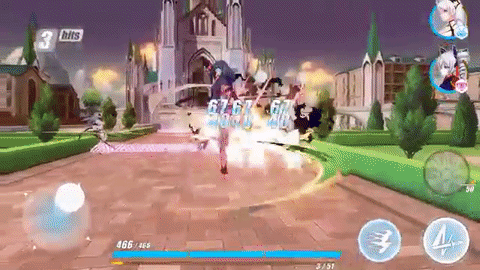 btw yeah thats basically witch time
And now it's time for
Neki's Corner
, with the HOTTEST of tips from the COOLEST of people:
Rerolling requires you to get 4 single pulls (not including the pull to get Mei). The 4th pull is guaranteed to be an A+ rank valk for all new accounts (even if you get an A rank valk before that). This can take up to 10-20 minutes. Rerolling isn't necessary though since most of the early content can be done with the default valks. You'll unlock good default valks to use through the story.​

There is a tutorial button at the bottom of the right on the home screen once you've reached a certain level. Complete the missions to get free crystals.​

Getting to level 30 is the short term goal. Getting to level 30 will unlock the full range of daily rewards along with other great stuff. You can exchange crystals for stamina twice before it comes very expensive. You'll have to decide if it's worth the extra stamina to give up crystals.​

You get a lot of exp chips and weapon/equipment upgrade cubes. Feel free to use the lowest rarity cubes and chips to upgrade weapons and valks.​

Make sure to be upgrading skills for valkyries in the Valkyrie menu, you'll be at SP overfill for several levels.​

Try to complete every objective in a mission to get crystals. If you fail to do so, quit before you complete the mission to save SP.​

Friend request all people you play with, especially higher level ones. You'll get more friend points using friend support and strong supports can carry you through hard missions! Save your support points for weekly quests requiring you do to 10 pulls.​

Try to do events every day, usually there is dailies for materials and a daily to fight the boss. If it's too hard to do by yourself, do co-op missions! Always make sure to check the missions tab every day to see what quests you can complete.​

Be careful when doing side missions (labelled as S-1, S-2, S-3 etc) because there is a bug that occurs for achievements when doing them out of order. If you want to do the S missions, make sure you access them directly from the Missions log rather than the World map.​

Gacha is extremely expensive in this game, I'd only recommend the monthly pack if you really like the game.​

There is a pity pull counter for every banner if you don't hit certain thresholds. Each separate banner guarantees an A+ rank valk at 10 pulls (either a full ten pull or single ten pulls) and an S rank valk at 100 pulls on the same banner. I wouldn't pull on valk banners unless you really like a certain valk. There is also stigma (equipment) and weapon banners that are also useful that have the same 10 pull pity counter.​
Last edited: