So consider me someone who dodged a bullet all these years and never really watched any Transformers movies. Somehow. I was more than familiar with the movies, of course. I saw commercials, toys, and video essays about them. I knew they were considered pretty much garbage. A friend came over and I got exposed to the first three and, yeah, they are insanely bad to a degree I didn't know was possible.
But that's not about the story or editing or acting or racism or sexism or any of that in the films, but rather the thing that immediately stood out to me.
Just how BAD the Transformers look.
Like, clearly, millions of dollars went into animating them and making them transform, but I'm an artist and designer by trade - I come up with designs and characters every week - and these designs are so historically bad that I'm legitimately gobsmacked.
There are certain principles to good design that every artist and designer worth his salt knows. That includes memorable silhouettes, body variety, color balance, etc.
I could show you the following and you could likely identify most of them from a distance just by their shape.
And it's incredible how effective color can be when identify characters. One of my favorite things is the "rectangle test", where you can identify an entire character based entirely on cube form and color. If you're a Street Fighter fan, you can identify every single character here by color alone.
So to see a multi-million dollar movie based on colorful, memorable children's toys - toys that were sold based on their unique colors, shapes, and cartoon aesthetic - and to see what Michael Bay went with over the course of multiple movies... I don't even know how it's POSSIBLE.
Like, there were actual scenes where it was 100% impossible to follow because the decision was made to take all these colorful, uniquely shaped characters and make them the same color, the same shape, and then have them interact. How do you lose 100% of the traits that make them identifiable? Who can tell these piles of trash apart?
So, yeah, I'm venting, because my actual job is to make good-looking characters for a living. I go through draft after draft to make them unique, colorful, and capable of standing out and being able to provide visual variety and interest in every page or shot. How THIS happened... and KEPT happening... is blowing my mind, and I honestly don't know how it ever got a pass. Countless people had to sign off on that - including Hasbro themselves, I imagine.
Now, I'm sorry to join everyone in realizing how bad the Bayformers are (I had dodged so many bullets...), but I am taking solace in the fact that apparently the new Bumblebee movie is a massive course correction. I haven't seen it, but I did see trailers and promo images.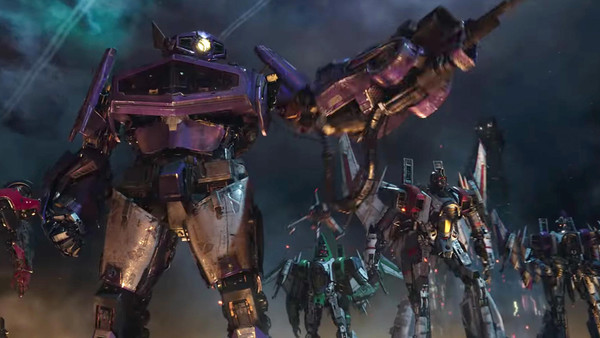 Color! Diverse-yet-easily identifiable shapes! Forms that feel solid and readable from a distance! You can easily tell that whoever did this movie had very strong design sensibilities (considering it's Travis Knight and he comes from a stop-motion background, that's understandable). I will need to check it out, if only as a palate cleanser.
All this ranting and raving does have a point and silver-lining - it has made me appreciate GOOD design much more. And to end this on a positive, what are character designs that you appreciate? Either a single character, a team, or a whole franchise that you feel just NAILS good character design?
As another example, I have not touched Overwatch, but I'm familiar with its characters, if only because it's so widely regarded as some of the very best in the gaming industry, full of variety, color, and shapes that are iconic, easy to remember, and easy to follow in motion.
Let me know which designs have left the biggest impression on you and, if you want, which ones are so bad you feel deserve being called out.