THIS THREAD CONTAINS MAJOR SPOILERS FOR:
- STAR WARS: RETURN OF THE JEDI + FORCE AWAKENS + LAST JEDI
- BOJACK HORSEMAN
- HALO 4 AND 5: GUARDIANS
- TOY STORY 3
- ALIEN 3
- LUTHER (BBC TV SERIES)
IT ALSO CONTAINS REFERENCES TO A NUMBER OF OTHER FRANCHISES, BUT NOTHING SPECIFIC SO I DON'T CONSIDER THEM TO BE SPOILERS
The thread's title is a quote from S5E6 of Bojack Horseman (it's an amazing episode, go watch it and the series if you can!) and one that's stuck with me for a while afterwards. Whilst holding many personal connotations to the character of Bojack and that show in its entirety there's also the more surface-level reading there that, in media, there has to be some level of unhappiness or else "the show would be over." No conflict can ever be fully resolved and no character can ever have their 'happy ever after' because, if they did, there would no longer be conflict the thing that every piece of media needs for it to continue onwards.
That led to me thinking and, frankly, it's lead to me growing cynical over just how much media follows the line to a tee. Take Star Wars, for example. Here's the ending shot of Return of the Jedi: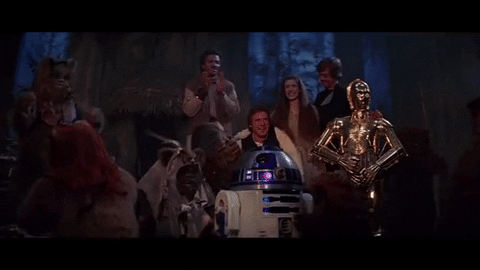 Looks happy, right? The Rebellion has defeated the Empire and all that's likely to remain are remnants that will seem feeble compared to what came before. They can go on to live the happy ever after that they deserve and that the story-book 'classical adventure' nature of Star Wars implies.. However, since the characters in this shot are marketable characters and because Disney wanted the Star Wars franchise to continue, these are their actual fates:
Han Solo:
Regresses into his old smuggler ways after his son falls to the Dark Side, becomes estranged from his wife Leia and then dies after failing to save his son from the Dark Side
Princess Leia:
Faces 30 years of being shut out from the political system she helped create, sees her Son turn to the Dark Side and destroy her life's work, loses her husband and then loses most of the Resistance she helped build
Luke Skywalker:
Fails in his role as a Jedi teacher when he reverts to his old Empire Strikes Back self, becomes a hermit who stands by and does nothing as his friends die and the galaxy turns to darkness, and then dies to save a tiny amount of Resistance fighters and "inspire the next generation."
R2-D2
: Becomes catatonic after their old Master abandons him, stays like this for decades until someone happens to find the other piece of the map to Luke's location
C-3PO:
Loses an arm, loses his best friend and then loses his old Master and creator
Chewbacca:
Sees his best friend die horribly in front of him. Gets shafted by Leia once more as he doesn't even get a hug afterwards.
Lando:
Nobody knows, but considering his complete absence from The Resistance and Han's smuggling operation, it's easy to assume he hasn't a had a great life since then
Literally none of the main characters in that shot have a happy ending,
not even the comic relief characters
. The three entire films leading to that moment end up meaning very little in the end as the galaxy as a whole reverts to the state it was years prior, only worse this time of course. This, to me, does nothing but make me cynical as to the aims of the sequel trilogy. Instead of expanding on the Star Wars universe and creating a new adventure with a new conflict, Abrams and then Johnson decided to essentially revert the series back to the way it was and ruin all of the old character's lives because they wouldn't/couldn't figure out a way to do something different. Disney demanded it, and it was so.
Now before this becomes another Sequel Trilogy or, dare I say, The Last Jedi thread I'd like to point to a number of other examples where otherwise happy endings are rewritten and ruined due to the unending nature of media franchises:
Halo 4 and 5: Guardians -
The covenant returns, the galaxy is still at War, and Cortana dies and then gets reborn as a maniacal rogue AI that wants to destroy humanity
Toy Story 3:
Woody and the gang finally find a new home to live in and say a peaceful goodbye to Andy... no wait there's more and they're going to go through
another
existential crisis!
Alien 3:
Ripley, having survived two encounters with the Aliens through her own badassery, is tormented again by an Alien and then dies having not seen a single day of peace since the start of Alien 1
Luther:
After three series of mental and physical turmoil the titular character finally hangs up his iconic coat and gives up his life as a detective... no wait he's back and depressed and Alice is dead and then not dead again and then dead for real this time and then he's arrested for something he didn't even do!
...and you get the idea. However those are only examples of franchises that had 'bolted on' sequels that reversed the happy endings of their predecessors, there are many, many more examples of franchises, both ongoing and concluded, that simply have 'unending misery and no happy endings' as one of their core tenets whether they've concluded or not, these include:
- Every single soap opera ever
- Most comic books
- Most sitcoms
- The Walking Dead
- Attack on Titan
- Terminator
- The Marvel Cinematic Universe
- And more!
Essentially, to me there are perhaps fewer examples of popular media franchises that have conclusive and happy endings for their characters than there are ones where conclusions are, in some way shape or form, put into a loop of being reverted and then made. This, as you can probably tell, has made me rather cynical; I've found that I don't particularly 'trust' happy endings anymore because I just know that, if the thing is to get a sequel, that happy ending might as well have not happened in the first place. It's also made me more aware of media that uses this tactic instead of creating new conflict that doesn't override the conflict that came before, and it's made me less willing to be impressed by "depressing endings" because, to me, most media already has those.
"But Plum, you fruit of the subgenus Prunus of the genus Prunus, that's just how business works!"
Yes, and that's why I'm cynical about it. It is perhaps the most obvious and blatant example of how media's desire for franchise (especially American media) harms the more wholeseome aspects of storytelling.
Now, to generate some discussion on this rant, here's some questions for you to consider:
Do you or do you not care about the issue? If you do/don't, why do you feel that way? Do you have any more examples of franchises that fit Bojack's quote? Am I a silly doofus for not liking how the Star Wars sequel trilogy has gone about doing things?
And, most importantly:
What will happen next time? Tune in next week! Same Plum Time. Same Plum Channel!
Last edited: