Cyberse Magician
Generation 6: VRAINS
Users: Yusaku Fujiki (a.k.a Playmaker)
Artwork: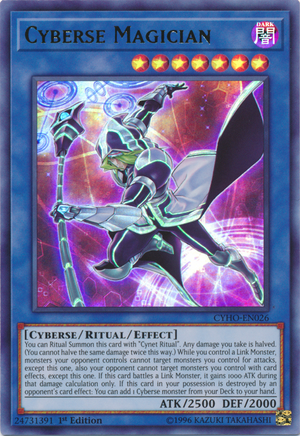 The people demanded Rituals, so here's one more Ritual Monster!
During a duel against one of the minions for first real antagonists of the series,the LIGHT attribute Ignis AI, Yusaku faced against "Unknown", during the duel, Yusaku's Link monsters get continually cornered and countered. What will Yusaku ever do without his Link Monsters?...Well since this is the post Link backlash season 2, Yusaku finally remembers that there's more to this game than freaking Link Summon, and uses a brand new Link to set up a classic summoning method play, a ritual summon!
Yusaku's brand new Ritual is a level 7, DARK, Spellcaster-Type Ritual Monster, Cyberse Magician!
Artwise, this card is just Dark Magician but Tron, which as explained before during round 1, is my main issue with a lot of VRAINS cards, there's really nothing memorable about this card besides the fact that it makes you think of Tron, even it's staff looks pretty uninteresting as a weapon, I must say though, I really like this card's background, there's something about this computer simulation stuff that makes the monster pop and makes it look like he's coming out of a cyber portal, that coupled with a really cool "Freeze in the middle of the action" pose save this card's artwork for me, as even that generic design manages to look cool and filled with energy. I wouldn't say I "Like" it, but I can't bring myself to say this card's art is bad in anyway.Iit's just a lacking design.
For the game, As you can see from the clip, Yusaku uses a Link monster with the ability to set up ritual summons, "Cyberse Witch"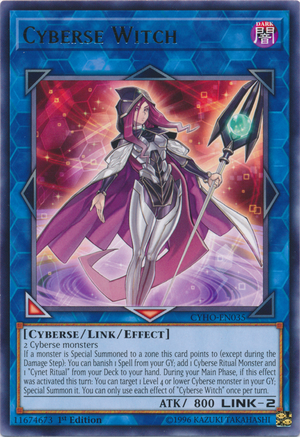 This card has the effect that whenever a monster is special summoned to a zone it points to, you can banish 1 spell card and fetch a ritual monster and a "Cynet Ritual" from your deck while also special summoning another monster from your grave, letting, this takes care of Ritual summoning's biggest shortcoming, the fact that you need several very specific cards in your hand and field to make it work. "Cyberse Witch" provides the Ritual, the Spell, and the fodder to set up your Ritual summon. And that's what makes "Cyberse Magician" viable.
Cyberse Magician himself must be ritual summoned with the spell "
Cynet Ritual
", which not only is searchable through Witch but it will also set up a Link summon after your Ritual monsters is destroyed, Magician has the ability to halve all types of damage you receive, Cyberse Magician will protect your monsters by attracting all attacks and targeting effects to himself as long as you have a Link monster on the field. Cyberse Magician will also gain 1000 attack when fighting against a Link monster and if he's destroyed he will let you search for 1 Cyberse-Type monster from your deck.
All in all, this card is not bad at all and for a while, was played in pure Cyberse builds, unfortunately there's no way around the fact that Ritual summoning requires way too much set up, so unless your deck is entirely dedicated to use Ritual Monsters, there's better options, even factoring the help of "Cyberse Witch", as Yusaku continued using old summoning methods, the popularity of this card began to decrease. It will be used on some Cyberse builds, but it's nothing that will light the world on fire.
Support for "Cynet Ritual" exists beyond witch, with another ritual monster that can be summoned with it, a reference to Kaiba´s "Paladin of White Dragon"
But it suffers the same fate of "Cyberse Magician" in that it's outclassed by other summoning methods.
TRIVIA TIME!
Cyberse Magician is the cover card for the expansion "Cybernetic Horizon".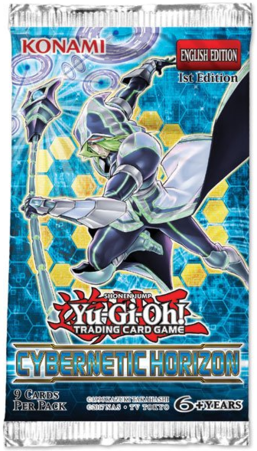 And get this, it's the ONLY Ritual Monster in the franchise's history to be featured as the cover card of a core set expansion.
Next Up!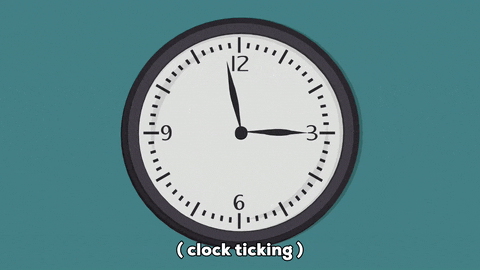 Last edited: