Yes, really.
The backstory for this game is ridiculous.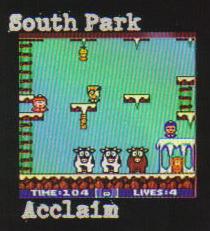 According to legend, it was cancelled because the makers of South Park, Trey Parker and Matt Stone were concerned due to the main audience of the Game Boy back then being
children
. Though they did keep a prototype cart (possibly the source of this release.) of it for historical purposes.
...Except the game wasn't cancelled at all.
What
actually
happened next was that it got retooled into
three
different games.
North America got the finished product split in half. under the form of two separate Mary Kate & Ashley games. "Mary-Kate & Ashley - Get a Clue" and "The New Adventures of Mary-Kate & Ashley"



Europe on the other hand, got only one game. this time based off the German animated series known as "Maya the Bee".

It's worth noting that the latter game
actually contains leftover sprites from South Park.
Which makes sense as it was the first of the three released:
and now, we finally got a hold of the source game. Definitely one of the most interesting prototype leaks of this year.
Edit: Here's some gameplay, since people don't think this thread has enough info.
It should be noted that the game actually uses the
exact same
passwords as the Maya the Bee game. So here they are in case you want to jump to specific parts of it (Level names are obviously different between the two, but other than that they work just fine.)
CBTHPM Level 2
MDGKMQ Level 3
GMQTCK Level 4
NLBRTC Level 5
FBLHCH Level 6
PFPQFM Level 7
LHHDBT Level 8
LHDDQJ 01 - The Fields Part 2
BKHPJS 02 - Bee Hive Nursery Part 2
DMCSLB 03 - Bee Hive Nursery Part 3
KPSFHG 04 - Out On A Limb Part 1
MHNTGF 05 - Out On A Limb Part 2
RGTMNL 06 - Nearing The Termites Part 2
HQFLMP 07 - In The Termite Mound Part 2
JCDTKQ 08 - In The Termite Mound Part 3
QGKNBH 09 - By The Pond Part 2
CJJGQB 10 - By The Pond Part 3
BNMBLD 11 - The Ant Hill Part 2
MRRSDR 12 - The Ant Hill Part 3
QTTCSN 13 - The Ant Hill Part 4
and finally, the soundtrack is composed by none other than Tim Follin, yes,
that
Tim Follin
. None of the music was reused in the three released games that came out of this, unfortunately.
Last edited: