(Here is some good music from FFXIV/FFIII that I feel accompanies this review/final thoughts/impressions/me trying to convince you to give it a chance
https://www.youtube.com/watch?v=Uyll1643pcQ
)
Last week my journey in FFXIV came to a temporary end. After 280 hours, I reached the end of Shadowbringers and realized that it was my new favorite Final Fantasy game. I only really started playing the game in late June, around the same time as Shadowbringers early access started. I had sunk a whole entire month into just devouring this game, using any gaming time to play it and it was well worth it. But starting out I had a huge misconception, I truly thought MMOs and MMO combat were not for me, even though everything around that sounds great. Now that I'm all caught up, I can definitely say I was 100% wrong about that. I know there are some people out there who don't want to join in cause they "do not like MMOs" or "MMO combat sucks", so let me try and convince you on why you should give the game a good and honest try, going over everything that truly made this game special as my new favorite FF game and my easy GOTY.
Story
So let's get this started with the thing that kept me using all my free time on it, the story. Yes, the talk is true, this is the best FF story in at least a decade; I'd go even further and say it's the best FF story period. But that begs the question of what makes it the best FF story and which portions are we talking about.
For those who are in the dark there is currently the base game A Realm Reborn, and 3 expansions Heavensward, Stormblood, and Shadowbringers. While each release is somewhat self-contained, this is definitely a continuous story, almost like a Season 1, 2, 3, and 4 of a TV show. The quality of the game and story has only gone up so one of the first questions asked is "Can I just skip A Realm Reborn and go straight to Heavensward?" Well you could, if you pay for a skip and a level skip but I honestly do not recommend it. Some of the greatest story impacts come from ARR and it just builds from there, certain parts of Shadowbringers won't hit you the same if you skip ARR. It's all relevant and the game is constantly building up its world, lore, and characters.
If I had to give a quick thought on each story arc on quality and general plot.
ARR – Good if basic story. There are a few genuine surprises and some great moments but it's hurt by its rather slow pacing and often pointless padding to get to the major story beats. This feels like a big introduction to the world and the characters, it's probably strongest point is you get to spend quite a bit of time knowing Eorzea and how the world works. It's a fun adventure and a good starting point.
ARR.- 2 – This is for the patch content of ARR. Narratively, the game seems to take a shift at this point and focuses on the political ramifications of what has occurred and some of the new threats that are coming your way. Some people seemed to not enjoy this portion as much but I was enthralled and there is a villain here that I thought was actually great. The payoff from this portion was amazing and worth the like 100 quests it took.
HW – The part of the game that really put FFXIV on the map. A way more focused experience than ARR, in both gameplay and story. It's an adventure with some old and new comrades to stop a war with dragons. A relatively simple premise but man does it go places. This is also the point where the voice actors change from ARR to their current iteration and they give some fantastic performances. The characters which I will talk about a bit later start to really shine and I started to truly love some of them. HW truly ends with patch 3.3, culminating in one of the finest finales the series has ever seen.
SB- Stormblood is focused on the liberation of two different nations which is both its greatest strength and weakness. It does feel like a step down in quality story wise than HW, but that's not to say it's bad in anyways. If ARR is good, HW fantastic, then SB is great. Some of the villains are a bit much and lean the way of anime, as in no one would ever act that way except in anime, there are still some great stories to be told and new allies to meet.
ShB- Now for my new favorite FF game. Shadowbringers is about saving a world on the brink of destruction and why that world is truly worth fighting for. It has the tightest pacing out of all the stories, wasting almost no time to truly get into some great moments. It builds off of all the stories that came expanding the lore and world in unexpected ways. The voice acting reaches such amazing highs that I think Shadowbringers could win awards just for that. The character moments and smaller stories throughout were heartfelt and left such an impression on me. The main villain for this expansions was so incredibly developed and well written I can comfortably say he's the best villain in a Final Fantasy game. The story gets dark when it needs to, it lightens up when it needs to, and makes creates a game of emotional peaks that all feel well earned. Even minor characters shine build the world into an unforgettable journey. The ending of the game is as close to perfect as you can get and week later I still can't stop thinking about it. I only cried like 3 times. How it presents the story is also improved and how much it feels like a proper FF game with your AI companions in the dungeons with you is a great bonus. I could gush about certain parts of the story endlessly but at this point, I think you get it. Shadowbringers is a triumph for Square Enix and I'm excited to see how they follow this up.
Well a story is made up of characters so lets put a bit more focus on them before the gameplay stuff.
"For those we have lost. For those who we can yet save."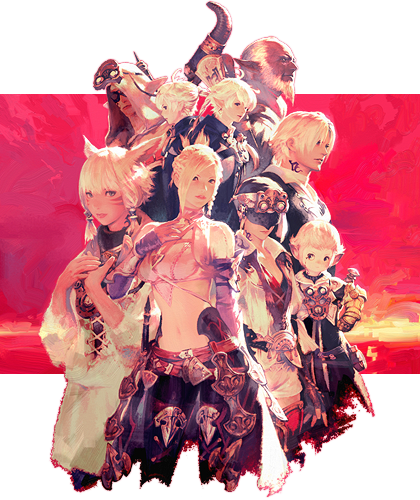 The Scions of the Seventh Dawn are your companions throughout your adventure in the world of Eorzea. Though many characters rotate in and out of importance, the Scions are your closest friends and allies in FFXIV. They share the simple goal of keeping the peace in Eorzea and eventually wrap you in to helping them achieve that goal. While a bit shallow towards the start, the sheer amount of time given to these characters allow them to develop into well rounded and compelling characters. Watching these characters grow and adventure with you, the player character, made me love almost all of them. I haven't felt this attached to a group of characters since maybe Persona 4, which is incredibly high praise. I'm so glad there is more content on the way cause I do not want to say bye to these characters. Alphinaud and Alisaie who you meet very, very early are two of my favorite FF characters now.
Then there is you, the Warrior of Light. For a character who doesn't ever speak I care way more about my character than I thought I would. The game gives you just enough to develop your character in your dialogue choices that you have an idea of what your WoL is thinking. The Warrior of Light isn't just some complete avatar stand in with no personality, they are a character in this story that you get to fill the shoes of. Shadowbringers actually does a decent job of characterizing the WoL and making me care even more about my character. Easily one of the best silent protagonists in any game I've played.
The reason I went so into this topic is because it is honestly the best reason to play the game imo. If you want a good story and the best FF game in years, you should get into FFXIV.
Okay now that is out of the way, here is the part where you say "okay the story is good but the gameplay sucks!" or "I hate how it plays" or "I hated how questing felt when I started playing I was doing boring things for hours" and I got very little to say on that last part, but the first two I got a lot to say.
Gameplay
Now this is going to be bit harder to try and convince you, yes you, may also turn out to love the combat in FFXIV. If you got to level 80 and go on to say "I hated every minute actually playing it" well I won't convince you. On the other hand if you are like me, you may want to listen.
The only other true MMO (Destiny doesn't really count Bungie, even if you say it is one) I have played is Lord of the Rings Online (? I think that is what it was) It wasn't that long, maybe 2 weeks and barely making progress. I only played it because some online friends were getting into it and it was a bit bland and boring, kill random shit go here blah blah boring stuff right? Much later I tried FFXIV. Maybe around when Heavensward came out. I started playing an Archer, got to the first dungeon and realize I was barely paying attention and wasn't really getting into it. I was bored and dropped it. I tried again like 2 years later with a mage and again, got bored and gave up. Theoretically in my head I knew I should like this game, I just thought "it was to be the combat, it's just too boring, I just hate how MMOs play and feel." There was a mixture of things that led me back to FFXIV for a 3rd try. One, I've been watching too much anime and the isekai stuff made me want a somewhat similar world of guilds and adventuring. Then there was the absolute sheer amount of marketing and hype behind Shadowbringers. I decided it was time to give it another go, with multiple thoughts this time. First I was going to create a character and try to get more into the world, make it somewhat lore friendly, and really, really pay attention to characters and people and try to actually get into it and really push forward even if I do get a bit bored. I chose an archer again and by the time I got into the first dungeon I was starting to enjoy myself. The Hall of the Novice was extremely helpful in making the dungeon make sense in what my role was. Simple as a DPS, but having a great and simple guide since I've never really gotten into an MMO before was helpful.
As I started doing the first 3 dungeons and having small interactions with the community, I started having a good time. The gameplay at this point is rather simple, it's hey do these simple actions, move out of this really simple attack, use Area of Effects on multiple enemies, all simple. At this point is fine, I'm just hoping I'm doing well. I'm getting gear, looking a bit silly at times in leveling gear but it's a good time. As it goes on the dungeons get a bit more complex and I start getting more actions. Once I hit level 30 and unlocked the Bard job, things got a bit more interesting for the gameplay. Now I'm managing an extra bar, making sure I keep my DoTs up on the enemy watching as it procs my bard ability. Bosses are also getting more and more complex as time goes, like hey this enemy is using this attack everyone stack up, everyone gets a thing underneath them spread out and deal with the damage, move out of the enemies overlapping attacks. By the time I'm 50 the combat starts to become more exciting, I'm getting even more used to all the combat. I beat the main story of ARR thinking this is fun if a bit easy since most things die very quickly do to other people's levels.
Then towards the end of ARR patch content you start getting really good fights. The 8 player battles are exciting and allow enough room for error that other people may be able to cover if you slip up or do not understand what exactly to do. Bosses have mechanics that you have to quickly figure out how to deal with, these often keep up the tension in the fight and properly dealing with them feels great. Sometimes it's simple as 4 bolders drop down and then 4 a bit later and it looks like they are all about to explode, you should stick near the ones that drop down last and then move to the spots that explode afterwards. At the start it's simple things.
The first dungeon and boss that absolutely floored me was the Keeper of the Lake. As a preface, this was about 100 hours in, I was enjoying the game before this dungeon but this was the one that stood out to me as a "holy shit" moment. The boss fight had you constantly keeping attention to what was happening, constant movement, and shifting of focuses, making it harder to optimize and decide how you are attacking. While it should almost be second nature, the various dodging makes it harder to do so and pay full attention to what's happening. Also I propose a simple hypothesis about video games.
Dodging enemy attacks is fun. The more shit it throws at you without being bullshit like a full bullet hell, it makes it more fun. Breaking your focus on how you are attacking and dealing with mechanics is great, especially once you can get into a rhythm of doing both at the same time. The game starts throwing a ton of shit you have to manage the fights become so damn engaging. It's hard to be completely optimal and pay attention to the actual fight that is going on and finding the balance is where a lot of the fun is.
Here is a video of one of the standout fights, that isn't that spoilery.
This is the fight against Susano in Stormblood. It has just a bit of everything, if you pay attention you can see the different mechanics, pools popping up beneath people, everybody stacking together, those moments where everyone has to get in a line, then immediately disperse leading up to the massive phase change in the middle, leading into the second half of the fight where more mechanics are thrown at you at and at a faster rate. Watching it definitely makes it seem easier but when you are also focused on all your abilities and keeping up with all the things you are managing they become incredibly hectic and fun fights. Learning as you are going is part of the fun, I died 2 times during that fight but it was still incredibly enjoyable. I loved fighting the bosses in this game; they are great set pieces and spectacles with fun gameplay to back them up and they are some of my favorite boss fights in games. They are just the right difficulty to go through with on the story.
If you want even harder challenges the game definitely gives it to you in myriad of ways. Normal raids are harder than normal trials most of the time, EX trials are way harder and usually involve a lot of learning and patience to get right from what I've seen and then there is Savage Raids which are some of the most hardcore content in the game for those who really love to struggle against odds with a group of likeminded people. Haven't personally experienced them but maybe someday.
At level 80 I have to pay attention to say many things, the fights keep you on your toes consistently. It feels high intensity and is a ton of fun.
I have no clue if my description of how the gameplays evolves and how it feels to me encouraged you to give it a second try to get to that point but I hope it does.
As for questing, yes ARR has some boring quests and a lot that amounts to filler. That I can't fix and defend. It gets to a point where the game even jokes about it and it feels ridiculous but if you just take it in stride, you might enjoy it or at least can hold on until the game gets great. HW on the questing gets significantly better, sidequests get more interesting, and the general structure of going through the expansion improves.
The only other issue I can see many new players having is the leveling, Often times you might get story locked by level, and your only choice is to do leveling through the various ways the game gives it to you. It kind of sucks, but doing a daily dungeon or trial isn't that bad, nor is running your highest level dungeon.
If your issue is "I don't want to play with other people", can't do much there. A vast majority of people are great, I can count the rude people I've encountered on 1 hand. Just say hi at the start and thanks when you are done. If the other players suck, well…just don't be rude. Waiting for queues to pop is annoying and there isn't much that can be done about that. A bit of a momentum killer at times but in this day and age, finding something else to do is pretty easy while waiting for a queue.
Non-main Story Content
Raids are cool, I've only done the first 24 man one and the latest 8 person raid. The 24 man was easy due to gear being so much better but still a cool and fun time with a great story attach. (Do the Crystal Tower raid series when you beat ARR) The Eden fights I did this weekend were tough, exciting, and the most challenging content I've done so far. Can't wait to do them again next week so I can level even more.
The Hildebrand questline is a ton of fun, full of FF fan service, slapstick anime humor and genuinely made me laugh in the portions I've seen so far.
Music
I cannot talk about the music in this game. Soken should straight up compose the next Final Fantasy game. Man is an absolute genius. Each expansion has 1 or 2 main themes are woven in to other tracks, creating a cohesive experience throughout each expansion. I'm going to pick out some of my favorites to show the variety he can do.
Torn From the Heavens
https://www.youtube.com/watch?v=AJSM4tAeEAA
Kind of the main theme from ARR. Triumphant as hell, gets into your head, and you will find yourself humming to it as it plays.
Upon the Rocks
https://www.youtube.com/watch?v=tunBN-ZMnzs
Listen to this final area-tier level track thrown in a random ass optional dungeon.
Equilibrium
https://www.youtube.com/watch?v=-T1k-9UvdlU
The man does vocal tracks as well, this boss has some standout music.
Rak'tika Greatwood
https://www.youtube.com/watch?v=ascfjJXDWjo
Beautiful area theme from the latest expansion.
Triumph
https://www.youtube.com/watch?v=nFqfN-ju1MQ
Boss theme from Stormblood, high intensity and just great.
There are way, way more songs I want to post, some of the best I want to but don't want you to get spoiled by major moments.
As another thought, if you like MMOs such as WoW, ESO, or whatever, I have zero clue if you will get what you want out of FFXIV. I have no clue why you like those games, WoW has always looked unappealing to me and I've never played so I'm not the one to ask. Go ask the WoW refugees.
And I think that's basically it. I can't wait for the future of this game. Maybe this post will make you give FFXIV a chance, maybe it won't. I'm glad I gave this game a real chance and now it's easily my GOTY over every major release I've played this year. (Eat it KH3) Hopefully Shadowbringers gets the recognition it deserves at the end of the year. If you do you join, Era FC is on Ultros so maybe join us there if you can. This may have just been me rambling and trying to write down all my thoughts and feelings about the game but maybe it entertained you.
And with that