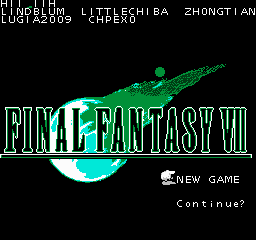 About this game and version:
This game is an unofficial demake originaly made by a chinese company to the NES. A fan translated the game, but the game isn't good, it's slow and the graphics are from a middle ages Final Fantasy, but you still are in modern times. Also Barrett is white in this og demake version, the sprites are weird, the battle is not fun its very slow. Then a fan edited/hacked the game in 2013 with the original FF7 music, sprites, black Barrett, better battle stats, script, even ilustrations to cutscenes, its a much more enjoyable experience, and now its a fun and a good game to play.
More about this version here:
https://www.destructoid.com/final-fantasy-vii-nes-restoration-sees-release-265640.phtml
About the original version:
I wanted to play FF7 and i remembered this version, so i decided to try. I started playing the original chinese version, I didn't knew about this restored version. So I started again and this version is much better and i'm really enjoying it, i'm at the beginning of reactor 5. Anyone played or finished this version?
Last edited: