Developer:
Next Level Games
Publisher:
Nintendo
Platform:
Nintendo Switch
Genre:
Spooktacular Goo-stbusting Action
No. of Players:
1-4 Locally, 2-8 Online
eShop Download Size:
6.3GB
Release Date:
October 31st, 2019
Price:
$59.99/£49.99/€59.99
Sequel to the hit 2013 3DS game, Luigi's Mansion: Dark Moon, Luigi's Mansion 3 pits everyone's favorite plumber in a decidedly not-mansion-like setting: the Last Resort hotel. Luigi's Mansion 3 takes the best aspects of the original GameCube game (continuous exploration of the mansion, more unique ghosts, the return of Portrait Ghosts) and the 3DS sequel (varied environments, varied moveset) and combines them for what is hopefully to be the best Luigi game yet!
Luigi, Mario, Peach, Polterpup, and a bunch of Toads have arrived at the Last Resort hotel for their much-needed vacation. Ran by
Hallen Gravely
, the hotel has everything you could ever want: a personal bellhop, all the sweets you could eat, gorgeous views, and extremely comfy beds...
Yet soon enough, the grave truth of the hotel is revealed; it was all a trap set up by King Boo! He has captured everyone but Luigi and Polterpup in a painting, and now our "brave" hero much put a stop to him once more! Can he make it to the roof of the 17-floor hotel and save his brother and friends? That's on you to determine!
Defeat ghosts by flashing them with your flashlight, then sucking them up with the Poltergust. Some ghosts may have crafty defenses that require even craftier offenses, but eventually, all of them go into the Poltergust. This time around, E. Gadd has equipped our persistent plumber with the
Poltergust G-00
, full of new tricks to help him out (detailed below)! In addition to fighting ghosts, there's plenty of puzzles on each floor to complete. You'll have to know all your tools well to get by!
Along with all of his typical devices (the Poltergust G-00, Flashlight, and Darklight), Luigi has a whole host of new moves in his arsenal to get the upper hand on his ghostly conspirators. Here's some of his most notable ones!
Swap between Luigi & Gooigi on the fly in single-player, or have a second player take control of him!
​
Similar to the first game, Last Resort has 17 floors for you to crawl through, each with their own unique Boos Ghost! From the depressed film director Morty, to the fearsome King MacFrights, there's a bunch of colorful characters to meet along your journey!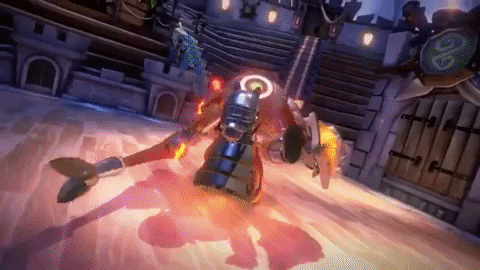 ​
SCARESCRAPER
A sequel to the fan-favorite mode in the previous game, Scarescraper is back, now with up to 8 players! Team up to fight a host of ghosts, find Toads, and complete a variety of other objectives online or over Local Wireless!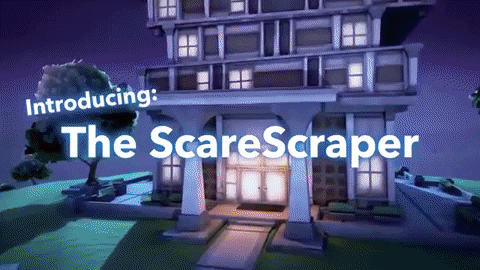 SCREAMPARK
A host of competitive minigames that up to 8 players can take part in locally! Get ghostly at the poolside as you collect coins in Coin Floating, shiver yer timbers in Cannon Barrage, and more! Note: This mode can only be played using sideways Joy-Cons.
Additionally, Paid DLC is coming to the game post-launch, adding even more content to Scarescraper and Screampark! Even once Halloween season is over, there'll still be something to fright over... positively of course.
Metacritic: 86
OpenCritic: 86
Switch Player
(5/5):
You might not be going to Luigi's Mansion 3 for Halloween frights but with so many inspired set-pieces, mechanics and secrets, this is the ghost-gusting adventure at its charming best. But this time Luigi deserves to share his limelight with his green gooey doppelganger.
VentureBeat
(92/100):
This is a huge step up for a franchise that has always been enjoyable but never felt special. Well, Luigi's Mansion 3 is special. It's a spooky adventure full of top-notch puzzles and so much charm that you'll be convinced by the end that maybe Luigi has been the best brother all along.
Nintendo Life
(9/10):
Luigi's Mansion 3 is not only a graphical powerhouse and showcase for Next Level Games' unrivalled mastery of video game animation, it's also an immense helping of spooky fun as well. The amount of care and consideration poured into every facet of the game is abundantly clear, and it all results in one of the most enjoyable and attractive Switch titles of the year. It's also the undisputed high point of a franchise which – following this sterling release – will hopefully get even more love and attention from Nintendo fandom, and the gaming community as a whole.
USgamer
(4/5):
Luigi's Mansion 3 occasionally suffers because of its fixed camera and a ghastly boss fight here and there, but the "goo" overwhelms the bad in this haunting adventure. Sucking up stuff with your Poltergust is still satisfying, and slamming ghosts into each other feels so right. Add buckets of charm, and you have a game that proves—yet again—that Luigi is the superior Mario Brother.
9.13.19 Nintendo Direct Trailer
Overview Trailer
Official Site