Previous thread
Arena thread
Product info
Card image gallery
Mechanics
: Spectacle, afterlife, adapt, riot, addendum
Next set: ???
Story archive
Hidden content
You need to reply to this thread in order to see this content.
Welcome to the Multiverse!
Magic: the Gathering is a Trading Card Game, the first of its kind, developed by Richard Garfield and his playtesters for the gaming company Wizards of the Coast in 1993. You and your opponents play the role of dueling
planeswalkers
, wizards able to travel between dimensions known as planes to gather unique magic. Using customized decks made up of your spells, the creatures you can summon, your mana bonds with lands, and even other planeswalkers you can call in to help out, you try to defeat your foes.
Previously, the Gatewatch learned that Nicol Bolas has his sights set on the city world of Ravnica. Jace, the Living Guildpact tasked with keeping the guilds of Ravnica at peace, has gone ahead of them and attempts to ready for Bolas's arrival. However, it's hard to tell who is already working with Bolas.
Ravnica is a world ruled by ten guilds, each representing a pair of colors. Ravnica Allegiance focuses on five of these guilds: Rakdos (black-red), Orzhov (white-black), Simic (green-blue), Gruul (red-green), and Azorius (white-blue). Each has their own mechanic and focus. For the prerelease, you can choose a guild-themed prerelease pack that replaces one booster pack of the six provided booster packs with a seeded booster pack just of cards in that guild's colors, and you'll get an additional rare card in that guild.
Note that the majority of discussion happens on Discord now, but we'll be available for any questions here.
GETTING STARTED
Official guide to starting Magic
To see what a game is like, check out
Geek and Sundry's Spellslinger series
, where Day[9] battles various geek celebrities, often losing, using simple and easy to follow decks.
For the digital card game, you can play
Magic Arena
potentially for free.
It has its own thread
. Though it's now discontinued in light of Magic Arena,
Magic Duels
is still available to download for a single player Magic experience, and it can help a lot for figuring out the rules.
For the physical card game, there are many ways to get on board. If you go to a local game store (LGS), the owner will give you a simple
Welcome Deck
for free, after demonstrating how to play the game. The
Spellslinger Starter Kit
has two simple decks that you
do not shuffle
so you and a friend can get a guided tour through how a game of Magic can work for an MSRP of $14.99.
Planeswalker Decks
are pre-constructed decks with four brand new cards, including unique planeswalker cards and one additional booster pack, going for an MSRP of $10.99. While not particularly strong, they will allow you to actually play casual games.
If you want to build your own deck, a
Deckbuilder's Toolkit
will give you a decent starting collection of cards for an MSRP of $19.99, including 125 semi-random cards, basic lands, four booster packs, and perhaps most importantly, a good box for your cards.
Game stores will hold
Magic Open House
events specifically meant for new players, with people there to give you Welcome Decks and play teaching games. Experienced players are also encouraged to participate and help beginners, and everyone will get a promotional card for attending.
The big thing to look forward to, however, is the
Prerelease
event held for every set. You play using the Sealed format, where every player is given a box with six booster packs and a random additional rare card. From this pool of cards, all of which you keep, each player builds a deck of 40 cards and participates in a Swiss-system tournament. For Ravnica sets, you can choose a guild-themed prerelease pack that replaces one booster pack with a seeded booster pack just of cards in that guild's colors, and the additional rare will be in that guild too. This is a fun and casual event, where everyone is still trying to figure out the set, so don't worry about messing up. In addition to normal duels, there are also Two-Headed Giant events, where you pair up with another player and face off against another team.
Magic Open House events will be on January 12 - 13, 2019. Prerelease events will be held on January 19 - 20, 2019. Call your local game store a few days ahead of time to register for the Prerelease, or they might just run out of room.
Find local game stores here
.
Number of Cards:
259 (+ 5 basic lands, 8 Planeswalker Deck cards, and 1 Buy a Box promo)
Magic Open House:
January 12 - 13, 2019
Arena Release:
January 17, 2019
Prerelease Weekend:
January 19 - 20, 2019
Draft Weekend:
January 26 - 27, 2019
Card image gallery
Mechanics
The five factions of Ravnica Allegiance are Rakdos (black-red), Orzhov (white-black), Simic (green-blue), Gruul (red-green), and Azorius (white-blue). Each has their own mechanic and focus.
Rakdos: Friendly Clowns (black-red)
Video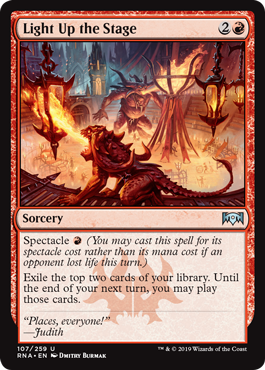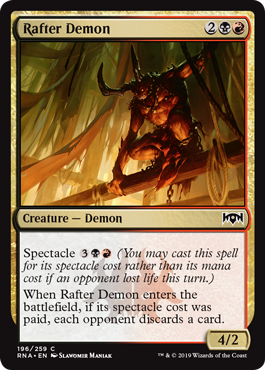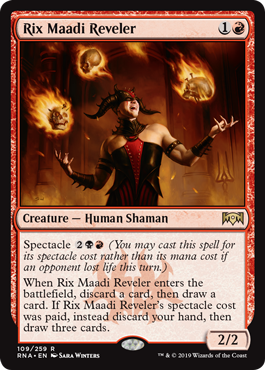 Rakdos is an ancient demon whose cult of revelers and murderers, the Cult of Rakdos, is large enough to earn a place among Ravnica's guilds. When they aren't celebrating their leader, they put on safe(ish) performances and... other forms of entertainment. They aren't interested in serving any other master, especially not an interloping dragon.
When blood is spilled, it's time for the
spectacle
. If an opponent lost life this turn, you may pay the spectacle cost to cast your spells, even if they make a net gain in life. While this can be lower than the normal cost, it can sometimes be higher instead. In that case, paying the spectacle cost will bring an additional effect, making it like a
kicker
effect that can only be paid under certain conditions.
Orzhov: Ghost Bankers (white-black)
Video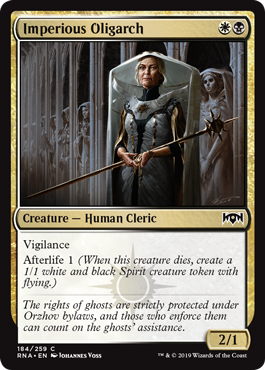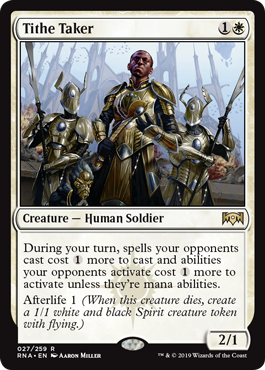 The Orzhov Syndicate runs the banks of Ravnica, and if you die while in debt, they make sure your ghost works it off. The Ghost Council ran things until Teysa brought a handy ghost assassin named Kaya. They run the guild now, but they are in debt themselves to Nicol Bolas.
When a creature with
afterlife
dies, their ghost returns to continue their work, in the form of a 1/1 white and black Spirit creature token with flying. Orzhov likes nothing more than the gum up their opponents' attack plans while they slowly drain them of everything their worth. Even if your opponents refuse to destroy your afterlife creatures, Orzhov will offer ways to sacrifice them. Note that afterlife won't trigger if the creature is exiled. Some creatures have higher afterlife numbers, producing more spirits, which will be represented by more figures in the art.
Simic: Crab Fish Frog Lizard People (green-blue)
Video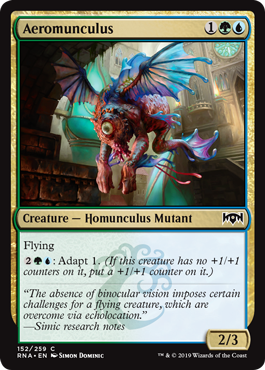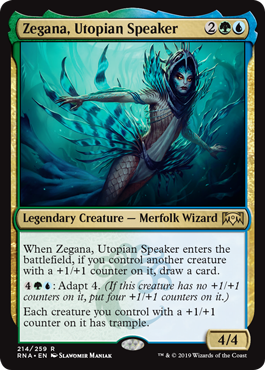 The Simic Combine is interested in exploring evolution through the rigorous scientific method of shoving creatures together and seeing what happens. During the events of the original Ravnica, they were largely destroyed, but then people discovered a hidden merfolk civilization, who promptly refounded the Simic with a more friendly public image, which happens not to include dragons in the plan.
Simic creatures have a tendency to suddenly change. When it
adapts
, as long as it doesn't already have a +1/+1 counter on it, it gains the specified number of them. As far as Magic development is concerned, this is a returning mechanic:
monstrosity
. However, it was adjusted to work with Simic's ability to remove +1/+1 counters for special effects. Do that, and you can adapt again.
Gruul: Super Mad Hippies (red-green)
Video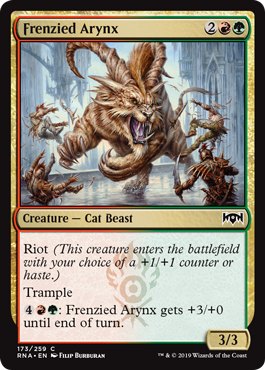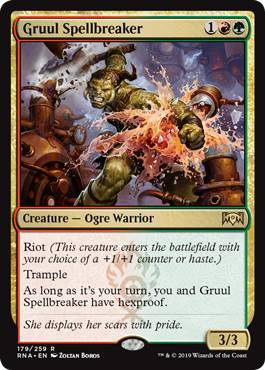 The Gruul Clans were formed long ago by those forced off their lands by the expanding city, and have since taken in other outcasts. Living in the remaining fragments of wilderness, they perform wild raids to destroy the city and let nature reclaim it. They're led by whoever is strongest, and if that happens to be a dragon who wants to destroy the entire city, then good.
While the guild can be much more subtle than people imagine, rioting is in their blood. Creatures with
riot
can enter the battlefield either with a +1/+1 counter or with haste. Is it more important to get in a hit right this turn (possibly to trigger spectacle), or to get a bigger creatures (possibly to tie into a Simic +1/+1 counters matter card)?
Azorius: Stuffy Bureaucrats (white-blue)
Video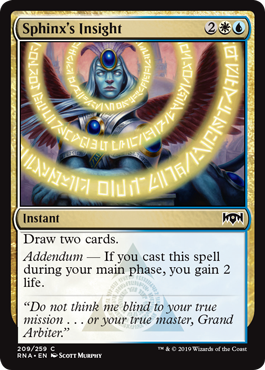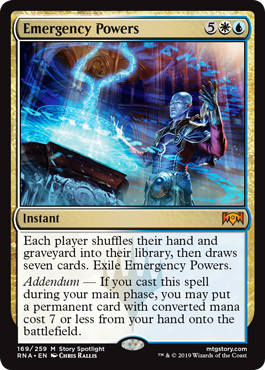 The Azorius Senate sets the rules of the city, and the guild system was even established by their founder and namesake, the Planeswalker Azor. Come hell or high water, they're going to make people respect law and order. This evil dragon fellow seems like he'd be good at that.
Azorius loves messing with their opponents using instants, but there's some merit to taking some time to add another clause. Spells with
addendum
become stronger if you cast them during your main phase.
Also split and hybrid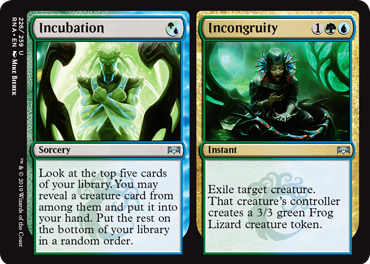 This is Ravnica, so you're getting
split cards
. And also because this is Ravnica, you're getting
hybrid mana
! Split cards are two cards in one. Pay for one side to cast it; you can't cast both sides. Hybrid mana costs have two different mana symbols in one, meaning the costs can be paid with either type of mana. In Guilds of Ravnica, the split cards have one hybrid spell and one multicolored spell.
OTHER PRODUCTS
If you buy a box of Guilds of Ravnica from your local game store, you will get an exclusive
Buy a Box Promo
card that's Standard legal. You can't get this in booster packs.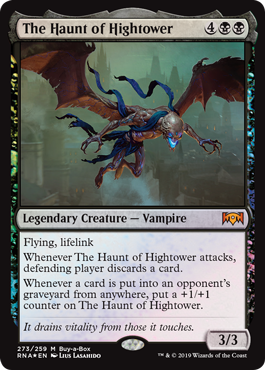 In retail stores like Wal-Mart, you'll be able to get
Ravnica Allegiance Theme Boosters
on January 25 based on one of the five guilds. They have 35 randomized cards all from that guild, with one rare or mythic rare card, for $6.99.
The
Spellslinger Starter Kit
has two simple decks that you
do not shuffle
so you and a friend can get a guided tour through how a game of Magic can work for $14.99.
The
Ravnica Allegiance Guild Kits
are decks based on each of the guilds in the set, but aren't Standard legal, as they contain cards from previous Ravnica sets. They release February 15 for $19.99.
Magic Game Night
is an introductory product for $39.99 with five person multiplayer right out of the box, for those who want to bring Magic to their board game meet ups. There's a deck for each color, counters, and rules reference cards. These are not Standard legal. This releases November 16.
Guildmasters' Guide to Ravnica
is a Dungeons & Dragons product allowing you to explore the world of Magic in their first ever officially released crossover. This contrasts with previous web crossovers in that this is has been fully playtested.
SCHEDULE
Premier events schedule
Ravnica Allegiance
Start of reveals: January 3, 2019
Arena Release: January 17, 2019
Magic Open House: January 12 - 13, 2019
Prerelease Weekend: January 19 - 20, 2019
Release Date: January 25, 2019
Draft Weekend: January 26 - 27, 2019
And nothing else yet.
HIGHLIGHTS
Instead of linking highlights in this post, I'll be using the threadmarks feature.
Previous threadmarks
Current threadmarks
RESOURCES
Official articles
- Nicknamed the Mothership, these articles are the primary source of news. Recommended columns are Making Magic, written by the head designer, Mark Rosewater (aka MaRo); Magic Story, which tells the story, written by various authors; and Play Design, written by various Magic developers. The other articles generally discuss deck building.
Card image gallery
- Best way to see all of the spoiled cards together, but only updates once a day.
Blogatog
- Tumblr ran by Mark Rosewater where he answers questions, updates very frequently.
Drive to Work
- Mark Rosewater's weekly podcast about Magic that he literally records as he drives to work. Two episodes are released every Friday.
MTG Reddit
- The best place to get new card information. The community sucks, though.
Mythic Spoiler
- A good way to see what cards have been spoiled, updates throughout the day.
Gatherer
- The official method of searching through released cards. Has autocomplete.
Scryfall
- The better search method, with bigger cards, but it doesn't have autocomplete.
Game store locator
OTHER THREADS
Guilds of Ravnica
Core Set 2019
Dominaria
Arena Closed Beta on Gaming side
Arena Open Beta on Gaming side
Rivals of Ixalan
Great Designer Search 3
Hangouts OT
Last GAF thread - Ixalan
Last edited: