Previous thread
Arena thread
Product info
Card image gallery
Mechanics
: Proliferate, amass
Next set: Core Set 2020
Story archive
Hidden content
You need to reply to this thread in order to see this content.
(
title reference
)
Welcome to the Multiverse!
Magic: the Gathering is a Trading Card Game, the first of its kind, developed by Richard Garfield and his playtesters for the gaming company Wizards of the Coast in 1993. You and your opponents play the role of dueling
planeswalkers
, wizards able to travel between dimensions known as planes to gather unique magic. Using customized decks made up of your spells, the creatures you can summon, your mana bonds with lands, and even other planeswalkers you can call in to help out, you try to defeat your foes.
Previously, the Gatewatch learned that Nicol Bolas has his sights set on the plane of Ravnica and we witnessed how the guilds of Ravnica were being manipulated by him. Now the dragon himself has arrived with his zombie Dreadhorde army, commanded by Gatewatch member Liliana, who is under duress to work for him. Planeswalkers flood into Ravnica, and the city-world is at war.
War of the Spark has more planeswalkers than any set before, with 36 total in booster packs: 20 at uncommon, 13 at rare, and 3 at mythic rare, with an additional mythic rare planeswalker as a Buy a Box promo (for a total of 37). A planeswalker card is
guaranteed
in every booster pack.
Note that the majority of discussion happens on Discord now, but we'll be available for any questions here.
GETTING STARTED
Official guide to starting Magic
To see what a game is like, check out
Geek and Sundry's Spellslinger series
, where Day[9] battles various geek celebrities, often losing, using simple and easy to follow decks.
For the digital card game, you can play
Magic Arena
potentially for free.
It has its own thread
. Though it's now discontinued in light of Magic Arena,
Magic Duels
is still available to download for a single player Magic experience, and it can help a lot for figuring out the rules.
For the physical card game, there are many ways to get on board. If you go to a local game store (LGS), the owner will give you a simple
Welcome Deck
for free, after demonstrating how to play the game. The
Spellslinger Starter Kit
has two simple decks that you
do not shuffle
so you and a friend can get a guided tour through how a game of Magic can work.
Planeswalker Decks
are pre-constructed decks with four brand new cards, including unique planeswalker cards and one additional booster pack. While not particularly strong, they will allow you to actually play casual games.
Challenger Decks
will allow you to compete in Standard tournaments using real decks for, before release, much cheaper than buying the cards individually.
If you want to build your own deck, a
Deckbuilder's Toolkit
will give you a decent starting collection of cards, including 125 semi-random cards, basic lands, four booster packs, and perhaps most importantly, a good box for your cards.
Game stores will hold
Magic Open House
events specifically meant for new players, with people there to give you Welcome Decks and play teaching games. Experienced players are also encouraged to participate and help beginners, and everyone will get a promotional card for attending.
The big thing to look forward to, however, is the
Prerelease
event held for every set. You play using the Sealed format, where every player is given a box with six booster packs and a random additional rare card. From this pool of cards, all of which you keep, each player builds a deck of 40 cards and participates in a Swiss-system tournament. This is a fun and casual event, where everyone is still trying to figure out the set, so don't worry about messing up. In addition to normal duels, there are also Two-Headed Giant events, where you pair up with another player and face off against another team.
Prerelease events will be held on April 27–28, 2019. Magic Open House events will be on May 4–5, 2019. Call your local game store a few days ahead of time to register for the Prerelease, or they might just run out of room.
Find local game stores here
.
Number of Cards:
265 (+ 8 Planeswalker Deck cards and 1 Buy a Box promo)
Arena Release:
April 25, 2019
Prerelease Weekend:
April 27–28, 2019
Magic Open House:
May 4–5, 2019
Draft Weekend:
May 4–5, 2019
Card image gallery
Mechanics
Everyone Is Here (except Garruk)
You get a planeswalker, and you get a planeswalker! Everyone gets a planeswalker! There's a planeswalker in every pack: 20 at uncommon, 13 at rare, and 3 at mythic rare, with an additional mythic rare planeswalker as a Buy a Box promo (for a total of 37)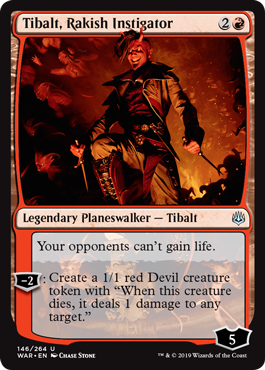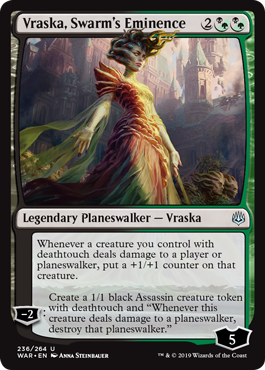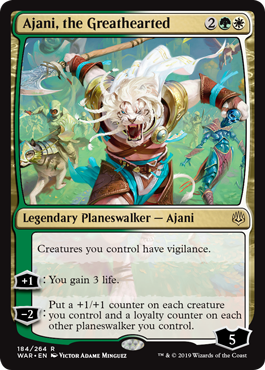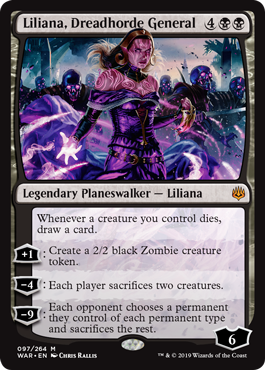 Every planeswalker has a static or triggered ability. The number of abilities increases with rarity, with only the mythic rare planeswalkers having ultimate abilities. Uncommon planeswalkers can't increase in loyalty on their own; you have to use the below keyword to do that.
There's an extra planeswalker only available as a Buy a Box promo.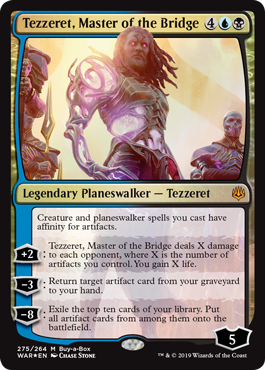 Note that this is the only card with
affinity for artifacts
in the set, which is considered fine since it isn't in booster packs. Spells with affinity for artifacts cost (1) less for each artifact you control.
Proliferate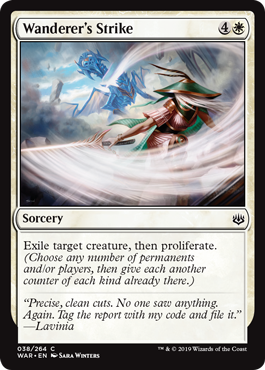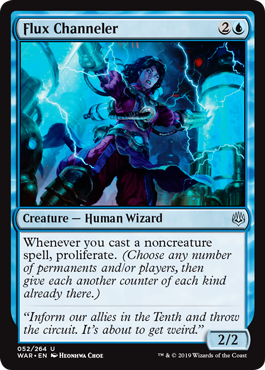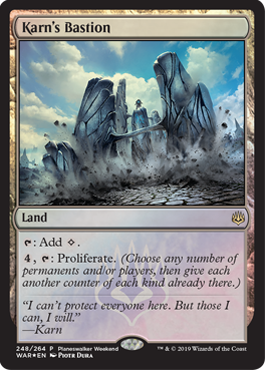 Returning from Scars of Mirrodin block,
proliferate
allows you to increase the number of counters for everything you want by one. If something has two counters, then it has three counters after you proliferate. +1/+1 counters, planeswalker loyalty counters, even energy. As a rule change from before, if a permanent or player has multiple types of counters, then you must add one of each of those counters or none at all.
Amass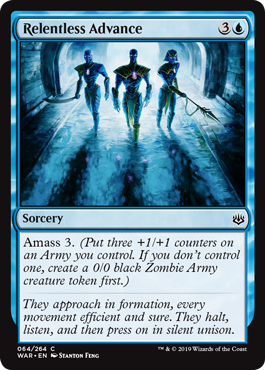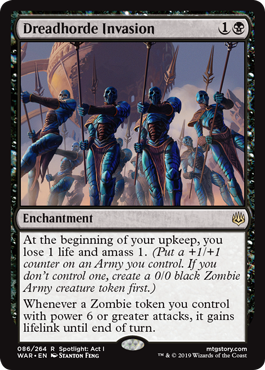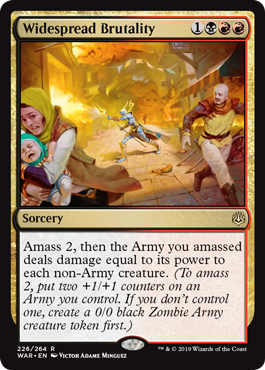 Bolas has assembled an army of zombies. When you
amass N
, if you control an Army creature, then put N +1/+1 counters on one you control. If you don't control one, then you create a 0/0 Zombie Army and then put N +1/+1 counters on it.
SCHEDULE
Premier events schedule
War of the Spark
Start of reveals: April 1, 2019
Arena Release: April 25, 2019
Prerelease Weekend: April 27–28, 2019
Release Date: May 3, 2019
Magic Open House: May 4–5, 2019
Draft Weekend: May 4–5, 2019
RESOURCES
Official articles
- Nicknamed the Mothership, these articles are the primary source of news. Recommended columns are Making Magic, written by the head designer, Mark Rosewater (aka MaRo); Magic Story, which tells the story, written by various authors; and Play Design, written by various Magic developers. The other articles generally discuss deck building.
Card image gallery
- Best way to see all of the spoiled cards together, but only updates once a day.
Blogatog
- Tumblr ran by Mark Rosewater where he answers questions, updates very frequently.
Drive to Work
- Mark Rosewater's weekly podcast about Magic that he literally records as he drives to work. Two episodes are released every Friday.
MTG Reddit
- The best place to get new card information. The community sucks, though.
Mythic Spoiler
- A good way to see what cards have been spoiled, updates throughout the day.
Gatherer
- The official method of searching through released cards. Has autocomplete.
Scryfall
- The better search method, with bigger cards, but it doesn't have autocomplete.
Game store locator
Last edited: