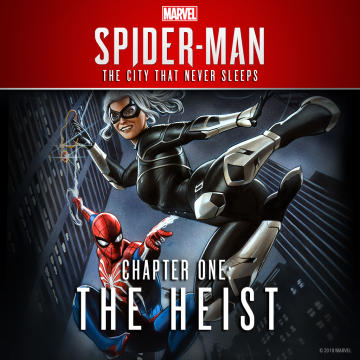 Release date: October 23, 2018
PlayStation Universe 9/10
Though its vision might be restrained somewhat, The Heist nonetheless makes a compelling case for itself as a hugely satisfying and essential continuation of Marvel's Spider-Man.
Digital Chumps 9/10
The ending of this first installment of the DLC certainly ends on a cliffhanger, leaving us excited for November's content. Whether you play it now or wait until all three DLCs are out, The Heist is definitely worth the price of admission and the four hours it takes to complete.
Game Revolution 4/5
Spider-Man's first episode is fantastic in almost all the same ways that the main game is. It has a great script with well-realized characters and a combat and traversal gameplay loop that is almost endlessly satisfying.
IGN 7.8/10
Black Cat's intro is great, but the first DLC episode feels more like a first act than satisfying, standalone content.
Destructoid 7.5/10
Insomniac managed to keep The Heist grounded within the foundation of Spider-Man to allow it to momentarily shine.
Just Push Start 7/10
What stands out about Spider-Man: The Heist isn't the content, though there are a fairly substantial amount of cutscenes, but how little it adds. Even if some things are different or new, they don't much value. Costumes don't add new powers, nor do abilities change, so the main motivator is story, followed by trophies. Combine this with there just being a hint of an upcoming confrontation with a major villain and it's the type of experience that might lead to greater things but isn't great itself. So, unless you're dying to play more, I strongly suggest waiting to see where this adventure goes.
Gamereactor 7/10
The Heist is not a particularly impressive or memorable expansion - since it's more of the same for the most part - but it's fun and it comes with some interesting moments.
PlayStation LifeStyle 6.5/10
While The Heist has a strong story—or at least the start of one—it doesn't fill out the world or give Peter any additional gameplay growth.
Game Informer (unscored)
-
"A Fantastic Continuation"
The Heist is well worth your time, especially if the post-credits sequences in the main game have you counting the days until a potential Spider-Man 2.
EGM NOW (unscored)
-
Good, but far from essential"
The Heist is a fun little way to spend more time with the delightful gameplay, characters, and world of Marvel's Spider-Man, but it certainly doesn't feel like a complete, satisfying expansion on its own. I'm not even sure it feels like a third of one, but I wouldn't be surprised in the slightest if The City That Never Sleeps pulls out something special across its next two chapters.
Tag me with other reviews you find and I'll add them here.
Last edited: