In the story, Hagrid gets a dragon.
Dragons are illegal to keep as pets, and Malfoy ends up spotting it when he looks through the window in Hagrids hut, which meant that they had to get rid of the dragon as fast as possible. During the week, the dragon grows and bites Ron, which also poisons him, and Hargrid is eventually conviced to part with the dragon. Ron contacts his brother Charlie, who works with dragons, but the only way they can sneak the dragon out is getting to the highest point in Hogwarts and exchanging the package. So, they use the invisibility cloak to get there, but Malfoy is looking to catch them since he also intercepted Charlie's letter, so he sees it as a way to get Harry and friends in trouble. The actual exchange goes well, but they leave the invisibility cloak upstairs and are found out by Finch, who brings them to McGonagall. And this is tangential, but it should be pointed out the book never really explains why Malfoy doesn't alert the Hogwarts staff of Hagrid's dragon immediately, instead waiting to intercept Charlie's letter and waiting for the night of the exchange to happen, nor does is it said how Ron said to Madam Pomfrey to explain how he managed to get dragon poison in his system. Oh, and Neville also gets wrapped up in this, but that's less important.
Anyway, McGonagall flips the fuck out. First, she doesn't actually question what the kids were actually doing, since she didn't believe Malfoy's story about the dragon, so she just makes her own assumptions.
So, McGonagall, hilariously, just gave Harry and the kids an alibi that they were, in that very moment, struggling to come up with because they couldn't think of a way to explain what they're doing. Because if she had known about the dragon, not only would that have led Hagrid into some shit, the punishment for smuggling a live dragon is probably higher than wandering past curfew.
Then again, maybe not. Look at her reaction here.
Really?
Really
? This is the most shameful thing you have ever caught a Gryffindor doing? Walking around the school past 1 am?
I dunno, it just seems kinda funny. Like, it's implied that Fred and George just get up to some shit on a weekly basis that puts this to shame. Like, in year 5, the weasley's nearly kill a slytherin by pushing him into a vanishing closet and kinda left him braindead, from descriptions. And if we take the entire history of Hogwarts into question....Like, I can't imagine that they don't catch at least 5 students yearly under an invisibility spell in the hallway fooling around or something.
But okay, fine. So kids wandering around past curfew is bad. Because the castle is dangerous, which is probably true (I say probably because as far as I can recall, Hogwarts never had any dangers that weren't the result of an external agent, like the Basalisk or Umbridge).
Other than the points, what their punishment?
They're going creature hunting with Hagrid. Now, skipping ahead a bit, we find out later that Hagrid has a giant spider friend in the forest and he's a big influence on the creatures of the forest, which is why Hagrid later says that nothing in the forest will hurt them as long as they're with him (or his dog Fang). The thing is, that doesn't account for the 1. a predator attacking anyway because it's either too stupid or greedy to not do so, 2. the potential that they might get separated from Hagrid, (which ends up happening, twice) 3. that they are hunting something new in the forest that doesn't give a shit about the giant spider's rules. And, naturally, when Harry is seperated the second time, the mysterious unicorn killing creature attacks Harry, only to be saved by the centaur Firenze.
But if we move back to McGonagall for a moment, lets think about her logic here. Curfews are set because the Hogwart's Castle is (apparently) dangerous to students wandering around at night. So, as punishment for recklessly endangering themselves, she has them go into the Forbidden Forest. The Forbidden Forest that's forbidden specifically because of all the shady and dangerous creatures in it, so they can hunt an unknown creature that is fast and strong enough to catch unicorns (themselves creatures fast enough that Hagrid has never heard of any creature killing them).
So basically "For endangering yourself in the hogwarts castle, I'm endangering you in a magical death forest. Think on that, little shits". Like, holy shit McGonagall. She takes curfew rules seriously, doesn't she? What would she have done if she discovered Norbert, feed them to an grown dragon? Moral of the story is, don't fuck with McGonagall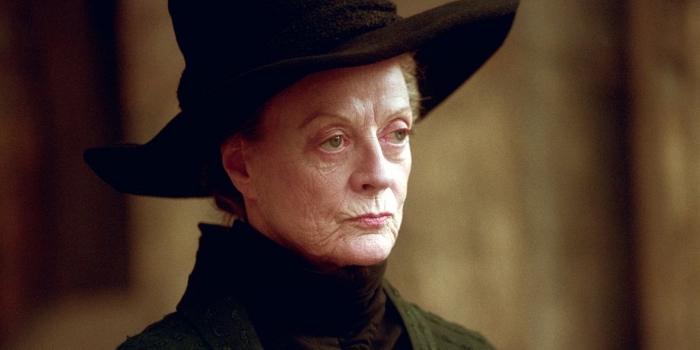 Also, on another note, Fantastical Beasts 2 has a scene where characters briefly go back to Hogwarts to talk to Dumbledore.
Checking the HP wikipedia, Finch got a job at hogwarts around 1976, which is way before when the Fantastic Beasts take place(1940's). So if these punishments were in vogue back in Finch's day, then they definitely would have been at the time of Fantastic beasts. I can't help but think how different a tone that scene where we go back to hogwarts in FB would have been if like in the background, we had a student being tortured because they were late to class or something.
Last edited: