Hello, friend(s). It's been awhile. Alot has happened since you first started seeing our revolution. Twists, betrayals, and unexplained things have occurred. The world has been turned upside down no thanks to the E-Corp and the Dark Army. Our revolution was hijacked from us so that the Dark Army could take control in the power vacuum that was left. But now it's time to get back to work. This is the final push back at those who control all of our lives. They're not invisible anymore, and now they're going to pay.


Welcome to Season 4.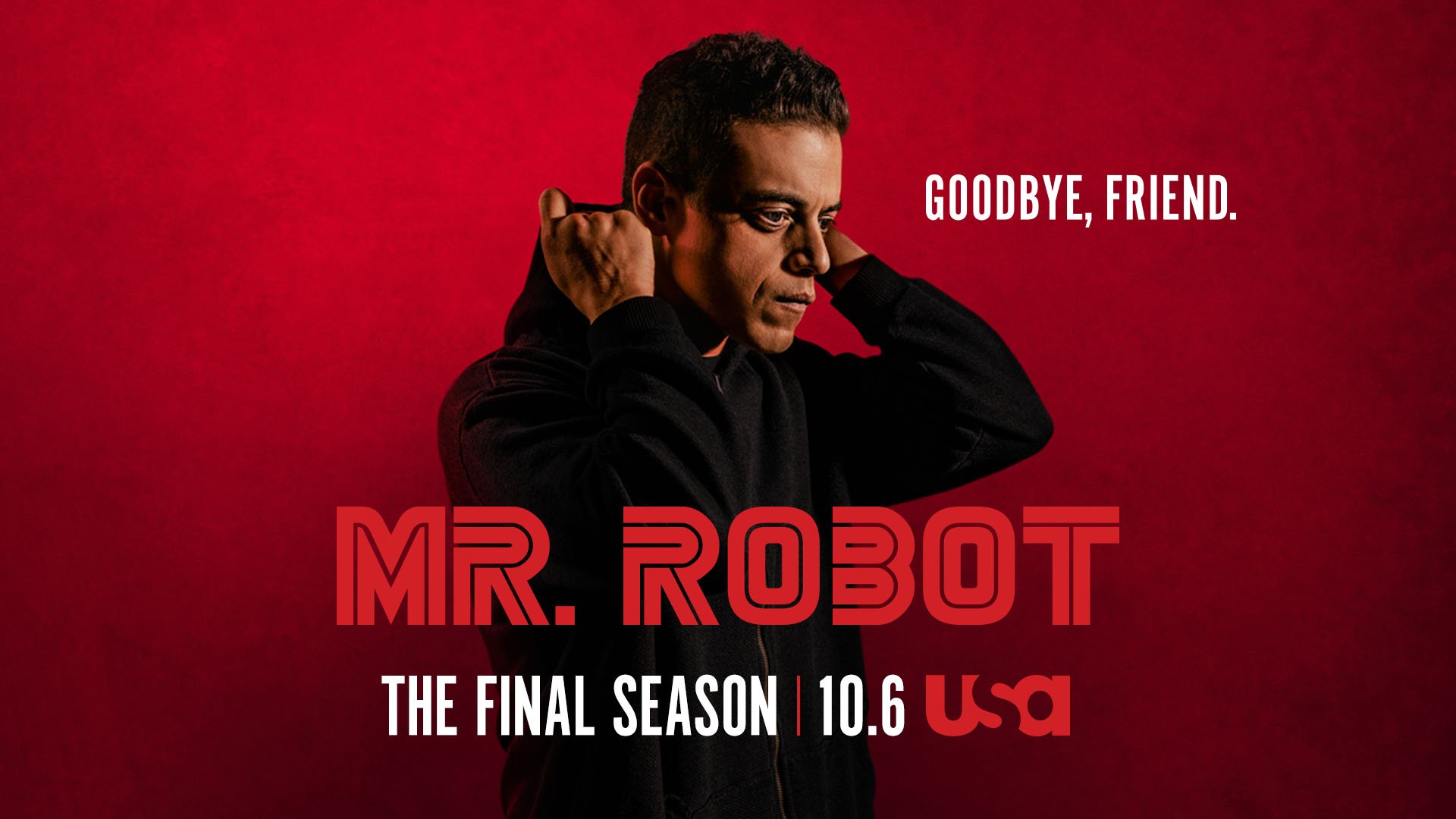 Rami Malek as Elliot Alderson
Christian Slater as Mr Robot
Martin Wallstrom as Tyrell Wellick




Carly Chaikin as Darlene
Portia Doubleday As Angela Moss




Grace Gummer as Dominique (Dom) DiPierro
BD Wong as Whiterose




Season 4 will begin on Oct. 6 at 10/9c on the USA Network.

If you want to catch up, you can start watching on Amazon Prime, where the three previous seasons are available to be streamed.
"Mr. Robot" follows Elliot (Rami Malek), a young programmer who works as a cyber-security engineer by day and a vigilante hacker by night. Elliot finds himself at a crossroads when the mysterious leader (Christian Slater) of an underground hacker group recruits him to destroy the corporation he...
UPDATE: Recaps of all three seasons are now posted here!
SEASON 1:
SEASON 2:
SEASON 3:
There's already a couple reviews about the season already. Read away.

Forbes:

Mr. Robot is back and better than ever.


Variety:

It can be easy to forget quite how big a deal, in its early going, "Mr. Robot" was. It eventually became, fairly enough, a hallmark for narrative and directorial excess. But the series, about Ellio…
variety.com


Decider:

The series' final season is a Christmas-themed masterwork of tension.
decider.com
You heard it right. Written by Sam and Courtney Looney; the book's set b
efore and during the events of season two, where Elliot recorded his most private thoughts in a journal. Basically you enter the mindset of Elliot and get some ideas of the things he was doing. There's also some neat little items that provided clues to S3 and possibly S4. You can get it on Amazon for $14.
Amazon.com: MR. ROBOT: Red Wheelbarrow: (eps1.91_redwheelbarr0w.txt) (9781419724428): Sam Esmail, Courtney Looney: Gateway
There will also a prequel comic book series from Black Mask Studios that will detail how fsociety first formed. There is still no solid date on the 1st issue however.
I was thankfully informed that Mr. Robot also has a game out as well. Supposedly it's a iOS text based adventure game made from the people who worked on Oxenfree! Thankfully it only deals with S1 so it won't spoil you if you haven't caught up. Here's a trailer:
Been a long time coming for this season and I cannot wait to see how this all ends. Hope you guys enjoyed the OT and can't wait to talk about this season with you all!
*FYI, SPOILERS WILL BE DISCUSSED HERE AS WELL, SO BE WARNED WHEN ENTERING THE THREAD.*
Last edited: