Next Generation Console Preview
Mission Statement
The purpose of this post is to aggregate all the news, rumor, and good ole' speculation from the past several years regarding the release of next generation consoles. I have made a light attempt at editorializing and narrative construction to make the content more digestible and a little less dry in nature. To that end, the purpose of this post is not to predict what next generation consoles will be, but to collect the relevant items surrounding their respective releases in one place, so that we may have a reference for future discussions, and hopefully we spark a few new ones along the way.
The When
Next generation consoles from Microsoft and Sony are both expected to launch within the 2019 to 2020 time frame, with emphasis on the Q4 2019 to Q4 2020 period. This is supported by a myriad of sources that cover all aspects of the industry. Both Microsoft and Sony have publicly acknowledged that they are actively working on one or more consoles to succeed the Xbox One and PS4 family of consoles, respectively.

Bits and Chips
Outside of these statements, what specifically places the likelihood into the mentioned timeline is the technology roadmap of the likely IC design firm both companies will engage, as well as the silicon foundry technology availability. AMD, who has provided either a GPU or CPU to at least one console for the previous three generations of consoles, is widely expected to have scored design wins for both the next generation Sony and Microsoft consoles. This can be inferred by the fact that AMD has mentioned they have several active semicustom design wins[], that they expect semicustom revenue to rise again over the course of the next two years[], and comments made by AMD CEO Lisa Su about ongoing business relationships with the console vendors[].
Additionally, AMD's own CPU and GPU roadmaps align with the launch of next generation consoles within the next two years. AMD completed tapeout of their Zen 2 CPU on TSMC's 7nm process early in 2018[], and has had working samples for several months. Additionally, AMD's next and final iteration of their Graphics Core Next (GCN) architecture, "Navi", has had functional samples in AMD labs for the past several months[bm]. Both products are expected to be announced for enterprise and consumer availability in 2019 at AMD's forthcoming CES keynote, on January 9th 2019 in Las Vegas.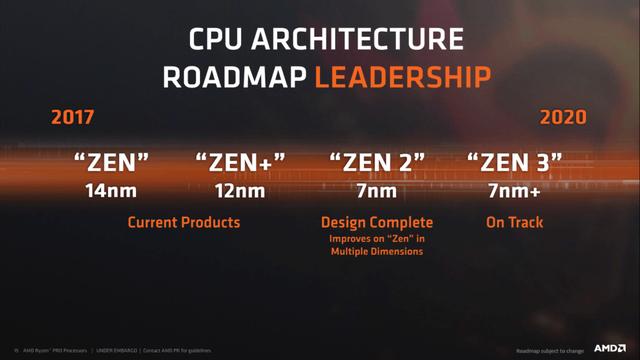 AMD's foundry partner for both of these designs is Taiwan Semiconductor Manufacturing Company (TSMC), and 7nm ICs have been shipping from TSMC's foundries since H2 2018, with the A12 chip variants found in new iPhone and iPad models being notable examples. These products are fabricated on a so-called "mobile" six metal track variant of the 7nm process that features high transistor density and is aimed at low power usage scenarios. Historically, 7.5 metal track, or High Performance Computing (HPC), variants of these nodes with lower transistor density, higher power profiles, and higher clock speeds begin to ship products around a year or so after the lower power variants emerge. AMD was supposed to begin shipping the 7nm variant of their Vega architecture, MI60 in December, though this has yet to be confirmed. Nevertheless, a HPC part shipping on the most likely targeted node a year or more ahead of next generation consoles.
TSMC currently plans to begin shipping products on its revised 7nm+ process, which uses Extreme Ultraviolet Lithography (EUV) on non-critical process steps, in H2 2019[]. The revised process promises modest 10-15% boosts to performance and area, but its design libraries are not compatible with the 7nm process. Some previous technology nodes are referred to as "optical" shrinks, which tightened some metal features, but not all parts of the process. This shrinking process allowed customers to keep the same general layout implementations and minimal design updates. With 7nm+, an entirely new design would need to be made. TSMC offers support to help this transition, but the endeavor would be a risky one for Sony or Microsoft, and almost certainly relegate them to a 2020 launch. Similarly, AMD's Zen 3 and next gen GPU architectures show at 2020 on their roadmaps currently, but the risk becomes even greater here.
It's All Volatile
A significant portion of the next generation consoles, both from a monetary and technology enabling perspective, is the type and amount of various memory technologies they utilize. The two most likely candidates for RAM on these consoles are GDDR and HBM technologies, specifically GDDR6 and HBM2. GDDR6 remains the primary candidate for a number of reasons, including its relative low cost per GB and per GB/s of bandwidth compared with HBM and previous GDDR iterations. Additionally, it is already shipping in consumer focused-products, has the ability to be supplied in volumes likely seen for consoles, and is produced by all three major memory vendors-- Samsung, Micron, and SK Hynix. It also expected to be available in densities suitable to give new consoles somewhere between a 2x to 4x quantity of RAM over current generation consoles.
HBM2 does ship in relatively low volume with AMD's Vega 56 and 64 consumer graphics cards, but it is known to have a comparatively high cost to GDDR6, which can compete in bandwidth in all but the most extreme implementations of HBM2. HBM3 promises up to double the bandwidth of HBM2 at a lower overall cost, but no hard timelines for its availability have been made outside of a general "2020" date[bl]. Perhaps the most complicating factor is that HBM type memory technologies will likely struggle to meet the volume needs of new consoles[bk].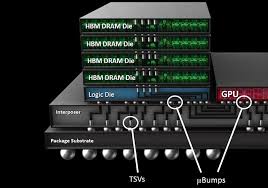 Example HBM Stackup
​
The memory market as a whole is also dealing with a variety of complicating factors, including a mobile boom eating up factory capacity, uncertainty surrounding tariffs, and an on-going price-fixing investigation by Chinese authorities[]. These factors could greatly affect the prices that Sony and Microsoft are able to negotiate and force the companies to scale back their designs or take a greater monetary loss on each console sold. Many of these same factors are affecting the supply of NAND non-volatile memory, which could be implemented in consoles as well.
NAND memory is a strong candidate for next generation consoles because it can enable storage solutions an order of magnitude faster than the currently implemented magnetic media in current consoles. The promise of faster loading times, streaming game assets, and lightning quick boot and app switching times is an enticing possibility, particularly if it can be used as a differentiator between the respective offerings. While price per gigabyte continues to fall for this type of storage, the possibility of its inclusion in the imminent consoles only grows.
Developers, Developers, Developers
As you might imagine, the game developers are not quiet during all of this. In addition to the excitement that new technology brings creators and consumers alike, developers often need to make public disclosures about their plans as they hire for new projects, or simply meet their financial reporting legal obligations by providing forecasts for game sales.
The general buzz around new consoles has also spurned the gaming press to begin asking developers about their hopes, dreams, and visions of a new console generation. Cory Barlog hopes for an incremental changes in tools and processor design, so that developers may leverage the assets and knowledge they already have [bn]. We've also been told to prepare for more interactive and dynamic worlds thanks to physics and CPU enhancements, with the prospect of large CPU gains particularly exciting to some[bo-bp,br].
Developers have also not been shy about the possibility of real-time ray-tracing appearing in next generation consoles following Microsoft's announcement of the DXR API extension to DirectX[bq]. In spite of the fanfare, many games already implement ray tracing to some small extent, and this has left some developers eager for more support[bs]. While NDAs make them understandably cagey, some have indicated that they have some knowledge of next generation console plans[bt].
Attitudes remain positive in regards to the currently floating rumors. One developer suggests that multiple power tiers of SKUs wouldn't be that big of a deal, and would be a net positive for the industry given games could reach more hands[bu-bv]. Ubisoft's CEO has gone so far as to seem downright impatient[bw]. Understandably, developers are still trying to test the waters and decide what makes a game "next gen" compared to the current iteration of platforms[ck].
Make no mistake - next generation development is in full swing. The internet is covered with job postings from both Western and Japanese developers that specifically cite next gen development[bz-ch, no cd,dq]. Some positions are even associated with the Call of Duty developer expected to release 2019's entry into the franchise if historical timelines hold[bx-by]. Rare has even acknowledged on-going next gen collaboration efforts with Microsoft[cj].
Developers have also had to put out their fair share of fires, as eager consumers have gone poring through public release logs on middleware and engine tools like Bink[hj] and Unreal Engine, unearthing NDA entires and codenames such as "Erebus" and "Quail"[cl-cm,dt]. It turns out that Fortnite for Switch is not the bombshell the community was looking for[cn]. That hasn't stopped them from having a little fun at our expense[co].
The Equines' Opines
Microsoft and Sony have begun to talk about the idea of new consoles as well, for many of the same reasons that developers have. Numerous comments have been made by the likes of Microsoft's Phil Spencer and Sony's John Kodera and Shawn Layden, among others. These executives are given the nebulous task of generating developer and consumer excitement while at the same time preventing the Osborne effect and cratering current generation console sales. Despite the murky waters created by streaming and mid-cycle refreshes, there is still a clear belief in discrete generations[dy].
The most outspoken of the bunch has arguably been Microsoft Gaming Executive Vice-President Phil Spencer, who finds his console in a trailing position in the market. This is not an uncommon spot for an Xbox console to be in, but it's arguably a disappointment given the relative success the Xbox 360 enjoyed in the Western world. As is common for the market trailer, they tend to be more active when it comes to PR, and Spencer has made numerous comments alluding to the possibilities of next gen, including numerous claims at E3 2018.
His comments have run the gamut of technologies and features new consoles might include such as ray-tracing, some form of AI acceleration via custom silicon, faster loading times, soliciting Japanese developer feedback, higher refresh rates, streaming to various platforms, and even the possibility of multiple variants in a short time span[bc-bi]. Before leaving the company, Albert Penello's comments regarding the focus on software, rather than discrete hardware generations[bj], might have led one to believe multiple SKUs were possible if Microsoft could guarantee the compatibility on their end.
This is not to say that Microsoft is in a dire spot, though. Revenue per user is up significantly this generation for all console makers, as premium subscription services, microtransactions, and cultural forces like PUBG and Fortnite are opening up new avenues of revenue for the gaming industry. Microsoft's annual gaming revenue eclipsed $10 billion this year, thanks in part to a rise in Xbox Live subscriptions[bb]. Sony finds themselves in a similar place thanks to tremendous growth in PS+ subscribers, which they recognize as a vital part of their platform[dx].
Shawn Layden, SIE's Chairman of Worldwide Studios, Sony CEO Kenchiro Yoshida, and SIE CEO John Kodera, have made comments regarding PS4's successor, but only recently so and in a very taciturn manner[aw-ay]. It seems likely they are afraid of endangering the current success of the PS4, which is helping Sony's gaming division turn in some record numbers. Sony's announcement of the removal of the PS3 and PS Vita platforms from the PS+ free games promotion in 2019 has also been seen as the tacit admission that a new generation is nigh[dv].
Kodera also commented how Sony is experimenting with how to engage users who are using mobile devices without committing to a dedicated device, instead referencing their experimentation with user's own mobile devices and PlayLink. Kodera's comments were also misconstrued in the media due to translation era, turning a statement of the PS4 having three years left in its lifetime to an assertion that next generation consoles were three years away[az]. Thankfully, this translation era was cleared up by Yuji Nakamura[as].
The first pivotal piece of evidence for a 2019-2020 window was Sony's Games and Network Services forecast for those years[dz-ea]. Notably absent was a prediction for 2019, instead showing a gap from FY 2018 to FY 2020, with a mild to moderate operating profit decline in 2020 comparatively. Sony did not project a decline in subscription service revenues, so we are only to assume that this dip would be due to expenses incurred with the launch of a new hardware platform. This is characteristic of product launches as the hardware is often at its peak production cost, and many logistic and marketing deals must fall into place.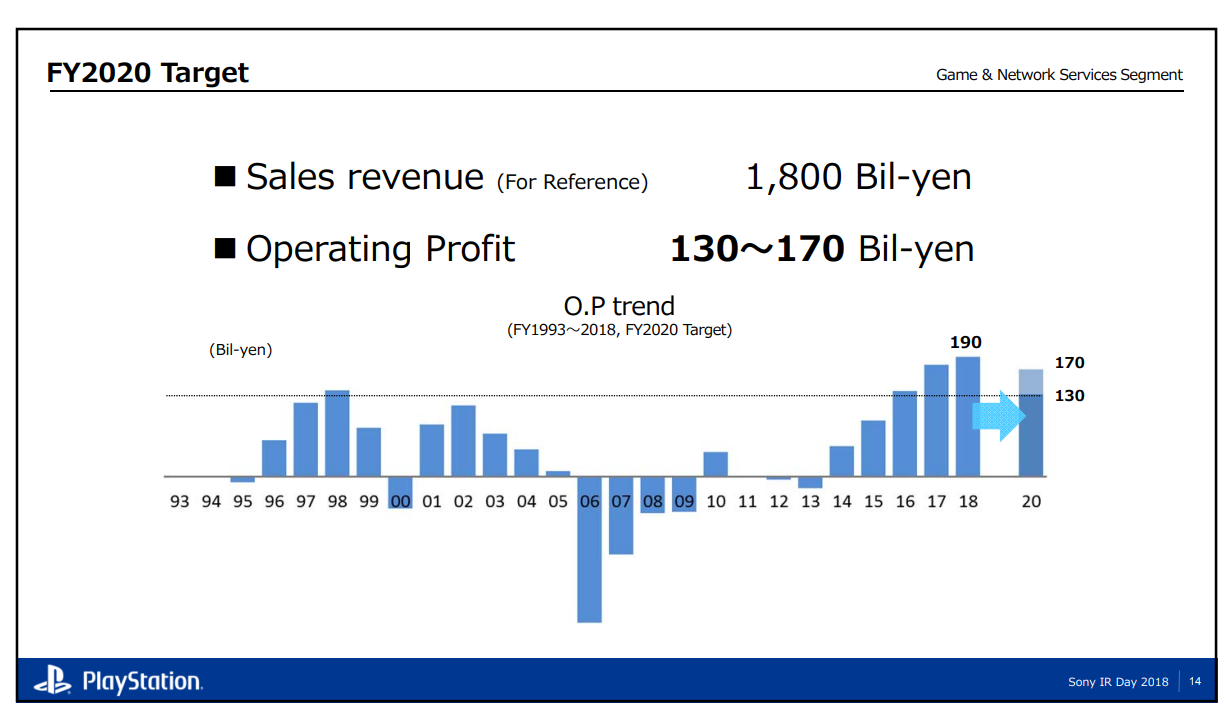 The omission of 2019 is very important, and we don't know if it means that 2019 is an even further drop from 2018 compared to 2020. Showing a precipitous drop in 2019 would likely cement that year as the launch date, which would tip Sony's hand, and put them on track for a date that they may not even have firmly committed to at that point. Subscription service revenues will certainly help smooth the tumultuous nature of generation shifts, and Sony indicated that this is something they'll rely on for the business moving forward.
Nevertheless, Sony's decision to not hold a PSX event in 2018, followed by the announcement that Sony is skipping E3 in 2019[at], a first ever for the company, has left some worried. A concerned fan tweeted at Shawn Layden to that effect, earning the cryptic reply "See you in the new year."[ba] This simple tease has instilled hope in many, and echos similar comments shared by Layden on the Playstation Blogcast revolving around finding new ways to engage with fans[av]. Fans were also abuzz when a holiday theme flashed what appeared to be a "5", triggering debates about a tease or a simply celebration of PS4's fifth year on the market[dw]. Sony isn't stranger to a good headfake before a dunk, though[du].
Press Leak Luck
The season of speculation has not been without help from those with well-connected sources, whether they be press members themselves, or industry insiders who live by their reputations. Thus far, the most consistent source of news, or rather, the person telling us there's no news to report, has been been Kotaku's Jason Schreier. On multiple occasions, Schreier has communicated via both twitter and ResetEra posts that no developers seem to have development kits from either manufacturer, nor do they seem to know about launch plans just yet[c-h,p]. The lack of any concrete information has led Jason to conclude that a 2020 launch seems most likely, and this has been reiterated by various insiders who have stated 2020 does seem most likely, admitting it could have changed relatively recently from a 2019 plan[i-l].
A wide variety of factors have been suggested for an apparent 2019 to 2020 slip of the PS5, including waiting for software maturity, a PSN overhaul[o,au], an expansion of timeline due to PS4's success[m-n,jh-ji], or a delay to improve backwards compatibility. Regardless of whether the last rumor is true, PS5 is expected to include backwards compatibility, thanks both to insider information[r] and a wealth of patents from Sony on the topic. The next generation Xbox has a de facto assumption regarding its backwards compatibility given it has become a cornerstone of the platform.
Elsewhere, there have been some leaks outside of Jason and forum insiders, most notably a reddit leak via u/RuthenicCookie, whose credibility has since been verified via a reddit moderator[ b]. This post makes a wide variety of claims including a mid-2019 reveal of the PS5, a blowout of information at PSX 2019, and a launch seemingly in the Q4 2019 to Q1 2020 timeframe[a]. Further posts also include statements that many developers have "4K60 beast" dev kits, PSVR2 will be unveiled alongside PS5, as well a suggestion that Bioware's forthcoming online multiplayer shooter Anthem is being tested on dev kits, but will be delayed beyond its current February 2019 date.
While the reddit post's claims about launch timeline and performance may well be true, the claims of dev kits and Anthem's delay stand in clear contrast with what other sources are saying. Most notably, there are no widespread claims of dev kits in the wild that have not been met with intense scrutiny[q]. Additionally, while Anthem may still be delayed, it has already been through a seemingly successful Alpha test, and a demo is planned for January. Despite all of this, an early 2018 French rumor still lines up with many of the claims of this reddit post, including the launch window and 4K60 target[t].
On the Microsoft side of the equation, writers Brad Sams (Thurrott) and Jez Cordon (Windows Central) have been the source of a bevy of rumors regarding next gen Xbox console power[ s], launch dates[ac], code names[z,ae-af], streaming[y,ad], SKU permutations (both this gen and next)[ag], and technical features. Another forum insider has claimed that the new Xbox will include support for ray-tracing[v], AI/ML[x], streaming, and may use GPU decompression to shrink memory or download footprints[ u].
Finally, we'll close with the most cryptic yet specific insider rumor of all.
While many aspects of this rumor have been since invalidated (Sony will not be at E3, the PS classic has already been launched and does not support downloads), the odd specificity on launch titles have perked many ears up. Additionally, the mention of a split controller mating with a screen[ab] and motion controllers with analog sticks[aa] have both been mentioned in Sony patents. This will be a fun one to come back to post launch.
Industry Annual Lists
Sony and Microsoft are publicly traded companies in an industry with a very large TAM, so it's only natural that some people make a living trying to predict the future of the games industry. From everyone's favorite whipping boy Michael Pachter, to Resetera regular Mat Piscatella, numerous analysts and firms have weighed in on when we'll see new consoles. The resounding answer lines up with what all the other indicators are saying - 2019 or 2020[ah-an]. This makes sense, as they're often looking at a lot of the same indicators we are, but they too have sources, and keep a much closer on on the performance of component suppliers and manufacturers, giving them an extra finger to the winds of the industry.
Some have been bold enough to be more specific, with Bloomberg's Yuji Nakamura asserting that a PS5 reveal may not come until 2020[ap]. Most recently, Pachter has opined on the numerous rumored Xbox SKUs, with a dash of speculation on refresh rates in the 240Hz realm that has generated plenty of scorn and sensationalist headlines[aq]. GameDaily also posted their own round-up of analyst predictions for 2019[ar].
Perhaps what has been most interesting about this console cycle is the lack of a characteristic downturn in current generation console sales, which has often by a telltale bellwether of a new generation of devices. NPD's Mat Piscatella noted this in a series of tweets[ao,dr], and it is a telling indicator of how the revenue structure of the industry has changed over the course of this generation. Jeffrey Grubb had a similar sentiment, particularly praising the Xbox One platform's performance[ds]. The PS4 even experienced year over year growth for 2018 in the UK[ie].
Thus, it has not only shifted perspective in regards to timeline for a new wave of consoles, but it has also changed how their manufacturers are thinking about the platforms' potential to generate revenue, which could in turn shape launch plans, as well as their willingness to take a loss on hardware at the point of sale.
Last edited: