User requested permanent ban
Banned
Moderator Edit: With sincere apologies to Rösti! I messed up the thread merge. Make sure to thank Rösti for the awesome OT.
Note: White Joy-Cons only for artistic purposes, not available for purchase (yet).
Press release
:
http://www.businesswire.com/news/home/20170303005199/en/Nintendo-Switch-Ushers-Era-Console-Gaming
Nintendo Switch, codename NX, is Nintendo's next generation system combining the mobility of a handheld with the power of a home gaming system. With the two new Joy-Con controllers, a 6.2-inch screen and a modern architecture featuring NVIDIA technology, Nintendo Switch is bound to bring new play styles to life.
This thread's purpose is to provide an overview of Nintendo Switch. Feel free to share details on your experiences with aquiring the system and games for it, your first time starting it up etc. In-depth discussion on games is of course destined for game specific threads.
Manufacturer
: Nintendo
Features
: The Nintendo Switch can function both as a portable and stationary device, and with the the two new Joy-Con controllers many new play styles are brought to life. For in depth details check the Features section.
Release
: March 3, 2017 in Japan, the U.S., Canada, major European countries, Australia, Hong Kong and other regions
Price
*:
29,980円
US$299.99
CAD$399.99
£279.99
AU$469.95
HK$2,340
22 499 руб
*Manufacturer's Suggested Retail Price, actual price may vary. See retailer for details.
What's in the box
:
Nintendo Switch Console
Nintendo Switch Dock
Joy‑Con (L)
Joy‑Con (R)
Joy‑Con Wrist Straps
Joy‑Con Grip
High Speed HDMI Cable
Nintendo Switch AC Adapter
Bundles
: At launch two SKUs will be available - Nintendo Switch with Gray Joy‑Con and Nintendo Switch with Neon Blue and Neon Red Joy‑Con. Bundles that include specific games may become available at any time.
Joy-Cons can be bought in both singular and plural. Joy‑Con Wheel comes in a set of two.
PLAY ANYWHERE
Home Gaming System
At home the main unit rests in the Nintendo Switch dock, which
connects the system to the TV and lets you play with family and friends
in the comfort of your living room.

On-the-Go
Lift Nintendo Switch from the dock and instantly transition to handheld mode for on-the-go gaming. By sharing Joy-Con, players can go head-to-head while away from home.
You can also enjoy the same great games in tabletop mode by using the included stand to prop the system up.

New Play Styles
Remove the detachable Joy-Con from either side of Nintendo Switch for more play styles:

One player can use a Joy-Con in each hand
Two players can each take one
Multiple Joy-Con can be employed by numerous people for a variety of gameplay options (additional Joy-Con sold separately)
Slip a set of Joy-Con into a Joy-Con grip accessory, mirroring a more traditional controller. Or, select an optional Nintendo Switch Pro Controller.

Bring together up to 8 Nintendo Switch systems for local face-to-face multiplayer.

Joy-Con
Includes traditional inputs of previous platforms, such as two analog sticks, A/B/X/Y buttons (or directional buttons), and two shoulder buttons.
Each Joy-Con can be used as a single controller. When playing this way, Joy-Con (L) and Joy-Con (R) have the same button layout. When a Joy-Con is held horizontally, the buttons on top can be used as L and R Buttons (they are called the SL and SR Buttons).
Capture Button: The Capture Button is located on Joy-Con (L) and is used to take gameplay screen shots.The player can then view, edit (add text of various sizes, colors and positions) and post them to popular social media networks
Motion Control: Each Joy-Con includes a gyroscope and accelerometer.
HD Rumble: Both Joy-Con include advanced HD Rumble, which can provide compatible games with subtle vibrations that are much more realistic than before. The effect is so detailed that a player could, for example, feel the sensation of individual ice cubes colliding inside a glass when shaking a Joy-Con. With HD Rumble you can experience a level of realism not possible through sights and sounds alone.
IR Motion Camera: Joy-Con (R) includes an IR Motion Camera that can detect the distance, shape and motion of nearby objects in specially designed games. For example, it can tell how far away a player's hand is, and even if the hand is forming a rock, paper or scissors shape.
amiibo: There is an NFC reader/writer located on Joy-Con (R). (This is also included in the Nintendo Switch Pro Controller.) Nintendo Switch is compatible with existing amiibo; usage is game-dependent.
Rechargeable: Joy-Con charge while attached to a docked Nintendo Switch system. They can also be charged using a Nintendo Switch charging grip accessory (sold separately).
Colors: Joy-Con are available in multiple colors at launch: gray, neon red and neon blue.
Release Button: On the back of each Joy-Con is a small button that is pressed to detach the controller from the main unit.

Enhanced Parental Controls
The system includes various on-device parental controls, but parents can also download a smart device application that can be used to easily and conveniently monitor and set parental controls for a Nintendo Switch system.
Screen: Nintendo Switch has a 6.2-inch capacitive multi-touch screen that can display a resolution of 1280 x 720.
Dock: The Nintendo Switch dock holds, powers, and charges the system, and outputs video and audio from the system to a TV or external display.
Stand: A stand on the back of the main unit can be deployed to position the system upright in tabletop mode.
Media: Game cards
Video Output: HDMI; up to 1080p resolution when played in TV mode (up to 720p when played in handheld or tabletop mode)
Audio Output: TV Mode supports 5.1 channel surround sound. Using the system's built-in audio jack, stereo speakers or headphones can be used when played in handheld or tabletop modes.
Battery: Battery life can last for more than six hours, but will vary depending on the software and usage
conditions. For example, The Legend of Zelda: Breath of the Wild can be played for roughly three hours on a single charge. While away from home, Nintendo Switch can be charged by plugging the AC adapter into the console's USB Type-C connector.
Storage: Nintendo Switch has 32GB of internal storage, a portion of which is reserved for use by the system, and has the option to expand its capacity using microSDXC or microSDHC memory cards.
SoC: Custom Tegra processor powered by NVIDIA
Other: USB ports on the Nintendo Switch dock can be used to charge accessories such as the Nintendo
Switch Pro Controller and Joy-Con attached to a Joy-Con charging grip. The USB ports can also be used with a USB LAN adaptor to connect to the Internet.
Networking: Nintendo Switch can connect to the Internet via a wireless (IEEE 802.11ac) connection. In
addition, up to 8 systems can connect over a local wireless connection in compatible multiplayer games.
While docked, Nintendo Switch can also use a wired Internet connection by connecting a LAN Adapter.
Nintendo Switch at point of writing features a quite large library of games, with 200+ games now available.
Some of the more popular games include:
For a full list of games available check here:
https://www.nintendo.com/games/switch
Not all games may be available for all regions.
Support site for Nintendo Switch in Japanese:
https://www.nintendo.co.jp/support/switch/index.html
Support site for Nintendo Switch in English:
http://en-americas-support.nintendo.com/app/answers/landing/p/897

Edit:



Third Party Accessories

:


HotHamBoy said: ↑
I read that reddit thread and what I took from it was that the D-Pad is improved but it's still not great. It is much less likely to misread your inputs, though. Personally, $70 just seems so steep and the Xeno controller is hideous IMO. I've yet to find a reason to abandon the JoyCons outside of D-Pad needs, so with that said...

I can't comment on the wired pads having rumble but I'm pretty sure they don't.

If you need a great D-Pad for certain games then I strongly suggest 8bitdo's SNES30, which I own and can say is the most accurate recreation of the original SNES controller I've encountered.

I compared my original SNES pad with 8bitdo's side by side and there's only 3 noticeable differences in appearance and feel: it's wireless, it has a different logo and the shoulder buttons are just a tad firmer (which actually feels good in a soft-click kinda way as opposed to the mushy originals).

It's $35 and it's essential IMO for anyone who wants to play 2D fighting games and the upcoming Virtual Console service.



Now, 8bitdo offers several other controllers, including the SNES30 Pro. It shoe-horns two analog sticks and ZL/ZR buttons. I cannot comment on the quality of that one but it's more expensive.

I do have a NES30 Pro and while I wouldn't recommend it as your main pad, even for retro stuff (i don't like the stiff d-pad and buttons) it's a pretty solid choice as a compact travel controller for multiplayer use, such as Mario Kart or Bomberman.




The Switch/Wii U Pokken controller is extremely comfortable and features 3 advantages over the SNES30: It's got a dedicated Home button, it doesn't have to be configured to pair via Bluetooth and it's $25. The SNES30 accesses the Home menu through a button combo so it's not entirely absent. Both work with all games but, IMO, the SNES30 is the better buy as you can use it in tabletop mode - the USB port on the Switch is on the bottom (against the table) and you need an adapter for the cable if you aren't using the dock.



Here's a thing you may not have known about the Hori pad (I sure didn't):




SURPRISE!!




I honestly can't comment on this one. It looks pretty nice but Hori has a mixed record on their pads (as opposed to their excellent fight sticks). I can't say I really care for the D-Pad solution, never was a fan of the floating disc style.

Finally, you have Power A's wired pads. They look nice but I know nothing about it.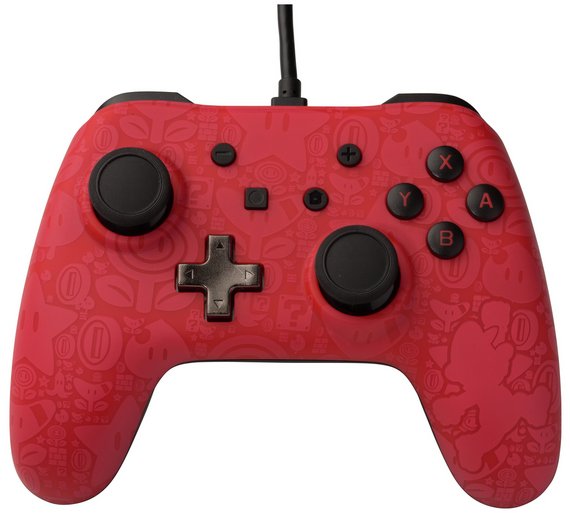 I'd love to hear opinions on the Power A D-Pad vs Hori and Pokken.

Here are some more of the 8bitdo controllers, all of which can be played wirelessly or via USB cable:

SNES30 Pro


NES30/FC30


Zero



NES30 Arcade Stick


The arcade stick will run you about $80. Most reviews are positive but are coming from a casual POV. Shoryuken trashed the stick in their review due to low quality buttons and stick. The good news is that the stick is apparently very easy to mod, allowing you to swap out the buttons and stick for the ones you want with no trouble. But that's going to add about $30-40 to the cost plus the effort.

Alternatively, there's the Hori RAPV. This is a $150, pro-level stick. It's also huge and wired so if the idea of using tabletop mode as a portable arcade is appealing you might still be better off going with 8bitdo's stick and opening it up.

One solution for using wired pads in tabletob mode is to pick up Hori's folding playstand:




For $13 ($10 on Amazon right now) you get 3 adjustable angles, an exposed USB port (you'll still need a USB C Adapter) and - bonus - the ability to support the Switch vertically for games that support tate mode (Strikers 1945, Pinball FX3, etc). Of course, this means having to carry around and set up another piece of plastic but it seems like a good solution for that flimsy kickstand.

8bitdo has also released several cool af limited edition versions of NES/FC30 Pro:


[/QUOTE]
Last edited: