Discussion place for all non-US Survivor seasons. Please spoiler tag anything with extra care. People will often show up late to the party on these seasons and we wouldn't want to turn them away by spoiling the whole thing. The US Survivor thread does not usually spoiler.
You should spoiler tag things here, even for older seasons
.
Australian Survivor 3: Champions v. Contenders
No. Days
: 50 (5 less than previous seasons)
No. Castaways
: 24
Location
: Savusavu (Fiji)
Theme
:
Champions - Public figures who have found success in fields such as sports, business or entertainment. Russell Hantz from US Survivor will be a member of this tribe.
Contenders - Everyday Australians.
Starts
: August 1, 2018
Where to watch
:
Australians: TenPlay Website
Everyone else: Search on Facebook for the group "The Tribe Has Spoken" and then search for "Australian Survivor" within the group. All episodes have been uploaded. This group does not routinely post spoilers, but be aware that there may be some due to either trolls or the fact that all official videos are posted (which may spoil people voted out). You can hide the group from your Facebook feed and navigate directly to the videos you want once you are used to it.
What are my choices?
Our good friend
Crazymoogle
has been kind enough to give us a synopsis of what's going down as of August 2018. This should be a good overview if you're looking to get into the non-US series.
For folks interested, but don't want spoilers...

Survivor Australia (AU)

is currently beginning it's season 5, but since it's a reboot on a new channel, years after the original, it's best considered to be Season 3. The past two years were in Samoa, but they have now moved on to Fiji. (Yes, the iconic second season of Survivor USA was in Australia, but I guess the franchise package is just way cheaper for TV networks to pull off in the traditional island locations). The first two seasons surprised with what I would call a return to roots for the franchise - the reboot seasons have each had 26 (!) episodes and 24 survivors, a season length Survivor USA hasn't seen in many, many years. The casting has also been old-school, with players obviously aware of the franchise but not coming in with an airtight gameplan. And the finale...well, it's epic. Enough so to probably break some of today's better known players.

Survivor New Zealand (NZ)

just finished season 2, this time in Thailand. Similar to Survivor AU, the host is relatively laid back and the cast are not out to kill each other from the beginning. The blindsides do appear, but overall it feels relatively lightweight compared to the long season of Survivor AU or the meticulous gameplay of Survivor USA. The stakes are lower, the episodes fewer, but it plays out more or less like a regular Survivor US season without Jeff Probst. It's unclear if the series will continue as ratings did not do that well.

Survivor South Africa (SA)

is currently ongoing in the Philippines. It's the crudest version of the formula, perhaps - the theme music is a sloppy original track, the cast is prone to meltdowns, crises of character and huge blindsides from almost the beginning. And the idols are not hidden very well. But at least the cast is about as diverse as it's ever been, and the personalities definitely are forced to bend as they weigh what they thought the game was versus their ability to stay another night. And like Survivor AU, it does on occasion bring a new rule or two to challenges that would be welcome additions to the mainline franchise. But it feels like a brutal war of personalities that sacrifices the battle for survival to achieve the battle of ego.

Of the three, I would say

AU is a must-watch and could basically air during the Survivor offseason on CBS, with a few subtitles here and there.
NZ is a nice palette cleanser for folks who want more Survivor after USA and AU.
SA is an interesting twist for fans but probably too crazy for anyone else.
True RHAP die-hards should of course watch all four seasons of The Genius (Korea) first, if they can source it. Youtube has some.
For those who love Survivor and The Genius, the next bet would be Society Game (Korea).
Survivor: Maryland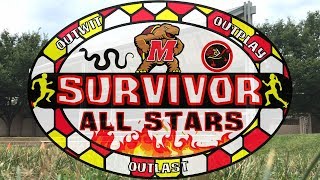 This is a fan version set on the campus of the University of Maryland. But don't leave yet.
RepairmanJack
has done his best to tell you why you should watch it:
Alright I'm making an attempt to get more people interested in

Survivor Maryland

. Why you shouldn't ignore it just because it's "another fan made survivor"

Survivor Maryland is played out with college kids on the campus of Maryland University. It takes place over a whole semester with the tribal councils being on a weekly basis.

What it lacks in production it more than makes up for with gameplay, character, and huge moments that you will remember. The biggest problem with a lot of the fan made Survivor's is that they're usually just a sped up game people play within a weekend or sometimes even a day. They don't really take it seriously and it's hard to really take it seriously as a viewer. With Maryland these are college students that are doing this over 90 days and seeing each other day in and day out. This show makes friendships and also completely destroys them. You get to know these players you get your favorites and the ones you hate because you get so much more from them than just a sped up version of the game where nothing but gameplay is basically happening. These kids take the game completely seriously, which is a huge difference I've seen from other fan made shows.

Currently there is an All-Stars season being released and is currently on a few week break while the final episode is edited together. This is the last season put together by Austin Trupp, who has been running this game for 5 seasons, and now he's graduated and he's passing the game on to other people.

The seasons: Maryland Outback:

This would probably be the best season outright, but it was still early on for the show and production wasn't the best. Austin hadn't had the complete idea of having the players film themselves whenever talking to other players and didn't have as many helpers to help filming yet. Still a lot of fun and crazy drama, but it's the best presentation.

Terrepin Trials:

This season is amazing if you're in it for the characters and the story arcs. One of the most dramatic and emotional final 3 of possibly any Survivor. It'd easily be up there.

Guts & Glory:

Probably the best all around season that isn't All-Stars. Production, editing is all great, gameplay and players are all great. This would probably be the best pick for a first watch.

All-Stars:

Currently releasing. Amazing season with a ton of drama and gameplay. Only issue with jumping into this right away is there is a lot of interrelationship aspects that you'd kind of miss on. Austin does a decent job of recapping a lot of it, but there's just layers that can't really be conveyed without seeing the other seasons. Largely just Terrepin Trials and Gust & Glory are required watching before this season.

There's also the first season, but I've never seen it and I think at one point the whole season was even taken down just because production wise it's easily the worst. It's supposed to be a decent season, it's just a rough presentation all around and makes the viewing hard to suggest.

I seriously can't recommend Survivor Maryland enough. I tried tons of fan made Survivor's or Big Brothers and they were all bad with no real connection made. For the longest time I just assumed Survivor Maryland was another one of those, until Dom and Colin(then later RHAP) made a podcast about it and it made me finally take a look. This show is great and I'm shocked that some of these people have gone on to try to get on actual Survivor or someone hasn't tried to hire Austin, because the talent is all there. This game just needs some money thrown at it for production value and these season's would stick up there with the real game.

People who can convey why you should watch better than me: How Survivor Maryland went from an 'epic' campus competition to must-watch Survivor - RealityBlurred
Survivor: Maryland – The Best Survivor You've Never Seen - InsideSurvivor
(podcast) Why you should watch Survivor Maryland - Dom and Colin Podcast
Survivor Maryland: The Online Reality Show That NEEDS To Be Your Next Obsession - TvFanatic
Last edited: