Takahashi-san (producer of Octopath and Bravely Default) and Nishiki-san (composer) are currently at the Japan Expo in France and jeuxvideo.com had the chance to conduct an interview with them about their upcoming game, Octopath Traveler :
http://www.jeuxvideo.com/news/87572...ncu-comme-l-evolution-de-final-fantasy-vi.htm
Here are some interesting parts of the interview :
The source of their inspiration :
Takahashi-San : Nishiki-San et moi-même, nous avons 33 ans. On a grandi avec les J-RPG SNES, avec le gameplay de l'époque et le pixel art. Quand je suis rentré à Square Enix, c'est ce que je voulais faire, mais on m'a tout de suite dit qu'il était beaucoup plus simple de faire des titres texturés. J'ai dû faire mes preuves, et après des années de travail, j'ai pu faire ce que je voulais.

On voulait travailler sur une nouvelle IP et il était important pour nous d'avoir un style visuel à fort impact qui allait plaire aux joueurs. En termes de mécanique de jeu, si on avait conçu les Bravely Default comme une évolution de Final Fantasy V, on a créé Octopath Traveler comme une évolution du système de Final Fantasy VI.
- Both are 33 years old and grew up during the golden era of SNES JRPGs with the gameplay and visual style of the time (pixel-art).
- When Takahashi entered Square-Enix, he wanted to do these kind of games but
he was told that it was easier to develop more modern-looking games
. After years of hard and successful work, he was finally able to do the kind of projects he initially wanted to work on.
- In terms of game mechanics, if Bravely was a spiritual successor of FFV,
Octopath has been developped as a spiritual successor of FFVI
The art-style :
Takahashi-San : Quand le développement d'Octopath a débuté, nous avions créé une démo uniquement en pixel art, à l'ancienne, effets compris. Sauf que nous nous sommes rendu compte que c'était plus beau dans nos souvenirs ! Du coup, nous avons utilisé la technologie actuelle de l'Unreal Engine pour faire des choses qui n'étaient pas possibles à l'époque, comme les effets de lumière par exemple. Ca donne un très bon mélange des deux générations selon nous.
- He wanted to work on a new IP with a strong visual style that players would enjoy.
- When the development of Octopath began, they made a demo exclusively in pixel-art. They then realized that it was prettier in their memories and that's why they decided to include modern effects with the Unreal Engine, especially lightning effects.
They feel that it is a good mix between both generations
.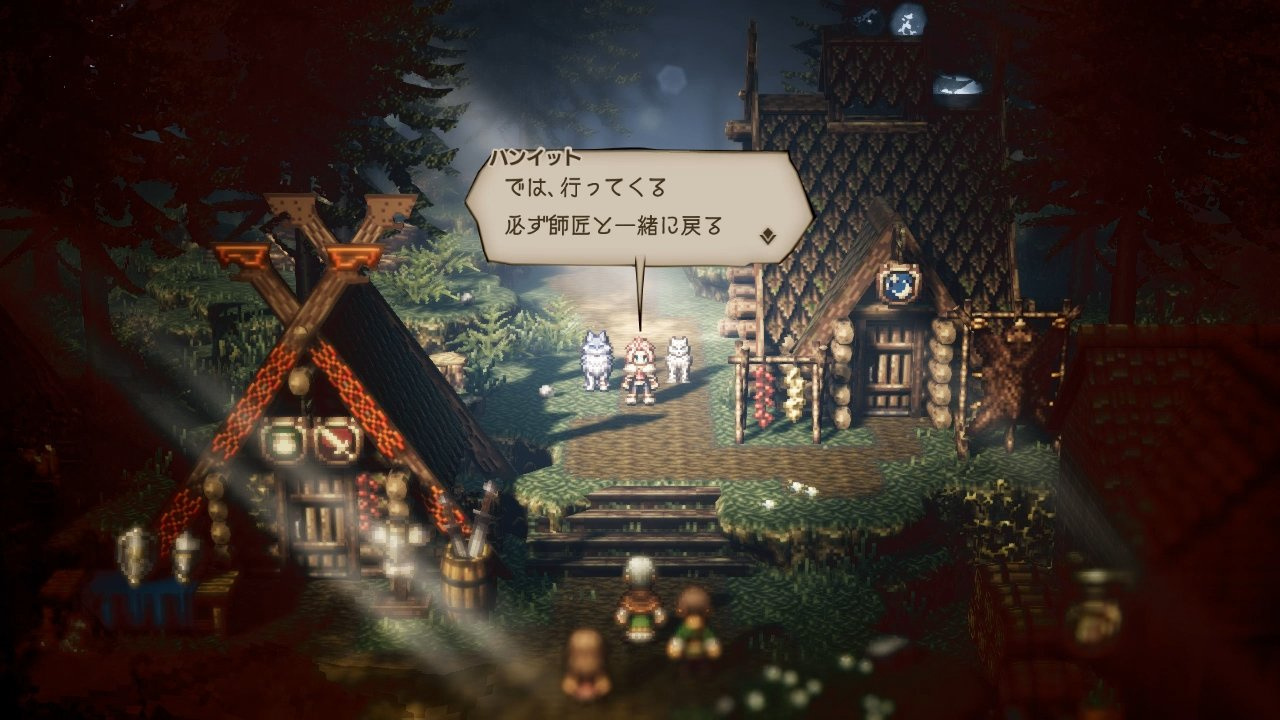 The music :
Nishiki-san : En ce qui concerne la musique, j'ai grandi avec des jeux comme Final Fantasy et la série SaGa. On retrouve ce genre d'influence dans Octopath Traveler.

Nishiki-san : Pour la musique, je me suis demandé si je devais tenter de m'adapter à un public mondial ou si je devais garder mon style. Puis, je me suis dit : « Qu'aurait fait un de mes aînés, Nobuo Uematsu ». Et lui, justement, il a gardé son style. Ca ne lui a pas traversé son esprit de changer. Il a gardé son âme et ça a plu à tout le monde. C'est ce que j'ai fait pour Octopath Traveler, où on retrouve mes influences comme la musique classique, notamment Bach, ou les musiques de film.
- Nishiki-san grew up with games like Final Fantasy and the SaGa series. Both franchises have influenced his work on Octopath
- He initially wondered whether he should try to adapt to the global audience or keep his own style.
He asked himself what Nobuo Uematsu (Final Fantasy) would do in the same situation
and therefore he finally decided to keep his own style.
- Octopath's OST is influenced by his love of clasical music, he mentionned Bach, and movie musics.
Moreover... :
- The first demo has been downloaded
1,5 millions times.
- People's reactions to the demo were overwhelmingly positive, even more so in Europe than in Japan.
-
their demo target was gamers in their 30s,40s who were seeking the same great sensations they had during the Golden Era of JRPGs.
- They felt that the Switch was the perfect platform for that with its ability to play 1h in bed before sleeping.
Last edited: