Hello, and welcome to the one piece community thread number Six! In this thread we discuss the latest One Piece releases. Remember to post new chapter information in spoiler tags before the scanlation release(typically on Thursdays). We also discuss the newest anime episodes among other miscellaneous topics.
Man its been nearly two years on this site and we are already at the sixth OT, boy does time fly a the OT maker I would like to thank you all from the bottom of my heart to you all everyone here helps make this thread what it is.
Scans are not to be posted(that means no watermarked pages from fan translators). Also make sure to support the official release!
Straw Hat Pirates:
Monkey D. Luffy(Captain)|Roronoa Zoro(First Mate/Combatant)|Nami(Navigator)|Usopp(Liar/Marksman)|Sanji(Chef)|Tony Tony Chopper(Doctor)|
Nico Robin(Archaeologist)|Franky(Shipwright/Engineer)|Brook(Musician)|Jinbei(Helmsman/possibly dead)
Straw Hat Grand Fleet(8000+ members):
|Beautiful Pirates(75)|Barto Club(56)|Happo Navy(1000)|XXX Gym Martial Arts Alliance(4)|Tonta Corps(200)|Giant Warrior Pirates(5)|Yonta Maria Grand Fleet(4300)|
Ninja-Pirate-Mink-Samurai Alliance:



Nine Red Scabbards:
Last time on the One Piece Wano Country Arc Lord Yasuie had just been executed by Orochi after using his public execution to cast doubt upon Orochi's words and give the Pirate-Samurai-Ninja-Mink alliance a chance to continue with their plans.
As a grieving O-Toko tried to get to her father's body, Orochi, the petty asshole that he is ordered his men to kill O-Toko as well. O-Toko would have died if not for the timely intervention of Zorojuro and Sangoro as the two reunited for the first time in....a very long time.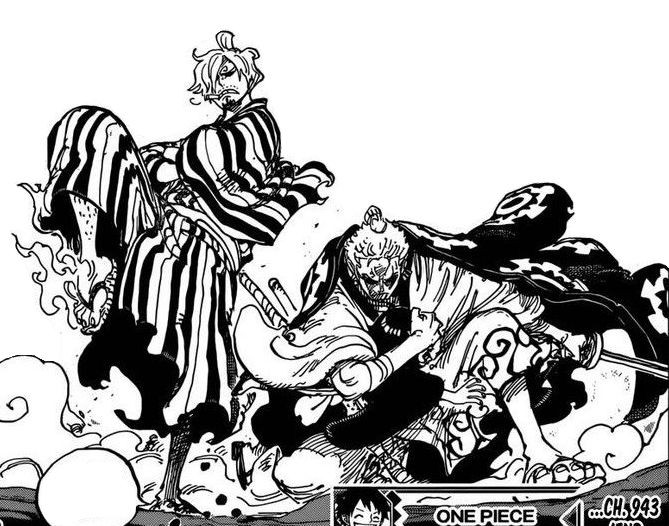 Zoro was pissed off and after handing O-Toko over to Sanji to get her to safety he tried to kill Orochi because he sucks. Unfortunately for everyone the Yakuza boss Kyoshiro decided to protect Orochi. Kyoshiro continues to be an unknown fucking quantity.
Zoro, Sanji, Nami, Robin, Usopp and Franky manage to escape after fending off Orochi's men and his Shinobi, meanwhile Law tries to get into the prison that Bepo and the rest of his crew are being kept in only to be confronted by Basil Hawkins who has tied his life force to Law's crew in order to give him an advantage against him and make him submit and be captured later on to free his crew, as they are set free Law tells them not to tell the Strawhats what happened
Back in prison, Kid and Kamazo had been brought in with Kid being clearly distraught. It turns out that Kamazo was actually Killer who had himself been made a victim of the insidious SMILE fruits which turn people into happy laughing caricatures of themselves that are unable to express any negative emotions.
As Killer and Kid were being tortured until either Luffy and Old Man Hyo or they died a sudden occurrence rocked the entire Udon prison. The arrival of O-Lin, a.k.a Big Mom with amnesia. Big Mom had come in search of Oshuruko and upon hearing this Queen decided to try to attack her. Of course he immediately got his ass beat.
But disappointment soon follows for O-Lin as she finally finds the pot of Oshuruko
Of course Luffy couldn't keep his big mouth shut and this pissed off the angry and hungry Big Mom greatly. She immediately set out to attack him. Luffy and Old Man Hyou's collars were still active and they nearly died being pushed out of the ring, but Luffy managed to rip off the collars in a repeat of Rayleigh's feat back at Sabaody in his desperation.
Old Man Hyou recognized Luffy's feat as projecting Haki to destroy something from the inside out, a very advanced application. So like a dummy Old Man Hyou told Luffy to use it to protect him from Big Mom...they didn't die, but it didn't work either. So Big Mom continued to chase Luffy and old man Hyou around Udon.
After a while Queen woke back up and decided to try something brave...and stupid. He turned into his brachiosaurus form and just headbutted Big Mom from above.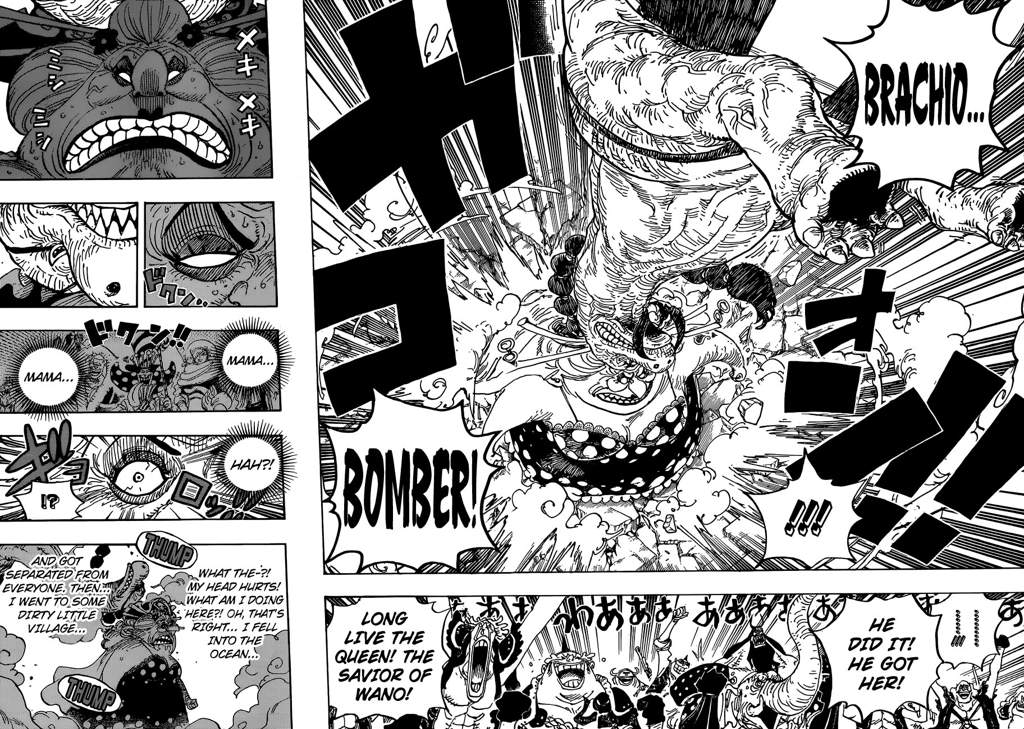 Of course all that did was make things worse for him because it actually jogged Big Mom's memory scaring the shit out of everyone. Luckily for them Big Mom decided it was time for a nap and she fell asleep. Queen and his lackies were quick to tie her up with as many sea stone chains as they could find and haul her off to Kaido like the cowards they are. Of course the lack of Queen's presence gave Luffy the perfect opportunity to take Udon for himself.
Babanuki commands the prisoners to capture Luffy, and with their spirits already broken they comply because they don't want to suffer more. Babanuki also pulls a dick move and shoots the prisoners with excite bullets containing a virus created by Queen called Mummy. The guards also go after Kawamatsu while he's in his cell restrained, but Raizo tosses him the keys and his sword so he is able to escape and reveal his Kappa glory.
After a bit of back and forth the retainers joined up with Luffy and it was revealed that Kiku is a trans woman, to the surprise of Luffy and Chopper as they gear up for a fight and a cool team shot.
Despite there best efforts the prisoners are still working for Kaidos men, telling them to leave that they cannot beat Kaido overwhelming force expounded upon the torment and suffering they have suffered under Kaido and will only suffer more due to Mummy now that they are here but Luffy despite the risk goes up and grabs the prisoners helping to repair there broken spirits that despite being an outsider he made a promise to Protect Wano, free them and most importantly
As Luffys words begin to reach them Babanuki tries to pull a cheap move and blow them up with a big excite shell, but Luffy went full badass and predicted that shit.
And thus Udon was theirs, and with the communication system down Kaido and friends were none the wiser to what had transpired.
Kid and Killer were sick of pirate alliances so they decided to just fuck off, and Chopper cured everyone of the mummy virus because he had to do something, Old man Hyou got all the other Yakuza bosses together and they decided to help them gather the rest of the rebels but Momo makes the biggest impact serving as a goal, a dream a force to push them:
(alot of pressure to put on a 8 year old)
Meanwhile over on Onigashima Big Mom was having a snack while waiting for Kaido to show up. Queen and the rest of Kaido's crew were shook by how not effected by all the sea stone Big Mom was and when Kaido showed up he told them to unchain her. After she got unchained Big Mom and Kaido decided to have a 'friendly' scrap and fought for a few days.
(Queen you coward)
Ashura Doji attacked Kin'emon and Inuarashi for setting him up and after Kin convinces him that there's still a chance to avenge Oden Ashura took them to a graveyard for those who had grown tired of waiting and tried to take down Orochi and Kaido before Kin'emon and the rest returned.
Ashura then agreed to help in the battle and took them to port Itachi where he showed them ships that could be repaired to aid them in the battle. Ashura also revealed that he had the blueprints for Onigashima.
Zoro and Hiyori managed to get to safety after Zoro cut down some of Orochi's shinobi and Hiyori expressed a desire to defeat Orochi with her own hands. The next day Zoro returned to the bridge to confront Gyukimaru and get Shusui back. Zoro and Gyukimaru's fight was interrupted by Kawamatsu who had a touching reunion with Hiyori, but a bunch of beast pirates attacked them and Gyukimaru ran while Zoro and Kawamatsu fought them off expressing joy at seeing Kawamatsu again.
Hiyori revealed that she left Kawamatsu so that he would stop giving all of his food to her and Kawamatsu revealed that he went to Ringo to collect all of the weapons at the graves there. Zoro chased Gyukimaru who was revealed to be Onimaru a Komagitsune and companion of the late lord Shimotsuki Ushimaru. Kawamatsu and Onimaru had been collecting weapons together before Kawamatsu was captured and sent to Udon, and while Kawamatsu was captured Onimaru took the form of Gyukimaru and stole weapons where he could.
Hiyori requested that Zoro return Shusui to Ryuma's grave in exchange for the blade that had been passed down to her by Oden, Enma. Enma was the only weapon known to have been able to hurt Kaido in the past and in hearing this Zoro decided to accept Hiyori's offer.
In the meantime Law managed to defeat Hawkins and asked him what happened to his alliance with Kid and Apoo. It turns out that Apoo was part of Kaido's crew the whole time and Hawkins decided to join Kaido because he had no chance of surviving otherwise. As Law left the prison he was confronted by a mysterious person who asked if he had any doubts about his alliance with Luffy to which Law didn't reply.
Speaking of traitors Apoo and the numbers, a group of monstrous beings that reside on Onigashima head to meet Kaido but as we see Big Mom and Kaido have made up
(This is fine...........................................)
In the meantime Luffy was continuing his training in Udon and progressing steadily on projecting his Haki. At the same time Franky and the Minks worked on repairing the ships in time for the final battle. Franky boasting that they would hold five thousand people. Hitetsu arrived with Enma and Zoro attempted to cut a tree, but ended up cutting a cliff face instead, as Enma is a blade that will feed off your life force if you can't control it properly.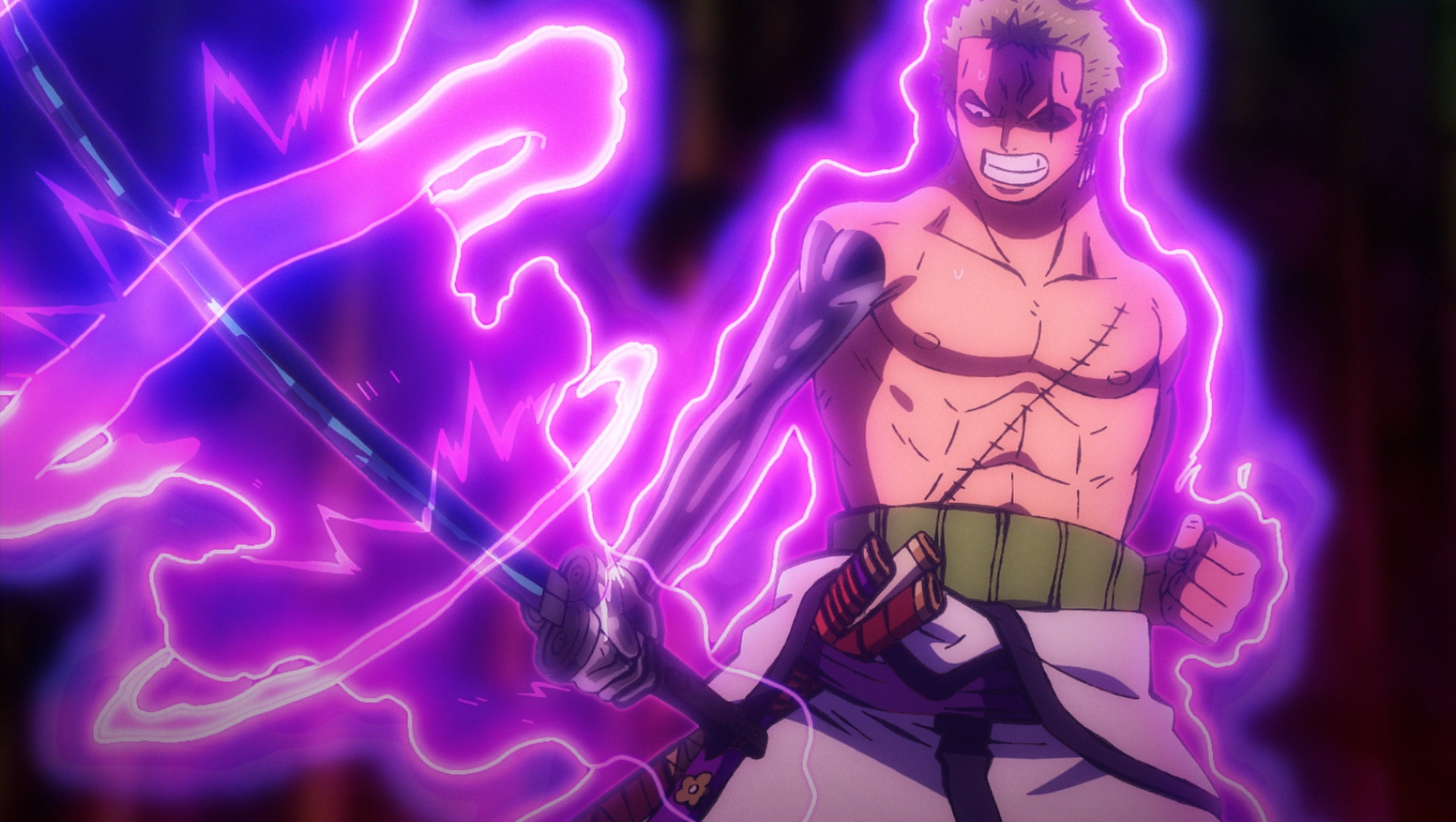 The day before the festival the nine red scabbards save for Denjiro and Nekomamushi along with Shinobu and Momonosuke set off for Port Tokage to get ready for the final battle.
While things look up from the protagonists point of view we readers know shit is about to head south as not only has Big Mom and Kaido teamed up, Orochi himself has gotten information about the rebelions plans from the so called traitor but news that Hiyori is indeed alive and heading out in the graveyards.
We are left wondering who the has betrayed our heroes, well lets look at the odds from the most trusted source in the One Piece World:
Royalty of the World Government are leaving the capital having finished there work at this years Revivre, having made there way back to Ryugu Palace Garp informs the royal family of an incident that accured as they were leaving involving Vivi and her family, as Big News Morgan tries to report the scoop of the day he is nearly stopped by CP agent but gets the one two punch for trying to stop the news, seems like whatever happened involved our good friend Sabo but even that wasen't the biggest Earth Shaking News at the Revivre...
With the new tech developed by Vegapunk the Marines while hesitant move forward with a massive operation, with the Shikibukai now being open pirates no longer protected the Marines they send out massive forces to capture each of the Shikibukai before they can make any moves such as destroying more countries or joining anyother pirate group. We focus on Koby who along with other ships are going after Hancock & Amazon Lily the now no longer protected Pirate Colony he got a message from X Drake who was secretly not a marine traitor the whole time, and captain of the SWORD unit, Drake tells Koby that Big Mom and Kaido had formed an alliance and that CP0 was in Wano.
The Marine are in quite the pickle.
In new Marineford Sakazuki told Fujitora about the Kaido and Big Mom alliance which had them all in a tizzy as Fujitora wonders aloud that in some way the Rock pirates are back again
With current marines not know of the so called Rocks Pirates, Sengoku decides to drop some knowledge on their heads about the worst pirate crew of the time Rocks, which consisted of big names such as Kaido, Big Mom, and Whitebeard back in the day, as well as the captain Rocks D. Xebec.
Rocks while disfuctional and not trusting of one another they were a powerful force that woud rock the world till one day 38 years ago on an Island now since destroyed known as Gods Valley were the Rocks Pirates defeated and disbanded all thanks in the reports in the newspapers by the soon to known Hero of the Marines Garp the Fist.
But the that isn't the truth only with Garp and Gold Roger teaming up were they able to take them down, this incident lead to Garp nearly being a Admiral but Garp could never let himself serve the Celestial Dragons. Not much was knwon about Rocks by choice as his ambitions and goals were in direct conflict in what the governemnt wanted so he became a figure in history lost to anyone but those around at the time, he was Rogers first rival and is no longer with us (HE IS DEAD FOLKS)
But that was in the past when folks like Big Mom and Kaido were not at there peak/prime now that they have indeed formed an alliance the worst Pirate crew has been formed but enough of that bounties
Sakazuki barges in saying they will not be going to Wano as they don't have the forces since they are doing the Shikiubukai Operation, Sengoku understands only wishing to spread knowledge about ROcks but before he departs with his goat reminds not only Sakazuki but the audience that Oden himself was favorable to Shanks, Whitebeard and the Pirate King himself wondering aloud the connection Wano has to bigshot Pirates.
Back in Wano, Orochi sets off for Onigashima leaving Kyoshiro in the capitol. The scabbards along with Momo and Shinobu arrive in port Tokage and come upon the sight of destruction and no sign of their allies only destruction
The night before Orochi and his forces moved, having sabotaged everything by taking out multiple bridges and paths around Wano leading to the promised port and bombing the hiding spot of the Sunny as hours before Luffy wondered where Jinbe was.
The
Scabbards are in shock wondering what has happened as Kinemon
desperately
pleads over his den den mushi calling the names of all the allies wishing for them to respond to the Retainers of Kozuki Oden, the group that has waited 20 years for this day, that they
cannot
do this alone as they are only 9
against
40,000 but is meet with utter silence. As the Red Scabbards pull a boat out of the waters Momonosuke pleads to them not to go on this suicide mission that they can try again, Kinemon yells out that this is there one and only
opportunity
as another will never arise as they would be crushed just like the town of Kuri that they must carry out this mission even if they die and leave Momonosuke and Hiyori alone


As we cut to a flash back to finally learn about the great man that has got the Red Scabbards ready to lay there lives for him, the man that impressed and followed Roger and Whitebeard and the man the dreamed to Open Wanos Borders Kozuki Oden

Special thanks to
AgentLampshade
Imperial Bishop
and
Morlas
for providing images and helping with the construction.
Previous Threads:
OT1:
https://www.resetera.com/threads/one-piece-manga-ot-this-is-our-era.547/
OT2:
https://www.resetera.com/threads/one-piece-ot2-loyal-leader-lughffy.24106/
OT3:
https://www.resetera.com/threads/one-piece-ot3-undo-the-future-that-is-kaido.46344/
OT4:
https://www.resetera.com/threads/one-piece-ot4-the-way-of-the-samurai.76831/
OT5:
https://www.resetera.com/threads/one-piece-ot5-you-can-get-through-anything-as-long-as-you-just-smile.119942/
Wall of Shame:
1.
Reyes
at 2,943
2.
Lotus
at 1,721
3.
Morlas
at 1,308
4.
Blackleg-sanji1
at 1,296
5.
AgentLampshade
at 879
6.
Rhaknar
at 859
7.
Cantaim
at 827
8.
Imperial Bishop
at 596
9.
Silfer
RIP at 596
10.
Stunner911
537
Now for the top 4 posters will be here by dubbed the Four Yonko:
Also remember as B-Dubs said:
Guys, just a reminder. No mentioning scan sites at all. You can say "the usual place," "the place we all go," "the guys that translate the chapter," whatever silly little euphemism you want. You just can't say
anything
identifying. No names, no initials. No watermarks on pics posted in the thread. This goes for every single manga thread on this site.