Release info
: January 15, 2019
System info
:
Xbox
/
PS4
/
Switch
/
PC
Pricing info
: $19.99
What is Onimusha?
Onimusha is...
-A game set in feudal Japan.
-A game that features tank controls and fixed camera angles made by Capcom.
-A game that features multiple elemental weapons that you can wield.
-A game sort of rooted in history, but only loosely. You'll see historical figures like Oda Nobunaga, but also monsters and elemental swords and portals to other realms.
It's about the perfect compromise between the slow, atmospheric classic Resident Evil games and the more action-based Devil May Cry games.
Characters and Plot
You play as Samonosuke Akechi, a samurai wielding the power of the Oni Gauntlet.
wiki said:
During the Battle of Okehazama, Samanosuke of the Akechi clan watches but is attacked by Imagawa Yoshimoto's men. Though Nobunaga Oda was victorious against Yoshimoto, he is fatally wounded and assumed dead. A year later, Samanosuke receives a letter from his cousin Princess Yuki of the Saitō clan for his assistance as she fears monsters are behind the disappearances of her servants. Joined by Kaede, Samanosuke arrives too late to Inabayama Castle as Yuki is abducted as he and Kaede split up to cover ground. After being defeated by a monster while trying to rescue Yuki, Samanosuke is visited by the twelve oni who give Samanosuke the power to vanquish the monsters that abducted Yuki, the Genma, and seal their souls in a mystical gauntlet.
In addition to playing as Samonosuke, you also play as his ninja partner, Kaede, at fixed points in the game. She has her own arsenal and moveset, completely different and separate from Samonosuke.
The two of them work together to take down Oda Nobunaga and his army of demons. I'm not sure what Japan's fascination is with putting Nobunaga, a real historical figure, in fantastically historical settings, but here he is. We Americans don't put George Washington in our games... but I digress.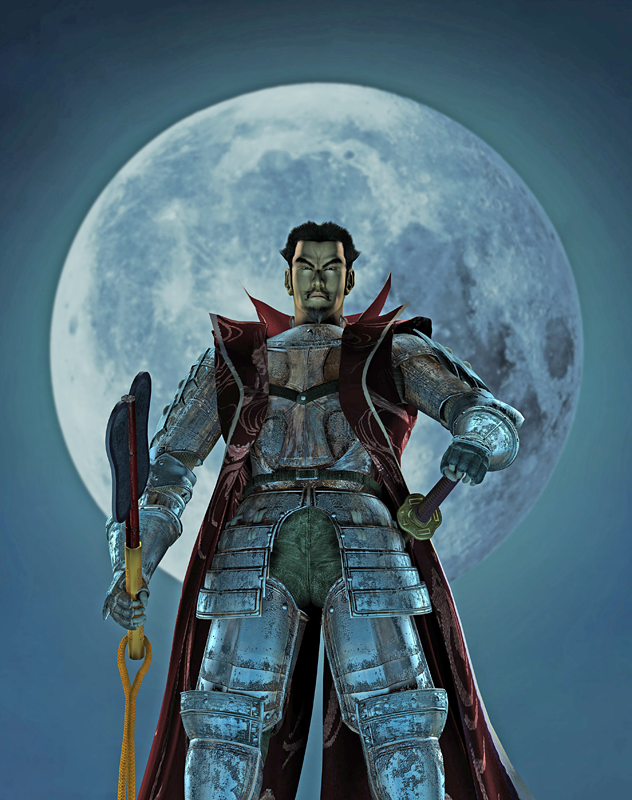 Gameplay
As mentioned before, the game plays with tank controls and fixed camera angles, much like several of Capcom's other series.
You will take Samonosuke through several different areas throughout the course of the game. The structure is very similar to Resident Evil. You start at a castle and make your way to other areas, and frequently backtrack upon acquiring a method of unlocking doors that you couldn't enter before.
The Oni Gauntlet allows Samanosuke to absorb the souls of demons that he defeats, which he can use to upgrade his armor and weapons. Speaking of weapons, Samonosuke will gain access to three different elemental swords over the course of the game, each of which can be upgraded into three different levels.
Raizan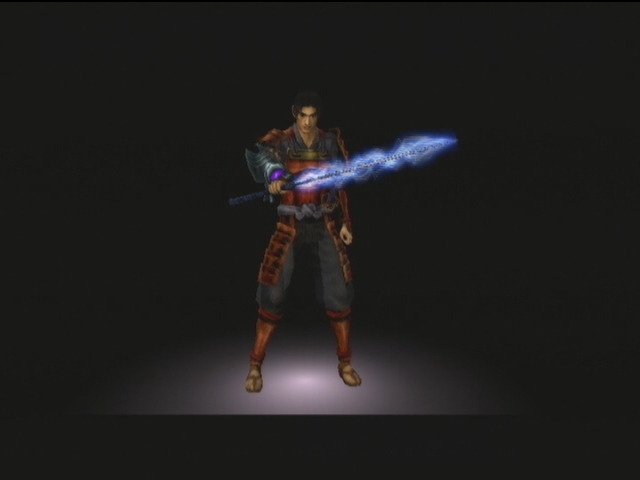 The Raizan (雷斬刀, lit. Thunder Slash Blade) is the lightning-elemental katana that is coupled with the Thunder Orb: Shiden. The first weapon Samanosuke receives, Raizan's magic enables it to unleash close range bursts of lightning energy on a single opponent with each strike.
Enryuu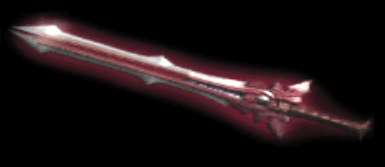 The Enryuu (炎龍剣, lit. Flame Dragon Sword) is a fire-themed western broadsword that is coupled with the Kōen Orb of fire. The Enryuu is slower than the Raizen but makes up for it with greater attack power. Its magic attacks allows Samanosuke to project a forward blast of fire that strikes all opponents in front of him.
Shippu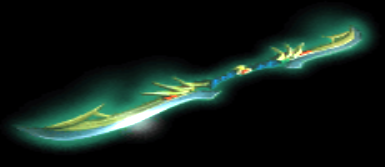 The Shippuu (疾風丸, lit. Gale Blade) is a wind-themed double naginata that is coupled with the Wind Orb, Arashi. Its magic attack enables Samanosuke to generate a whirlwind around himself by spinning it over his head, enabling him to strike multiple enemies in a full 360 degree range.
The swords are all really cool and one of my personal favorite things about the game. There might also be another, even cooler sword somewhere...
Updated Features for PS4
Fans of the original game will appreciate the updated features in the PS4 version. Characters, environments, and cinematics have been given a high-definition upgrade, and both the original game's display and more modern widescreen display are supported. Changing between the two display modes can be done at any time in-game, but certain menus are fixed. A screen scroll feature has been added for widescreen display that allows players to see more of the fixed screens than ever before as the camera now scrolls up and down based on your movement.

This release of Onimusha: Warlords also allows players to move using the analog stick, which should improve movement accuracy and accessibility, especially in a game that is centered around combat. This was the same treatment that Resident Evil and Resident Evil 0 had for their release on PS4. For those who still prefer using the directional inputs like in the original game, that option is also open!

In the original game, Easy Mode was unlocked only after failing a specific battle a set amount of times. In this version, Easy Mode is unlocked from the start of the game for players who may find the adventure too difficult or want to enjoy the story. In Easy Mode, enemies are easier to kill and appear less often. However, you cannot change difficulty once you begin, so select wisely!

We're excited to bring Onimusha: Warlords to PS4 after the series' popularity on PS2, so sharpen those swords and be prepared to set foot in a land of samurai and demons. There's also a new soundtrack inspired by feudal Japan that enhances the immersion even further.
Welcome back to fantasy feudal Japan.
Last edited: