BEING CHANGED FOR OWL 2019!
​
August 17-19 12 p.m. KST // August 16-18 8 p.m. PDT
Live at Studio Paradise in Incheon, South Korea
Links to the livestreams:
English
Korean
Castilian Spanish
Latin-American Spanish
Brazilian Portuguese
French
Russian
Italian
Japanese
Mandarin Chinese
A global celebration of competition and community, the Overwatch World Cup will travel to Incheon, Los Angeles, Bangkok and Paris, before coming to an epic conclusion at BlizzCon 2018!
Patch:
HERO UPDATES
Developer Comments: "The goal of these changes is to slightly reduce the impact of damage falloff on mid-range weapons. While assessing falloff mechanics across the board, weapons intended primarily for close-range combat benefited too greatly from lowering their falloff restrictions. We also normalized a couple of outliers in that Mei had a long-range travel time projectile with falloff applied and Widowmaker's automatic fire did not have any."
GENERAL
Several heroes have received major changes to their damage falloff:
Bastion
Configuration: Sentry and Configuration: Recon - Minimum damage at max range increased from 30% to 50%.
McCree
Peacekeeper - Minimum damage at max range increased from 30% to 50%
Mei
Endothermic Blaster - Removed all damage falloff from her secondary fire projectile
Soldier: 76
Heavy Pulse Rifle - Minimum damage at max range increased from 30% to 50%
Widowmaker
Widow's Kiss - Now has damage falloff applied on her automatic primary fire (50% at max range)

HANZO
"Hanzo's new kit has proven to be a bit too powerful, especially his new Storm Arrows ability. We're lowering the frequency that he can have this ability available to make it more reasonable to play around."
STORM ARROWS
Duration reduced from 6 to 5 seconds
Cooldown increased from 8 to 10 seconds

SOMBRA
"These changes allow Sombra to more easily play as an infiltrator and scout for her team, as well as give her time to pick and choose when to reveal herself to ambush her enemies."
STEALTH
Now lasts indefinitely
No longer can contest objectives while invisible
Movement speed buff decreased from +70% to +50%
TRANSLOCATOR
Now lasts indefinitely
Can now be destroyed (has 5 health)
Radius reduced
All of the matches are a best-of-five maps. Each team will play five matches, and the two teams with the best records will qualify for Blizzcon 2018! All maps are allowed! Each match will begin on a predetermined control map: Nepal, Lijiang Tower, Ilios, or Oasis. Starting with the second map, the loser of the previous map gets to pick the next map.
The Order Type is:
Control
Hybrid
Assault
Escort
Control
The Teams:
South Korea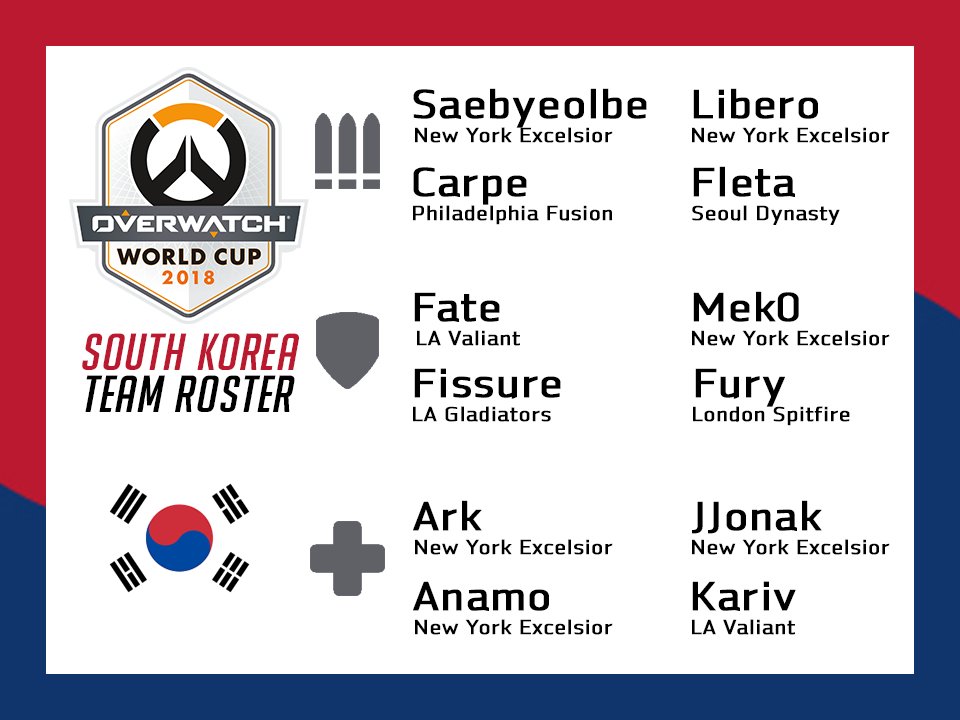 Pan-Seung "Fate" Koo (LA Valiant)
Tae-Hong "Meko" Kim (NYXL)
Jong-Ryeol "Saebyeolbe" Park (NYXL)
Hae-Seong "Libero" Kim (NYXL)
Seong-Hyun "Jjonak" Bang (NYXL)
Yeon-Jun "Ark" Hong (NYXL)
Sub: Jae-Hyeok "Carpe" Lee (Philadelphia Fusion)
Russia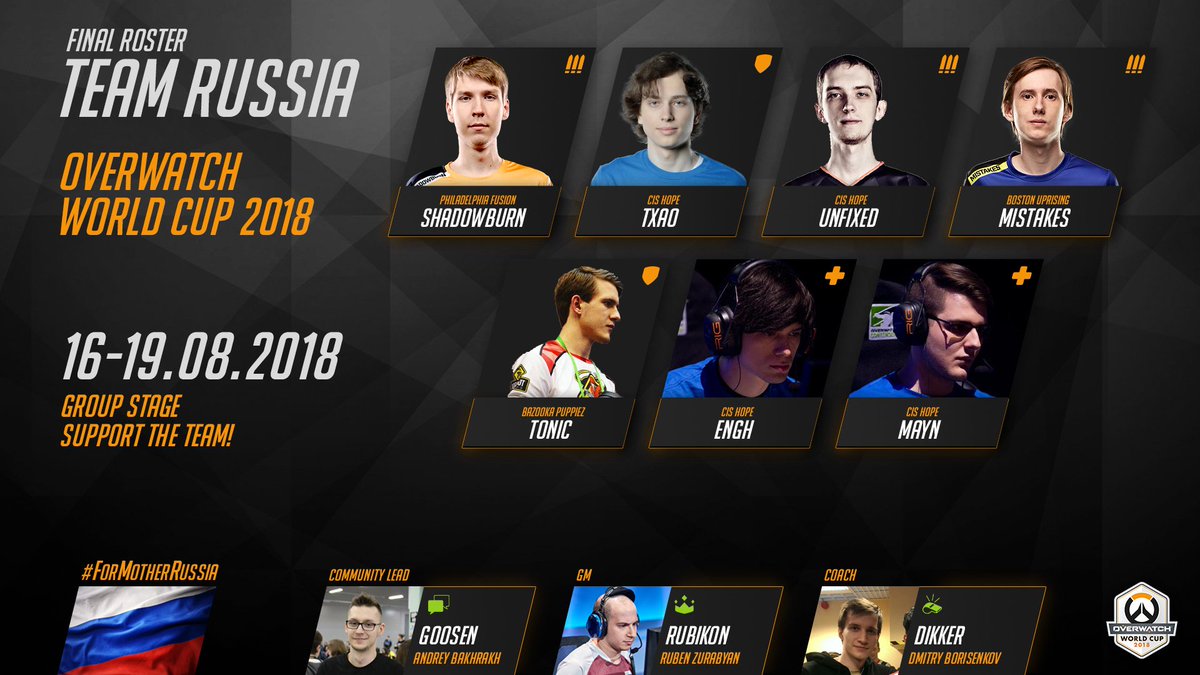 Denis "Tonic" Rulev (Contenders EU: Bazooka Puppies)
Ilia "Txao" Makarov (Contenders EU: CIS Hope)
Stanislav "Mistakes" Danilov (Boston Uprising)
Aleksandr "MayN" Katarskii (Contenders EU: CIS Hope)
Andrey "Engh" Sholokhov (Contenders EU: CIS Hope)
George "ShaDowBurn" Gushcha (Philadelphia Fusion)
Sub: Andrei "uNFixed" Leonov (Contenders EU: CIS Hope)
Finland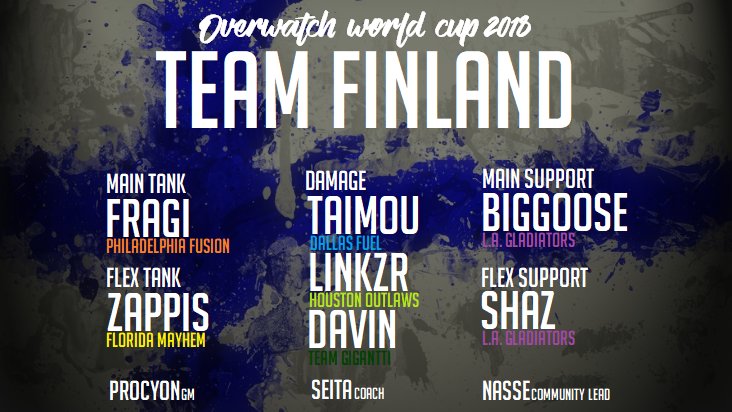 Joona "Fragi" Laine (Philadelphia Fusion)
Joonas "Zappis" Alakurtti (Florida Mayhem)
Jonas "Shaz" Souvaara (LA Gladiators)
Benjamin "BigGoose" Isohanni (LA Gladiators)
Jiri "LiNkzr" Masalin (Houston Outlaws)
Timo "Taimou" Kettunen (Dallas Fuel)
Sub: Tuomo "Davin" Leppänen (Contenders EU: Team Gigantti)
Japan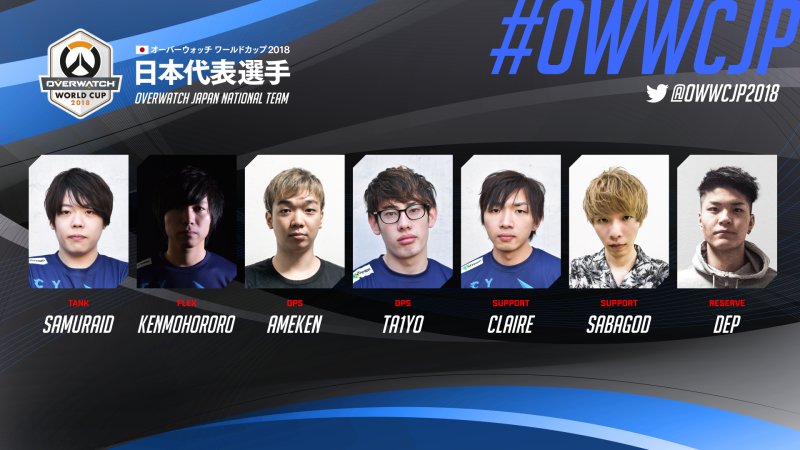 Sean "ta1yo" Henderson (Contenders PAC: CYCLOPS)
Kazuki "SamuraiD" Nouno (Contenders PAC: CYCLOPS)
Kaito "kenmohororo" Yoshida (Contenders PAC: CYCLOPS)
Ryoma "Sabagod" Tsuji (Contenders PAC: CYCLOPS)
Takahiro "CLAIRE" Watanabe (Contenders PAC: CYCLOPS)
Kenji "AmeKen" Hisano (Contenders PAC: CYCLOPS)
Sub: Yuuma "dep" Hashimoto (Contenders PAC: CYCLOPS)
Chinese Taipei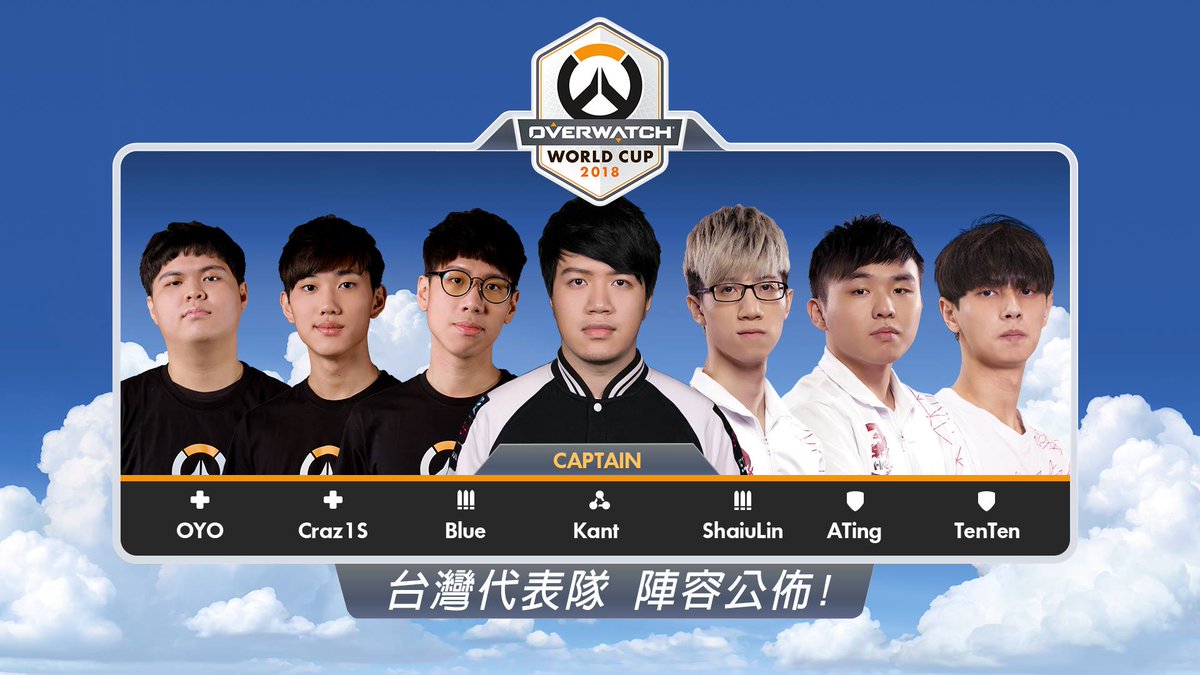 Wei-Teng "kant" Kao
Chao-Hua "ATing" Chen (Contenders PAC: Hong Kong Attitude)
Jing-Han "TenTen" Liao (Contenders PAC: Hong Kong Attitude)
Keng-Yu "ShaiuLin" Lin (Contenders PAC: Hong Kong Attitude)
Shiao-Chin "Craz1S" Wei (Contenders PAC: Nova Esports)
Ruei-jhou "OYO" Gao (Contenders PAC: Nova Esports)
Sub: Erh-Fu "BLUE" Kao (Contenders PAC: Nova Esports)
Hong Kong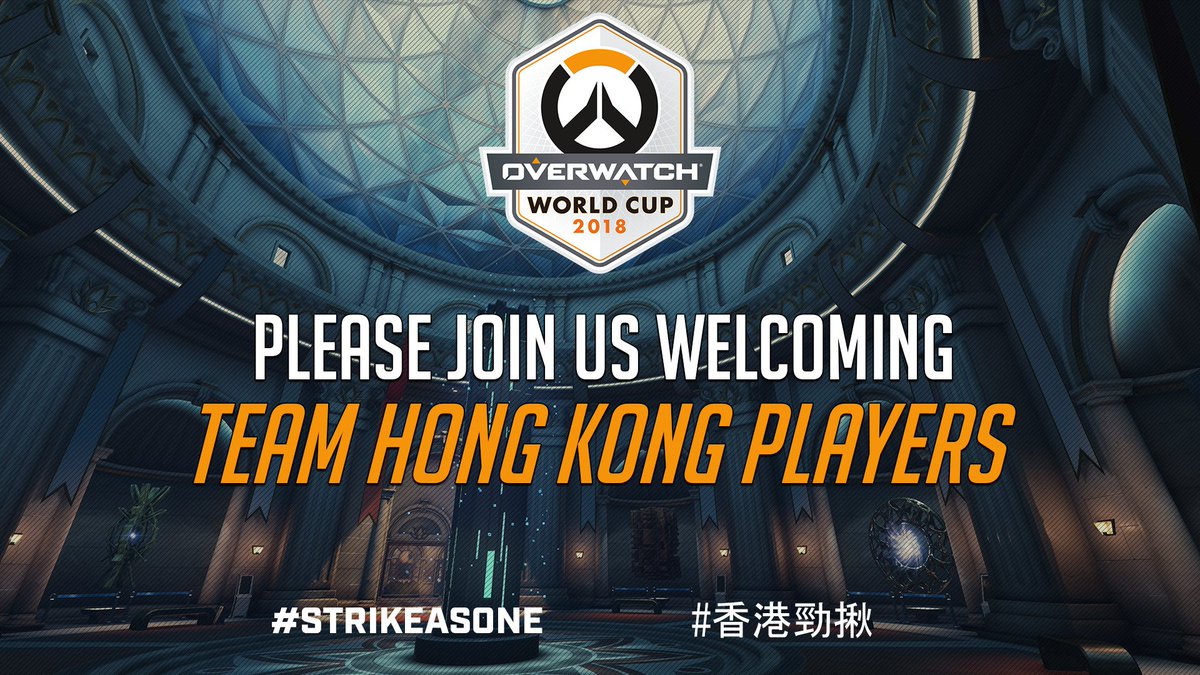 Kin-Long "ManGoJai" Wong (Contenders PAC: Hong Kong Attitude)
Ka-Chung "GZQQ" Wong
Chi-Yeung "Moowe" Yip (Contenders PAC: Hong Kong Attitude)
Tsz-Kit "Mikouw" Wan (Contenders PAC: Hong Kong Attitude)
Chung-Ching "JazZy" Pak (Contenders China: LGD Gaming)
Chan-Yuan "YiWind" Ho
Sub: Cheuk-Pang "AmCrazy" Lai
Incheon Qualifier Final Standings:
South Korea - 5-0
Finland - 4-1
Russia - 3-2
Japan - 2-3
Chinese Taipei - 1-4
Hong Kong - 0-5
South Korea wins the Incheon Qualifier with a perfect 5 - 0! They will be joined by Finland who went 4 - 1 and got second place. Both South Korea and Finland will move on to the Finals at Blizzcon 2018 in November.

The next Qualifier begins on September 7th to the 9th in Los Angeles, with host countries United States, Austria, Brazil, Canada, Norway, and Switzerland.

The Talent Team:


Hosts
Alex "Goldenboy" Mendez
Malik "Malik" Forté
Casters
Jake "Jake" Lyon
Andrew "ZP" Rush
Seth "Achilios" King
Wolf "Wolf" Schroeder
Harry "LegDay" Pollitt
Jack "Jaws" Wright
Exclusive Skins:
Two legendary All-Star skins are available to obtain between the dates of August 17–27. Each skin is redeemable for 200 Overwatch League Tokens. The skins are: Fire King Genji and Water Goddess Tracer. Genji represents the Pacific Division and Tracer represents the Atlantic Division.
Last edited: