Coffee Talk
-
Uzzy
Coffee Talk, from Toge Productions, is a narrative driven bartending game. Set in an alternative Seattle, where orcs and elves roam the streets doing their mundane jobs alongside humans, you play as a barista in the eponymously named shop, you'll listen to their stories, mix drinks and change lives. All with a lo-fi jazzy musical accompaniment and relaxing aesthetic, pleasing to the eye and heart. Just look at it!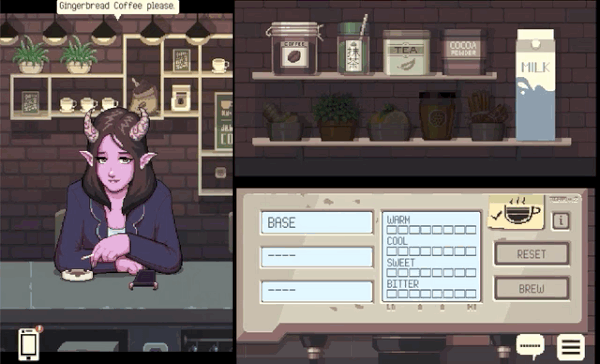 So, yes, this is very much in the
VA-11 Hall-A: Cyberpunk Bartender Action
groove, but from the demo at least it's slightly less comedic. Now I loved VA-11 Hall-A, and something like this, with the repetition of mixing drinks and changing lives, along with some soothing music and visuals, feels just right for January. A nice, relaxing way to start the year. I was slightly disappointed by the rather simple story I saw in the demo, but that's probably just the starting point, and the writing was good, so I'm not too worried there.

Blade Runner
-
Uzzy
Early in the 21st Century, THE TYRELL CORPORATION advanced Robot evolution into the NEXUS phase - a being virtually identical to a human - known as a
Replicant.
The NEXUS 6
Replicants
were superior in strength and agility, and at least equal in intelligence, to the genetic engineers who created them.
Replicants
were used Off-world as slave labor, in the hazardous exploration and colonization of other planets. After a bloody mutiny by a NEXUS 6 combat team in an Off-world colony,
Replicants
were declared illegal on earth - under penalty of death. Special police squads - BLADE RUNNER UNITS - had orders to shoot to kill, upon detection, any trespassing
Replicant.
This was not called execution. It was called retirement.
LOS ANGELES
NOVEMBER, 2019
One of Westwood Studios' finest works, and quite a departure from the RTS fare the studio was more famous for, Blade Runner is one of the most atmospheric point and click adventure games ever made. This time it's actually available, with GOG putting out a release just last month. You play as Ray McCoy, a rookie Blade Runner assigned to investigate a case of multiple animal murder. No person would murder one of the few remaining animals, so of course, Replicants are suspected in the crime. The game features a branching original storyline that can end in one of thirteen different ways, a side story set in the same time and place as the iconic and movie, cameos from some of the movie's characters (no Pris and her bangs, sorry Chloe) and the legendary Frank Klepacki scoring the game, based on Vangelis' work. You can currently play it on 64 bit PC's by installing it with
this tool
, and running it through
ScummVM
.
People who retired the right replicants: -

The Witcher 3: Wild Hunt
-
Uzzy
Apparently The Witcher 3 is experiencing quite the resurgence of late. Why not prove you're as good as Henry Cavill up there and complete all the Witcher contracts in game?
People who earned the 'Geralt: The Professional - Complete all Witcher contracts' achievement: -
Notice a poster that is obnoxious or harmful to the thread? REPORT THEM.
Do not solicit/trade/sell/beg for games in this thread.
Do not spam post your game stats/games count or post damage lists from sales.
NO ANIME/J- ROCK/POP.
Maybe try not to drive posters away for sharing their thoughts on video games, alright? If you're not wanting to purchase a game for any reason, and someone discusses it in entirely unrelated terms, you don't necessarily have to tell them that you're not going to purchase it for that reason. I know that's something I could do better myself. That's not to say you can't discuss that reason, of course, you just don't have to everytime someone mentions a game in an unrelated context.
How do I use Gift Bot? - Check here.
How do I recommend a game / challenge / retro to the OP? - Send Uzzy a PM
What are Queen Of Hunting's reshades? How do I use them? - Reshade is an open-source advanced, fully generic post-processing injector for games and video. Queen has been working on Reshade sets for a while. Most examples of Reshades she has seen have been full of Bloom and other exaggerated effects. She wanted to go for more subtle changes, like removing horrible tints in games, maxing textures better or color correcting to enhance the atmosphere of games. You can find the excellent Reshade's here.
The SteamERA Community was founded on Discord on October 2017, a stranded bunch of SteamGAF who united together and embraced on what we thought was the end of times. However as more people joined we found hope and soon started to formulate and plan for the future. This thread would not be possible without the community we have on Discord and I encourage all of you to join if you have not.
You can join this amazing community on Discord with this link:
Hidden content
You need to reply to this thread in order to see this content.
Last edited: