Release: May 8th, 2018 @ 1pm EST/10am PST
Platforms: PC/Mac/Linux at launch, PS4/XBX/NSW later this year.

Steam
GOG

Like the first Pillars of Eternity, Deadfire was partially crowdfunded, this time through FIG, raising over $4.5M. Check out the Fig Campaign to see more.

What's this game all about?
Eothas has returned. The god of light and rebirth was thought dead, but he now inhabits the stone titan that sat buried under your keep, Caed Nua, for millennia. Ripping his way out of the ground, he destroyed your stronghold and left you at the brink of death. To save your soul, you must track down the wayward god and demand answers - answers which could throw mortals and the gods themselves into chaos.

Your hunt takes you to the Deadfire Archipelago. Located even farther east than the colonies of the Eastern Reach, Deadfire comprises hundreds of islands spanning thousands of miles - ranging from lush tropics to barren deserts. Many of these lands have never been charted, while others are inhabited by rich native cultures and a new wave of colonial settlers.

​
​

You will be joined on your quest by up to seven companions. Unlike Pillars 1, companions will be significantly more integrated into the main storyline and will have complex relationships both with you as well as eachother. Depending on your choices your companions may grow to hate you and leave, respect you and eachother as friends, or perhaps even fall in love.

All party members have three possible classes which are chosen when you recruit them.

Returning Companions


Edér (Voiced by Matt Mercer) - Rugged good looks and a wry farmer's charm. Lover of animals. A bit racist, but unknowlingly so. (Fighter, Rogue or Fighter/Rogue)
Aloth (Also voiced by Matt Mercer) - An elf with a personality for all occasions. (Wizard, Wizard/Fighter or Wizard/Rogue)
Pallegina (Voiced by Mela Lee) - Noble birdwoman utterly devoted to her homeland. Noted atheist. (Paladin, Paladin/Fighter or Paladin/Chanter)
New Companions
Xoti (Voiced by Laura Bailey) - A Savanna Folk that follows an aspect of Eothas (Priest, Monk or Priest/Monk)
Maia Rua (Voiced by Marisha Ray) - Sister of Kana Rua from Pillars 1 (Ranger, Ranger/Rogue or Ranger/Wizard)
Serafen (Voiced by Liam O'Brien) - A psychic pirate in search of plunder and booty (Barbarian, Cipher or Barbarian/Cipher)
Tekehu (Voiced by Travis Willingham) - A Water-Godlike that can shift into a ***Wereshark*** (Druid, Chanter or Chanter/Druid)
Sidekicks

Sidekicks are available party members that fit somewhere between a "full" companion and a player created mercenary. They have unique portraits, voice sets and an introductory quest but do not factor into the full relationship system and have little to no banter or "story" dialogue.


Konstanten - A Mountain Dwarf with a soft spot for poetry (Barbarian, Chanter or Barbarian/Chanter)
Ydwin (Voiced by Ashley Johnson) - An investigative Pale Elf (Cipher, Rogue or Cipher/Rogue)
Rekke (Voiced by Sam Riegel) - A Storm Folk that speaks a language no one understands… (Fighter, Fighter/Monk or Fighter/Barbarian)
Fassina - An Ocean Folk caster (Wizard (Conjurer subclass), Wizard/Druid or Wizard/Chanter)
​

The Deadfire Archipelago marks the eastern edge of the "Known World." Dominantly populated by island aumaua who make up the tribes of the Huana, the chain of hundreds of islands spans thousands of miles. The Deadfire contains myriad climates and biomes that are home to a bewildering array of creatures. The last century has brought ambitious colonial traders, explorers, and pirates to the Deadfire, but travel east of the archipelago is blocked by the destructive storms of Ondra's Mortar. Legends among the Huana speak of an ancient cataclysm that devastated their people thousands of years ago. Details of this event have been lost to time, but Huana storytellers claim that it destroyed everything they had built, sinking even the greatest of their cities beneath the waves.
Exploring the world in Deadfire will be much more open than Pillars 1. For one, you have a boat, and you can sail it around the Deadfire Archipelago as you see fit in search of uncharted islands and treasure. When you reach shore you will explore the on a world map. Random encounters are possible both on land and at sea and ship-to-ship battles are possible.
​
The four major factions of the Deadfire will also play a more integral role compared to Pillars 1. Described as being in the vein of Fallout: New Vegas, aligning with certain factions (or none at all) should have major implications over the course of the entire game.

​
Managing you ship will be a crucial part of Deadfire. You will be able to discover upgrades both cosmetic and functional to your ship as you adventure, or just find a new ship entirely. You will also be responsible for hiring crew members and managing their responsibilities aboard the ship. Be ready to watch your back should the moral of the crew deteriorate.

Ship-to-ship combat will play out in the choose-your-own-adventure interface. Turn-based and likened somewhat to combat in FTL, you need to keep the enemy ship in range of your cannons while defending against their attacks and responding to emergencies on-board. Or just quickly close to boarding distance to engage in traditional PoE combat.
​
​
Deadfire will feature a broad multiclassing system most comparable to non-human characters in 2nd Edition AD&D. Class combinations are both chosen at level 1 (or upon a companion first joining your party) and level up together. Multiclassed characters rise in power level more slowly than single classed characters but, at every new power level, get to choose an ability from both of their classes. This means multiclassed characters won't gain access to the final two power levels for either class but will end up with 7 more ability/talent choices, making them much more flexible. The goal is for a multiclassed character to perform at 75-80% the power effectiveness of a pure class but have significantly more options. And of course it allows for creating and roleplaying cool new character concepts. Only a select few combinations of Paladin Orders and Priest Deity combinations will be disallowed because of conflicting Disposition requirements. Each combination of classes will also receive their own unique title. See below for the full table:
Deadfire will also feature subclasses. These act similarly to Kits from AD&D and serve to provide a baseline modification to one or both of your classes. They all have drawbacks, though, as it's intended for not taking a subclass to be a viable alternative. Here are the current subclass options and what they do.

Barbarian - AoE-focused melee fighter

Corpse Eater - Targets unconscious enemies to devour their flesh and gain power. Powers cost more to use.

Berserker - Has a more powerful Frenzy, but attacks can damage friends as well as foes while Frenzied.

Mage Slayer - Gains spell resistance and can disrupt enemy spells, but cannot use potions or scrolls and some beneficial spells have shorter durations.

Chanter - The "bard" of the PoE universe. Passive buffs/debuffs for every situation and lots of creature summons

Beckoner - Summoning invocations are cheaper and summon more creatures, but the creatures are weaker.

Skald - Offensive invocations are cheaper and melee crits grant phrases, but all other invocations are more expensive.

Troubadour - Phrase linger is 50% longer, Brisk Recitation as a modal that increases the rate of phrase elapses, but shortens linger. All invocations are more expensive.

Cipher - Mental-themed spell caster that must do weapon damage to built their power pool

Ascendant - Powers and Soul Whip are more effective when used at Max Focus, but Focus drains quickly if left at Max for long.

Beguiler - Illusion powers are more powerful, but Soul Whip suffers when used against targets that are not vulnerable to Sneak Attack.

Soul Blade - Offensive cipher that can dump Focus into a Soul Annihilation melee attack for extra Raw damage. Shred powers have reduced Focus cost. Lower Max Focus.

Druid - Nature-themed spellcaster that can shapeshift into a deadly melee combatant

Fury - Shift into storm blights and gain bonuses with elemental spells. Cannot cast Restoration spells.

Lifegiver - Rejuvenation spells are cast with increased Power Level but cannot cast Summon spells.

Shifter - Druid can shift to any animal form, once each, per combat and heals damage each time they shift back. Cannot cast spells while shifted.

Fighter - Lots of what you expect from a good ol' fashioned fighter

Black Jacket - Bonus weapon proficiency, reduced Recovery when switching weapon, but lacks Constant Recovery.

Devoted - May only be proficient in a single weapon. Higher Penetration and crit damage with that weapon. Suffers Accuracy penalty when using other weapons.

Unbroken - Bonuses to Engagement and Disengagement Attacks, but lower Stride.

Monk - Melee damage class with a variety of utility abilities. Must take damage to generate part of their power pool.

Helwalker - Begin all combats with Wounds, gain Might for every Wound. Wounds require more damage to acquire.

Nalpazca - Drug effects last longer and Wound cap is increased while under the effects of drugs. Penalties while not under the effect of drugs.

Shattered Pillar - Gain Wounds by inflicting damage with melee weapons (fists or otherwise). Lower Max Wound cap, does not gain Wounds from receiving damage.

Paladin - Powerful mixture of support, healing and damage

Bleak Walkers - Flames of Devotion (Remember Rakhan Field) generates black flames and does Corrode damage. Healing given and received is reduced. - Cannot multiclass with priests of Eothas, Berath, or Skaen.

Darcozzi Paladini - Lay on Hands (Flames of Darcozzi Palace) creates a flame shield around the paladin. Lower Zeal power. - Cannot multiclass with priests of Berath, Magran, or Skaen.

Goldpact Knights - Sworn Enemy (Gilded Enmity) creates protective gold armor on the paladin. Cannot learn Zealous Auras. - Cannot multiclass with priests of Magran or Wael.

Kind Wayfarers - Flames of Devotion (Sword and the Shepherd) heals nearby allies. Does less damage against enemies vulnerable to Sneak Attack. - Cannot multiclass with priests of Berath, Magran, Wael, or Skaen.

Shieldbearers of St. Elcga - Lay on Hands (St. Elcga's Grace) prevents the target from being knocked out for a short duration. Cannot use Lay on Hands on self. - Cannot multiclass with priests of Skaen, Magran, or Wael.

Priest - Lots of buffs, debuffs, heals and even some really powerful nukes

Berath - Bonus spells that would befit the god/goddess of cycles, life and death. - Cannot multiclass with Bleak Walker, Kind Wayfarer, or Darcozzi paladins.

Eothas - Bonus spells that would befit the god of rebirth, light and renewal - Cannot multiclass with Bleak Walker paladins.

Magran - Bonus spells that would befit the goddess of fire and war - Cannot multiclass with Shieldbearer, Kind Wayfarer, Goldpact, or Darcozzi paladins.

Skaen - Bonus spells that would befit the god of defiance, envy and covert revolt - Cannot multiclass with Shieldbearer, Bleak Walker, Kind Wayfarer, or Darcozzi paladins.

Wael - Bonus spells that would befit the god illusions, dreams and secrets - Cannot multiclass with Shieldbeaer, Kind Wayfarer, or Goldpact paladins.

Ranger - Single-target DPS specialist with a very powerful animal companion

Ghost Heart - Animal companion must be summoned as a spirit. They are not affected by Bonded Grief, are not susceptible to beast spells and cannot be engaged, but the summon is of limited duration.

Sharpshooter - Bonuses to Penetration and Accuracy at range, but slower actions and lower Deflection.

Stalker - Stalker and companion gain bonuses to Deflection and Armor Rating when close to each other, suffer Bonded Grief when too far apart.

Rogue - Another single-target DPS class, this time with lots of invisibility, debuffs and spell interrupts

Assassin - From stealth or invisibility, weapon attacks have bonus damage, Penetration, and Accuracy. All incoming damage is increased.

Streetfighter - Sneak Attack and crit damage increases when Flanked or Bloodied (<50% Health). Recovery is slower when neither Flanked nor Bloodied.

Trickster - Gains access to Illusion spells from the wizard list. Sneak Attack deals less damage.

Wizard - Spells for nearly every situation, even summoning powerful weapons and wading into melee

Conjurer - Conjuration spells are more powerful and you gain a "Conjure Familiar" spell, but spells from all other schools have longer recovery times and you cannot cast Evocation or Illusion spells.

Enchanter - Enchantment spells are more powerful and once per encounter you shrug off debuffs that target Dexterity, but spells from all other schools have longer recovery times and you cannot cast Illusion or Transmutation spells.

Evoker - Evocation spells are more powerful and you have a chance to double-cast Evocation spells, but spells from all other schools have longer recovery times and you cannot cast Transmutation or Conjuration spells.

Illusionist - Illusion spells are more powerful and you gain the effects of Mirrored Images the first time you are attacked every encounter, but spells from all other schools have longer recovery times and you cannot cast Conjuration or Enchanting spells.

Transmuter - Transmutation spells are more powerful and you can transform into an Ogre for fearsome melee damage, but spells from all other schools have longer recovery times and you cannot cast Enchantment or Evocation spells.
A new UI has been built to help layout your builds well in advance.
​
Deadfire will feature a maximum party size of 5, down from 6 in the first game. This is to assist with pathfinding, make combat more readable and to account for the micromanagement requirements inherent in the Pillars combat system.

Characters will, with very few (maybe just one) exceptions, possess only per-encounter abilities. Broadly speaking the classes fall into one of three types of ability brackets:

Traditional Casters (wizard, druid, priest): These classes will be limited to a small number of spells per power-level per-encounter. Right now the limit is 2.

Build-and-Spend (monks, ciphers, chanters): These classes will function much as they did in Pillars 1 - punch/stab/sing to build up charges, then use those charges to cast abilities.

Power Pool (fighter, rogue, paladin, ranger, berserker): These classes begin each combat encounter with a set amount of "mana" to use on their abilities during that encounter with no (or very few) ways to build it back up.

The one main per-rest ability that remains is called Empower. All classes receive a limited number of Empower uses per rest and can expend only one per encounter. Doing so will either cast an ability at three effective power levels higher than normal or can be used to refill half of your per-encounter combat resources.

Characters in Deadfire will no longer have a split health and endurance pool. Health is now a single resource and regenerates after an encounter. Should you suffer an injury in combat or through a scripted interaction, however, you will potentially lose up to 15% of your maximum health depending on the type of injury you sustain in addition to stat maluses. Your character will be killed when they sustain their fourth injury unless you are on Story Time difficulty.
​
Resting also receives a large change - no longer are you governed by limited camping supplies. You can rest whenever. However, each rest will consume some measure of food and rations from your stores. High quality rations that keep your characters in their top fighting shape are intended to be rare and expensive, giving you an incentive to rest as rarely as possible.

The skill system is receiving major changes as well. You will now receive skill points for both active and passive abilities at level up.
​
The game will feature a detailed AI behavior builder similar to Dragon Age: Origins or Gambits from Final Fantasy 12. Click here to watch Josh and Brian discuss how it works and see how expansive it can be.

Many of the buffs and debuffs in Deadfire exist within the Affliction/Inspiration counterplay system. There are 18 of each, three based on each of the six base attributes. Casting an Inspiration of a certain attribute on a party member who's suffering from the same attribute of Affliction removes that Affliction and vice versa. A character can also gain Resistance to a certain attribute of Affliction, which will demote the incoming Affliction one rank. For example, wood elves have a natural resistance to DEX based afflictions, so an incoming Paralyze Affliction would be demoted to Immobilized, Immobilized to Hobbled and Hobbled to nothing. Weakness also exists which will promote an Affliction one level higher.
​
​

Q: Do I need to play the first game to enjoy this?
A: Deadfire is a direct sequel so it helps, but no it's not required. If you don't have a save to import from the first game you can instead recreate a save by making choices from Pillars 1 prior to beginning Deadfire. Starting choice sets can easily be shared with others.

Here is a good video to watch if you want a high-level overview of the major moments of the first game or just want to refresh you memory:




Q: Is there a general overview of how the game works?
A: Check out the game manual here.

Q: Do we start at level 1?
A: Yes. A god erupted from the ground and stole most of your soul. Who knows what happened to your companions.

Q: If I import a save from Pillars 1 can I change anything about my character?
A: Yes! You'll be able to effectively create a new character, changing your class, race, sex etc.

Q: Will the various quest talents and buffs my Watched earned in the first game carry over?
A: Some of them will, maybe not in exactly the same form.

Q: Will the game be coming to consoles?
A: Yes. Deadfire is scheduled to launch sometime this holiday season on Xbox, PS4 and Switch. The port is being handled by Versus Evil (the publisher for Deadfire) and Red Cerberus. Obsidian is focused entirely on the PC/Mac/Linux version.
​
WINDOWS:
Requires a 64-bit processor and operating system
OS: Windows Vista 64-bit or newer
Processor: Intel Core i3-2100T @ 2.50 GHz / AMD Phenom II X3 B73
Memory: 4 GB RAM
Graphics: DirectX 11 Compatible
Storage: 45 GB available space
Sound Card: DirectX Compatible Sound Card
MAC:
Requires a 64-bit processor and operating system
OS: OS X 10.12.6 Sierra 64-bit (or newer)
Processor: Intel Core i5-4570S @ 2.9GHz
Memory: 8 GB RAM
Graphics: NVIDIA GeForce GT750M
Storage: 45 GB available space
LINUX:
Requires a 64-bit processor and operating system
OS: Ubuntu 14.04 LTS 64-bit or newer
Processor: Intel Core i3-2100T @ 2.50 GHz / AMD Phenom II X3 B73
Memory: 8 GB RAM
Graphics: ATI Radeon HD 4850 or NVIDIA GeForce 9600 GT
Storage: 45 GB available space
​

The entire cast of Critical Role is featured in Deadfire, voicing most of the main characters. As part of this partnership there will be a free DLC pack at launch featuring portraits and voice sets from their first campaign, Vox Machina. Get it here for Steam or here for GOG for free!


Other FREE DLC packs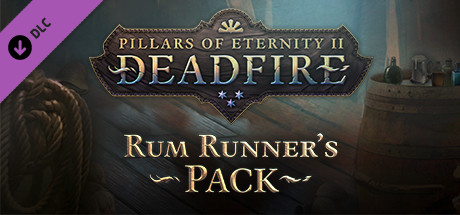 Included in this DLC:
• Mirke, a new sidekick.
• Six new alcohol-themed items added to a merchant in the Deadfire.
• New Drunken personality setting.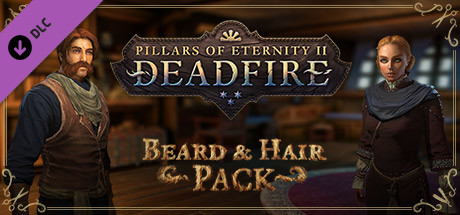 Included in this DLC:
• Four new hairstyles.
• Three new beards.
• New Energetic personality setting.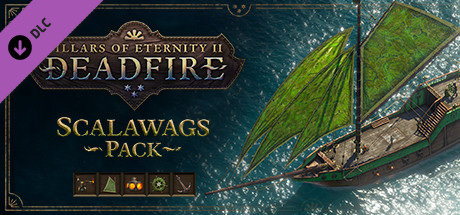 Included in this DLC:
• Three New Crew Members added to the taverns of the Deadfire Archipelago for you to recruit.
• Five New Ship Upgrades, including sails, cannon, anchors, and more added to shipwrights throughout the game.
• New Savage personality setting.
​
Season Pass Details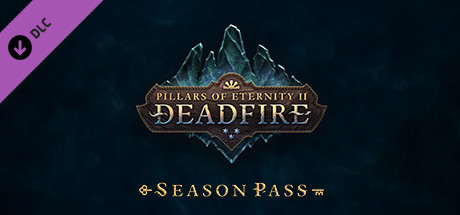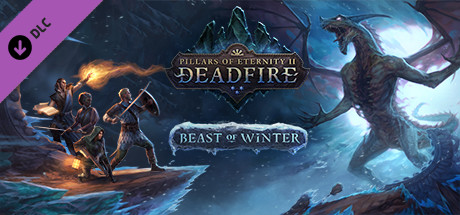 Far in the southernmost reaches of the Deadfire Archipelago, frost and death have encroached upon the land of the living. You, Watcher, have received a missive from the isle's residents: worshipers of Rymrgand, the god of entropy and disaster. They call you Duskspeaker, a harbinger of the end, and pray you fulfill your destiny.
In this new DLC for Pillars of Eternity II: Deadfire:
Embark upon an adventure that will take you to Hel itself.

Join forces with Vatnir, an Endings Godlike and Priest of Rymrgand, to bring battle to the monstrosities that roam the Beyond.
Confront an ancient dragon, whom even the gods fear, before she brings Eora to an icy end.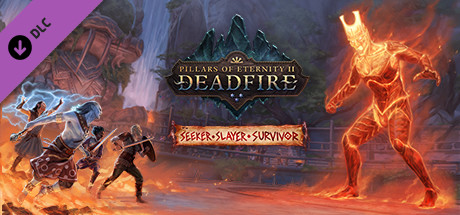 ​
Prove your worth in the crucible of Kazuwari, where the arena's masters and their worshipers exalt the victorious and delight in the blood forfeited by the defeated. Something corrupts the spirits that dwell in the very stones of the crucible, and only you can uncover its secrets.
In this new DLC for Pillars of Eternity II: Deadfire:
Seek glory, treasure, and truth in an arena designed to test the mettle of you and your party.
Slay your way through the most challenging foes you have ever faced, both past and present.
Survive the trials and whims of the spirits and their worshipers to prove you stand above even the greatest the Deadfire has to offer.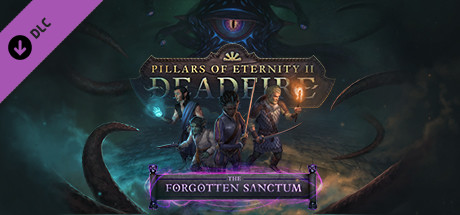 ​
When a violent tremor shatters the islands of the Deadfire, the greatest wizards in Eora seek out the aid of the Watcher. The archmage Maura has vanished into the depths of a newly opened dungeon located in the Black Isles and threatens to awaken what lies forgotten there. Follow Maura's trail and determine the fate of one of the Deadfire Archipelago's most closely-held secrets.
In this new DLC for Pillars of Eternity II: Deadfire:

Traverse an expansive dungeon built into the flesh of a sleeping god.

Encounter the highest-level challenges yet faced by the Watcher and their companions.

Scheme with or defy the wills of Eora's most powerful wizards.
​
Thank you to
Almeister
,
Enduin
,
Naito
,
decoyplatypus
,
HP_Wuvcraft
and many others I'm probably forgetting for helping with this and for making the preview thread such a welcoming and helpful community over the last seven months. Have fun!
Reviews:
ResetERA Review Thread.
Thanks
Enduin
!
Metacritic:
88
OpenCritic:
89
Last edited: