EDIT: THIS IS FIXED NOW, THANK ARCEUS!
So as many of you know, Pokemon Sword and Shield are pretty controversial games to say the least, for many reasons I'm not going to get into here. What's important to me though, is that this game seemed to have nailed most of the competitive aspects. Raising perfect Pokemon is easier than ever, and the ladder system is fun and snappy, and hell, the regional dex is a really fun bunch of mons to work with in Gamefreak's ladders. I was even starting to warm up to the idea of a rotating group of mons if competitve play was going to be this fun! I even got into the top 500 in ranked sinlges, and top 1000 in ranked doubles (I posted about this in the OT actually, but heres a pic for singles!)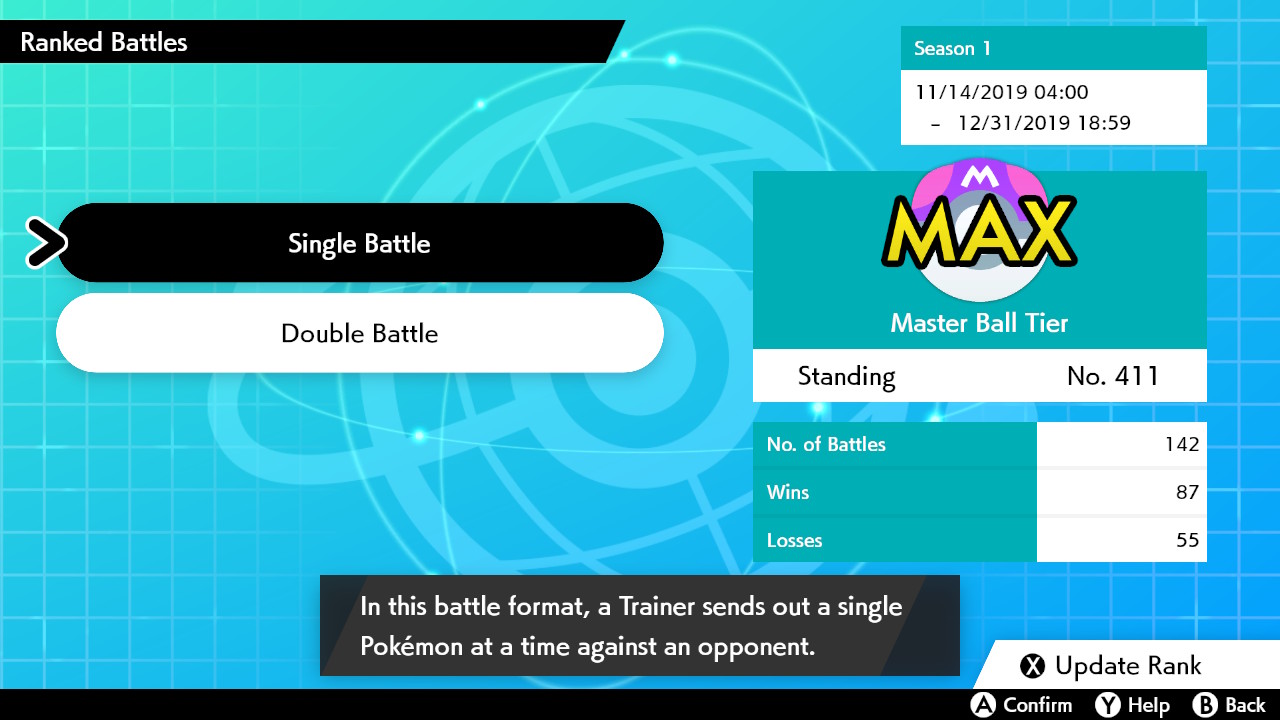 And then I see this tweet when I get up this morning
For those of you who can't see the tweet, basically this is Sejun Park, the guy made famous by winning the 2014 offical Pokemon tournament with Pachirisu, saying that anyone whose reached master ball tier appears to have been banned from playing ranked battles after the matienence. Additionally, people who haven't gotten to master ball tier until today have noticed that they seem to be much higher in the standings than expected, with one person in that twitter thread of Sejun Park's in particular having gotten to #1 on the ladder with only 22 battles done. So this suggests the ban wasn't for stuff like say, having Pokemon from the future or hacking, but just a blanket erasure of everyone who reached master ball.
EDIT FOR CALIFICATION: So to be clear here, the reason the competitive fanbase is up in a tizzy over this, is because their ratings may have been totally wiped after dozens of hours of laddering.
Frankly, I'm very angry over this. I've spent over 230 hours on the game, with pretty much the main purpose being to play competitively online, since competitive Pokemon is one of my passions in life. It's no secret that there's a lot of reasons this game is divisve, ranging from dexit to animations, graphical quality, removal of features like GTS and replays, etc. I wasn't happy with a lot of that stuff either, but I was having so much fun with competitive play that I was really happy with Sword and Shield in the end. But this is a particularly stunning display of incompetence. If Gamefreak / Nintendo / TPC can't even gurantee a working rated sysem, they've sadly destroyed my reason to buy these games anymore, and I'll have to take my bussiness elsewhere.
I really hope they have a reasonable solution for this, because this is an astounding screw up for the competitive Pokemon community, especially since MANY people reached master ball tier before this hit!
Last edited: