Investing Primer (What's a stock anyway?)
This section will hopefully give you a clear understanding of terminology you'll come across in this thread as well as why we give the advice that we do. Most things here will not be fully technically discussed because it's not really relevant to understanding how investing works in this context. Onwards!
STOCKS AND BONDS
Stock
You've probably seen symbols representing companies before (like GOOG or APPL, etc.) when reading about anything to do with investing. These companies have divided up the ownership of the company into something called 'stock' (or 'shares' or 'equity'). Buying stock means that you are purchasing partial ownership in that company. Generally speaking, the cost of one share in the company is dependent on the value of the company. The general concept here is to buy shares in companies, the value of the company increases (share price goes up), and then you can sell your shares. You make money because each share is now more valuable than when you bought it.

Historically, stocks have outperformed most other investments over the long run but tend to be more volatile.
Bond
Bonds are based around debt. You (an investor) loan money to some entity (usually governmental or corporate) for some particular period of time at a particular interest rate. At the end of that period of time you will get your original loan back. Bonds are generally used by these entities as a way of raising cash. Bond ownership can be traded around between people in much the same way as stocks, which is what we'll be doing here. You'll most likely be buying shares in a
bond fund
which will be a big collection of a variety of bonds. It's very important to understand the mechanism underlying the value of a particular bond.
Let's say interest rates are at 5%, and a $1000 bond is available at that same 5% interest rate for some arbitrary number of years. Not very interesting to purchase that bond when looking at current rates since you can get that same 5% interest anywhere.
Ah, but some time has now passed and interest rates have dropped to 4%. But that bond is still paying out at 5%! Investors will now purchase this bond, driving the price up until the effective rate on the bond is 4%. (It depends on the term of the bond, but let's just say the price of the bond is now $1100 even though you'll still just be making the 5% interest on the original face value of $1000 and will get $1000 back at the end of the term.)
The inverse happens if interest rates go up, say to 6%. That 5% bond is now less attractive so the price will DROP until the effective rate is also 6%. So maybe the price goes down to $950, even though you're still getting 5% on the original face value of $1000 ($50 per year) and will get $1000 back at the end of the term.
To be clear, this means that bond prices will move inversely with the movement of interest rates.
The interest rate of the bond are generally based on the
credit quality
of the issuer and the
duration
of the bond.
Bonds are considered to be less volatile but as a tradeoff will generally give lower returns than stocks. People will hold bonds as part of their portfolio to cushion their losses when the market goes down.
Thoughts on Bond Allocation
Cyan's Thoughts
Y2Kev's Thoughts
Keyboard has a further post on bonds
ETFs AND MUTUAL FUNDS
This will cover the different formats in which we can actually purchase these stocks and bonds. But first!
WHAT'S A FUND?
As I mentioned near the beginning, you can buy shares in individual companies like Google and Apple, but for reasons that I'll get into later that's not something that we would recommend 'round these parts. A fund, broadly speaking, is a grouping of stocks or bonds (or maybe even some other stuff!) that are selected based on some rules set by the fund manager. Maybe the fund only holds stocks based on precious metals, or only mid-sized tech companies with annual growth of X%, or any other fun rules they think of.
Mutual Funds
A mutual fund is a pool of money gathered from a large number of investors in order to invest it in all the stuff that we've talked about so far. A mutual fund is actually technically a company that you're buying ownership in and you get to share in the performance of the mutual funds investments, proportionate to how much of the mutual fund you own. There are tens of thousands of mutual funds available to choose from.
Things to pay attention to here are fees. A funds expense ratio is the total of any advisory fees and administrative costs that the fund has. You'll also want to look out for mutual funds that have a
front-end load
or
back-end load
. A load is a commission or sales fee applied upon the purchase or sale of shares in the mutual fund. Ideally you're looking for a
no-load
mutual fund.
Some funds may also charge penalties for early withdrawals from the fund (i.e. you have to keep your money in the mutual fund for some minimum amount of time before you can sell). The relevant differences vs. a normal stock for us here are as follows:
You can purchase fractional parts of mutual fund shares. If you buy a normal stock you cannot do this. So if you've got $50 and the value of the share you're trying to buy is $45 you're going to have 'leftovers' of $5. For a mutual fund you can spend exactly what you have available.
Mutual funds trade only once per day. This happens at the end of the day once the markets have closed. This means that any trades you put in will only be executed once the markets have closed and the value of the mutual fund shares have been calculated. No day trading for you!
Many mutual funds have a minimum buy-in amount that can range from hundreds to thousands of dollars.
ETFs
An Exchange-Traded Fund (ETF) is somewhat similar conceptually to a mutual fund in that that ETF owns the underlying assets and you are going to be purchasing shares in the ETF. The difference here is that ETFs are traded just the same as if they were shares of GOOG or APPL or any other company. If your brokerage charges a commission to buy those sorts of shares, it's going to be the same thing for ETFs. As a comparison against mutual funds
You can only buy whole shares. If you've got $100 and are buying shares valued at $40 you're going to have $20 leftover. This can be slightly annoying to some people to see this money sitting there unused.
ETFs are traded throughout the day. As long as the markets are open your orders will be executed as soon as possible. This difference between ETFs and mutual funds probably won't be material to you here since we'll be making very few trades.
You can buy as little as one share of an ETF, no minimum buy-ins here.
WHAT DO WE SUGGEST (AND WHY)?

The Basics
We've discussed above about what funds are, and now the question is, which funds should I get? You may have noticed John Bogle up there in the thread banner. Our strategy will be based around a simple, easy-to-follow, strategy advocated by Mr. Bogle, the founder of Vanguard. The core of this strategy is index funds. An index fund is a fund that simply passively follows an index such as the S&P 500 or even the total stock market by holding shares in companies in proportion to that company's value/. These funds aren't trying to do anything fancy in order to beat the market, they just 'buy the market' and try to follow their chosen index as closely as possible. These leads to lower fees on the fund as they don't need to employ as many managers or research analysts.

This all leads us to the Bogle Three-Fund Portfolio, through "the majesty of simplicity". All you NEED are domestic stocks, international stocks, and bonds. You can mix these as you like but there's no messing about with allocating to technology stocks, or energy stocks, or whatever else. The benefits of the simplest portfolio possible that just follow the market as follows
Diversification: Easily get access to 10,000+ stocks

Contain every style and cap-size

Very low cost

Low turnover

Easy to rebalance

Never underperform the market

SIMPLICITY!
Your portfolio doesn't literally have to be 3 funds but keeping it as simple and low-cost as possible is the key to success. The specific funds and whether they are ETFs or mutual funds will depend on your country, but the concepts will always be the same.

Another possibility is using a single fund, called a target date fund. A target date fund is a fund that automatically shifts its allocation to stocks and bonds as time passes based on the concept that the closer to retirement you are, the more bonds you will want in order to stabilize your portfolio. The thing is that not everyone's risk tolerance is the same even if they're targeting the same year for retirement. A target date fund is ideal if you want to be completely hands off but most people here have leaned towards handling their own simple portfolios as it gives more control over your allocations.

What to do when your options are limited
Sometimes you may end up being limited in your fund choices if you're in a company managed 401k or something similar like that. In this case, we have to make do with the best that we can. Maybe you don't have access to a total market fund in which case you would ideally be able to make it yourself by combining some large-cap/mid-cap/small-cap funds (these are categorizations of companies based on their value). Maybe you don't have a generic international fund available so you have to build your own out of International Developed and International Emerging funds. In these situations you can always make a post here about what funds are available to you and we can help point out what the best options are.

HOW DOES THIS HELP ME RETIRE?
Investing in the stock market can be a scary thing, we've all heard horror stories about people losing their life savings in the stock market and similar nightmares. The unfortunate truth is that the average person is going to find it almost impossible to build up enough cash to retire if they're sticking to bank accounts giving out a piddly 0.05% in interest. You HAVE to invest to make the most of your money. What we aim to do is invest in the most acceptably risky manner possible.



Capital Gain

This number varies from analyst to analyst but according to

some people

you can expect an average return per year of 7% - 10% if you're invested in the total market. This is obviously far superior to what you get from a bank account. This chart will perhaps show it in a more visual manner
So, most of the growth of your money will come from this growth in the market which has gone on for over 100 years (with a variety of ups and downs) called
capital gain
. The power of
compound interest
cannot be overestimated and I suggest you read up on it and its application to the stock market.
Luckily, there's also another source of income in the stock market. A dividend is a distribution of a portion of a company's earnings to the shareholders, generally as a dollar amount per share held. A company will give or not give out dividends based on a variety of reasons that I won't get into but if you hold the entire market you will be getting a certain percentage of dividends. In most cases you can choose to either automatically reinvest these dividends back into the fund that they came from, or to take them as cash. This automatic reinvestment is commonly called a DRIP (Dividend Reinvestment Plan).
Some people like to be
dividend investors
and specifically buy into companies that regularly give out dividends and increase those dividends on a regular basis. They aim to live solely off these dividends and never sell their actual investments. Most people here will not recommend this strategy but if you want to read more about how this works check out this link
https://www.investopedia.com/articles/02/010902.asp?ad=dirN&qo=investopediaSiteSearch&qsrc=0&o=40186
Fees
This is something that we bang on about all the time here because it's so incredibly important. Fees can ABSOLUTELY DESTROY your returns without you even noticing. Take a look at this chart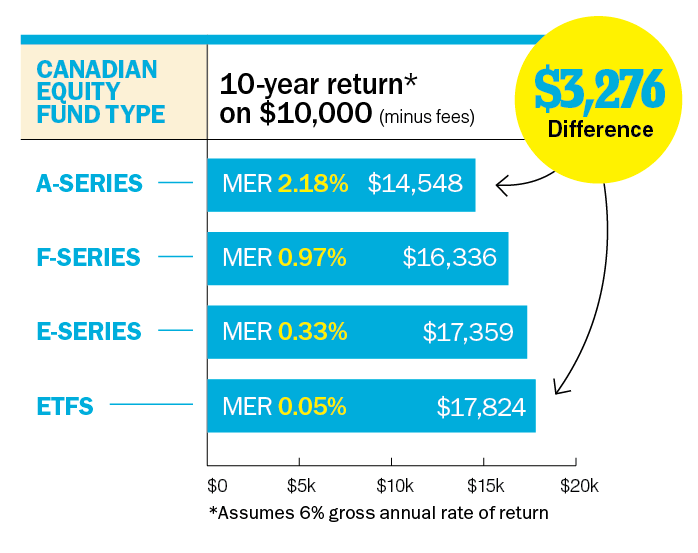 Over 10 years on just $10,000 you lose an insane amount of money due to high fees. Just think if you were to have ~1% fee on $100,000 over 30 years. You could be losing in the range of $200,000 over that time which is absolutely shocking. You can see the effect by checking out
this calculator
.
Many of the funds recommended in this thread will have fees in the range of 0.02% to 0.5%. While the high end of that range is not great, you should know that anything at 1% or higher is absolutely unacceptable. It sounds like a small amount, but over a number of years it absolutely has an impact.
HOW TO PLAN YOUR WAY TO RETIREMENT AND BEYOND
Now that we know all about what these things are and what you should buy, it's time to get into specifics regarding WHEN to buy and what mix of things you should buy.

There are several points of view about how to allocate to domestic/international/bonds and there's no real right answer. But what we can talk about is the reasoning behind these different points of view.

First off, you have to make a guess at what age you want to/can retire. You obviously don't know this exactly, but it's a good number to keep in mind to drive other decisions. Most people will agree that from your 20s through to some period of time before you plan to retire you'll want to put the majority of your investments into stocks. Stocks have historically outperformed almost everything else and are your best bet to get the biggest stockpile of wealth as fast as possible. It is pretty much guaranteed that there will be market crashes in this period of time and your wealth will plummet, but it's important to remember that you aren't retiring in those times, so just stick it through until the market recovers and you'll be fine.

It's fairly well understood that during this time bonds are a way of managing risk. A good number of people these days are going 100% into stock during their accumulation period and accepting that they'll be able to mentally handle those periods when the market falls 20%+. Other people will advocate holding a rising number of bonds as you age, perhaps starting with 10% at 30 years old and going from there. The closer you get to retirement age, the more stability you'll want in your portfolio. The first 5-10 years after retirement are the riskiest as a market crash right after you retire is no fun at all. More bonds lends itself to less volatility but also lower returns. Your choice here is your own to make.

The core point here is to decide on what your 3-fund (or X fund) portfolio is going to be and what percentage is going to be allocated to each fund, and then stick with it! Consistency is key in these situations. Make a plan for when you'll allocate what percentage to what fund and follow it. Following the trend of the day has the potential to lead to disaster and you don't want to get caught up in any panic selling.

While there is some debate about this as well, a lot of people will recommend rebalancing around once a year. Rebalancing is making sure that your funds are still at the percentage of your portfolio that you decided on. If you decided on 50/50 domestic and international but international stocks have gone on a tear, you may be out of balance such that things have gone to 40/60. The thought here is that it's kind of an automatic way of selling high and buying low.

The Trinity Study and Bill Bengen
A vast majority of people in the financial independence and amateur retirement planning community base income in retirement off of these sources. There's a lot of information in here but basically these were studies done to determine what would be a safe withdrawal rate from a retirement portfolio that contains stocks and thus grows and shrinks irregularly over time. The rule of thumb out of these studies is that you can plan on a 4% withdrawal rate from your portfolio in your first year of retirement. Subsequently you would change your withdrawal rate based on inflation in each year. These numbers are based on the portfolio lasting for a retirement of 30 years. These numbers will need to be adjusted for varying retirement periods.

In a recent (August 2017) AMA on Reddit, Bill Bengen answered some questions on his 1994 and subsequent papers on safe withdrawal rates. He actually discussed it as now being the "4.5% rule" for a 30-year timeframe with that percentage trending downwards the longer your retirement will be, but never going below 4%.

You can use this rule as a guide to figure out how much you need to have invested before you retire. If you think you'll need $50,000/year you'll need to have 1.25 million saved up.

It's important to remember that this is just a rule of thumb that has held up well over quite a long period of time. You should definitely evaluate how much you're withdrawing every year of your retirement depending on what the markets are doing and how much you're actually spending in retirement.
HOW DO I BUY THIS STUFF?
The specifics differ from country to country but I can hopefully give a short overview here. You're going to want to sign up for a brokerage, which give you access to the stock market and mutual funds. Different brokerages will charge different fees for a variety of things and I suggest reading into the country-specific sections to see what you should be looking for.



Signing up will probably involve linking bank accounts and sending documentation to prove that you are who you say you are.

After that, buying is actually pretty simple, especially for mutual funds.

Equity/Stock

My interface for buying equities looks like this.
Choose your symbol and your market. The only order types you should be interested in is Buy or Sell. Then you say how many shares of that stock you want to buy or sell. The price type (or order type) is interesting for equities. I suggest you read
Investopedia's information on these
which include Market, Limit, Stop, and Stop Limit. Generally we'll be trading in very active funds which will be able to fulfill trades very quickly with a very small spread (difference between buy and sell prices) so I'm mostly using Market orders. You can see in the Level II Quotes area on the bottom right how many shares are available for buying and selling at this moment and at what price.
Mutual Funds
This is the interface for buying mutual funds
As with equities, you just chuck in a symbol and if you're buying or selling and how much you want to buy. As I've discussed before you can see that this is
No-Load
fund and that it has initial buy-in of $1000 with subsequent purchases having a minimum of $100. I talked about that Dividend field earlier. And that's it for mutual funds!
WRAPPING IT ALL UP
I'd like to end with a review of some concepts that you'll want to keep in mind throughout your investing life. This has been partially adapted from a post by Keyboard.

1. Keep investing simple or KISS (Keep It Simple Stupid).

Diversifying reduces risk.

Investing just needs 3 parts:

Domestic Stocks

International Stocks

Bonds

You can add a 4th part like REITs but they are not necessary if you invest in Total Stock Market or own a home.

If you still don't understand nuances of bond funds, investing in TBM is still OK, just not optimal. There are worse things you can do.
2. Past performance does not guarantee future returns.

Some people may advocate one percentage over the other for stocks. In the end, it won't matter that much.

Nothing wrong with average. Sure, some active investor may shove it in your face one year saying how much he/she made but over long term only few achieve better returns than the market's.

Plus you don't have to deal with stress and worry about what's going on with the daily market.
3. Do not time the market (stocks).
No one can predict what the future will hold outside of bonds. If people did, then they would be jailed for insider trading.

Invest now. Invest early. Let reinvestment of dividends + power of compounding + time balance out the negatives.
4. Keep costs low.
Look at expense ratios. General recommendation is 0.20 or lower. These costs will eat into your own earnings long term if you don't pay attention.

Stick to no-load index funds whenever possible.

Front-load + Back-load funds will eat into your buy and sell costs. If you're currently invested in one, get out ASAP.
5. Invest as a way for savings + protection against inflation.

Money sitting in bank accounts is losing value as inflation (2.0%-2.5%) outpaces savings rate. Put non-emergency money to work.

6. Don't follow trends, they'll lead you to disaster

Maybe large-cap funds are the new hotness this year but I direct you to look at this chart to see that there are no constant winners

Last edited: