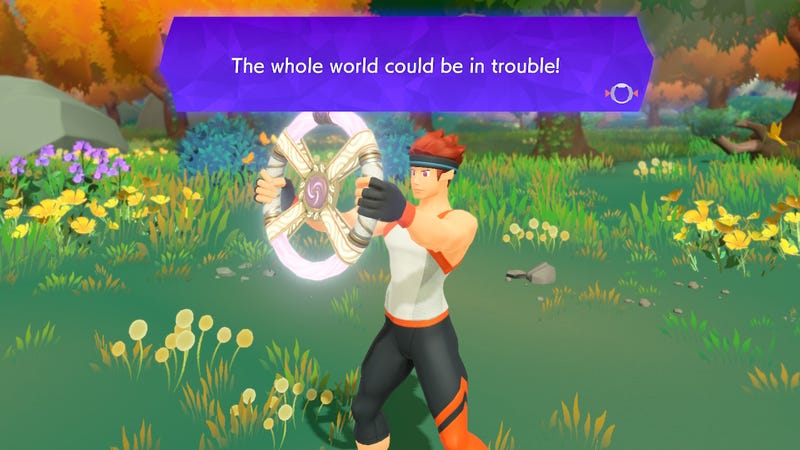 Traverse grass-swept plains by jogging in place, attack enemies with overhead shoulder presses, and refill your health meter by striking some yoga poses. Two new accessories,
the Ring-Con
and
Leg Strap
, measure your real-world actions and help turn them into in-game movements. With additional minigames and customizable workout routines, Ring Fit Adventure is great escape for players of all skill levels and schedules.
In Adventure mode, defeat enemies with attacks based on real-world exercises as you traverse more than 100 levels in over 20 worlds. As you work through each level (and possibly work up a sweat), you'll earn experience points. Between fights, you may encounter some unusual methods of transportation such as squat-powered launch pads. Then, pass around the Ring-Con and leg strap accessories and select from a few minigames: break boxes with gusts of air, craft pottery using squats, and more.
Explore a huge fantasy world and defeat enemies using real-life exercises​

Jog, Sprint, and high knee through over 100 levels in more than 20 worlds​

Control in-game movements with the new Ring-Con and Leg Strap accessories​

Play a long-form adventure or shorter minigames suitable for most skill levels and schedules​

Check your estimated pulse rate with the built-in IR Motion Sensor​
Defeating enemies and completing courses earn you experience to help you level up your in-game character! This will improve your stats and may unlock new fit skills. You can also earn skill points during your adventure to obtain even more fit skills.​
Items like coins and ingredients can be acquired throughout each course. Those ingredients and be mixed and matched to create in-game smoothies, each recipe will have a different effect in-battle like restoring health or boosting your abilities.
Each new area will have its own town. Here, you can buy new clothes to customize your character however you see…fit.
ENJOY MORE MODES TO BURN THOSE CALORIES!
QUICKPLAY
​
Need a break? Then try Quick Play, which offers up short bursts of exercise, whether you're alone or taking turns in a group.
Simple Mode: Simple Mode is designed to train specific areas of the body. Here you'll try to do the specified move as many times as possible within 20 seconds
Minigames: Next, a mode where you'll aim for the high score: Minigames. There are lots of games to choose from, and lots of different ways to move your body. Each one is a great way to get a fun, full-body exercise.
Sets: You can also take on more traditional exercises in Sets. Basically, you'll choose sets of exercises themed around certain muscle groups like shoulders or lower body.
Custom: There's also custom, which lets you create your own workouts by choosing from various exercises included in the game.
A WORKOUT FOR ANY FITNESS LEVEL
​
You can adjust the exercise intensity to suit your skill level, so every player can enjoy the experience no matter where they are in their fitness journey.
​
Worried you'll make too much noise? Try Silent Mode. This mode will swap jogging in place with lighter knee bends. This way, you can keep your legs active without heavy impacts.
​
With multitask mode, you can use the Ring-Con accessory to train off-screen! The game will track each press of the Ring-Con and the extra effort will earn you bonus experience to aid in your adventure once reconnected with the game.