Baldur's Gate 2 Cavalier's Log, 11/8/18
Ah, fresh and air sunshine again. The surface elves aren't too happy to meet with me though, seeing as I just came from the lair of their mortal enemies who are well known for their devious tricks. The captain in charge of this outpost gets some polygraphomancers to determine if I'm telling the truth while he interrogates me. When asked if I was an ally of the Drow or simply running from them, I answered neither, I'm not running just racking up a pile of dark elf corpses as I pass through.
Result: TRUTH
Next question: They hear I am looking for Irenicus, am I an ally of his as well? Response: I'm looking for him so I can utterly destroy him for what he's done to me and take back the shattered fragments of my soul.
Result: THE TRUTHIEST TRUTH THAT WAS EVER TOLD
The elves are pleased with these answers. The are no friends of Irenicus because
he took their whole entire city from them! It's just gone. They know it's some kind of powerful illusion but they have no way of dispelling it and getting inside. There is an ancient relic in the form of a Lantern that can always lead to the heart of the city, but Bodhi has stolen it. And both Bodhi and Irenicus have been way powered up by absorbing mine and Imoen's demigod souls.
Unfortunately he cannot help me find this lantern since they cannot leave the entrance to the Underdark here lest the Drow invade. But he advises that I will need lots of help against my powered-up enemies, so I should seek out allies I have helped in the past and see if they can return the favor. All right time for another world tour since now the map is open to us again.
I set out for the main city of Athkatla, but along the way I am stopped by some other travelers. Turns out it is the man, the myth, the legend himself Drizzt Do'Urden. He greets me, and my companion Jaheira reminds me that although he is a drow he is a good guy and known throughout the land as a hero. He addresses me and through the dialogue choices I can respond with my familiarity with him.
See, you also can meet Drizzt in Baldur's Gate 1. And depending on your alignment, you can either work with him on a quest or kill him and take his stuff. Although I imported my character from BG1, it was only the character stats, not the decisions made during the game. So right now my dialogue choices are:
1> Who are you?
2> Remember me? I helped you kill some gnolls.
3> Didn't I kill you and steal all of your stuff?
That's right, you can kill the most famous guy in D&D lore in the first game. That's like if Square let you kill Mickey Mouse at the start of the first Kingdom Hearts. Anyway since I didn't kill him though, I chose option 2. We shoot the breeze a bit, and I get around to asking him if he can assist me in the upcoming fight since I'm supposed to looking for allies. He agrees! Alright, we're starting out of a good foot already, and continue on the way to Athkatla.
Once I get to the big city I head over to the Order of the Radiant Heart, the Paladin's guild. Earlier in the game I rescued a local lord's daughter from the red dragon Firkraag, and he said he would put in a good word for us with the order. Unfortunately I didn't check back with them before sailing away from the city earlier. But now I can speak to the head of the Order, and he gives me the option of joining their organization. My main character is a Paladin and this is a good opportunity for some progression, so I accept. He immediately has some tasks for me to go on.
The first task is to rescue a party of paladins that went to the Umar Hills to fight some orcs but got in over their heads. No problem there, since I completed a few quests in the Umar Hills area earlier and had it fully mapped out. I travel there, flick some orcs away, and all paladins survive. Simple enough, I head back to HQ in the city for some sweet quest XP.
The second task is to settle a dispute between a local Duke and some farmers. The Duke has hired us because he says the farmer have gone crazy and started to attack us out of nowhere, and he wants us to "sort them out". Well we're paladins not a mercenary service so I talk to the farmers first. They say he's not even the legitimate landowner, and he's been burning their crops in an attempt to chase them out. I try to arbitrate and let the Duke know that I won't just do his dirty work to eliminate innocent farmers. He throws a tantrum that he should get everything he wants because he's rich, even if he doesn't have any right to their lands. It's such a bad tantrum that he attacks us. Big mistake, buddy. Let's just hope everyone has now learned a lesson with this meaningless bloodshed.
The head of the order is a little disappointed that we had to get violent, but understands given the situation. Task number three: a prominent family in the city here has all but been slaughtered for speaking out against the slavers. The only survivor was the daughter of this family who had managed to hide and is now in a safehouse. Our job is to guard her until more distant relatives can come and take her away to safety. She has a terrible attitude though, and doesn't appreciate us being there. But it's easy enough to just ignore her and do our job. Several waves of assassins later, the uncle finally shows up and the mission is over.
The fourth and final task is much tougher than the previous ones, and takes us back to where this quest line started. We must head back to the Windspear hills and take out the red dragon Firkraag once and for all. The prize: a +5 Holy Avenger sword that Firkraag has in his stash.
THIS is what is makes this side trip worth it. The Holy Avenger is what every level 1 Paladin dreams of at night. The Paladin-only weapon that has big bonuses to hit and damage, gives magic resistance on equip, and dispells magical defenses on every hit. It's the perfect anti-wizard weapon, and as most folks know in high level D&D the wizards are always the biggest threats.
So I make my way back to Firkraag lair. There's no damsel in distress to rescue this time, just me and the big lizard. I buff my party with as much fire resistance as possible, summon the highest level creatures I have spells for, and go in swinging. About 15 quick-loads later he goes down without any (non-summoned) party members lost. Nailed it!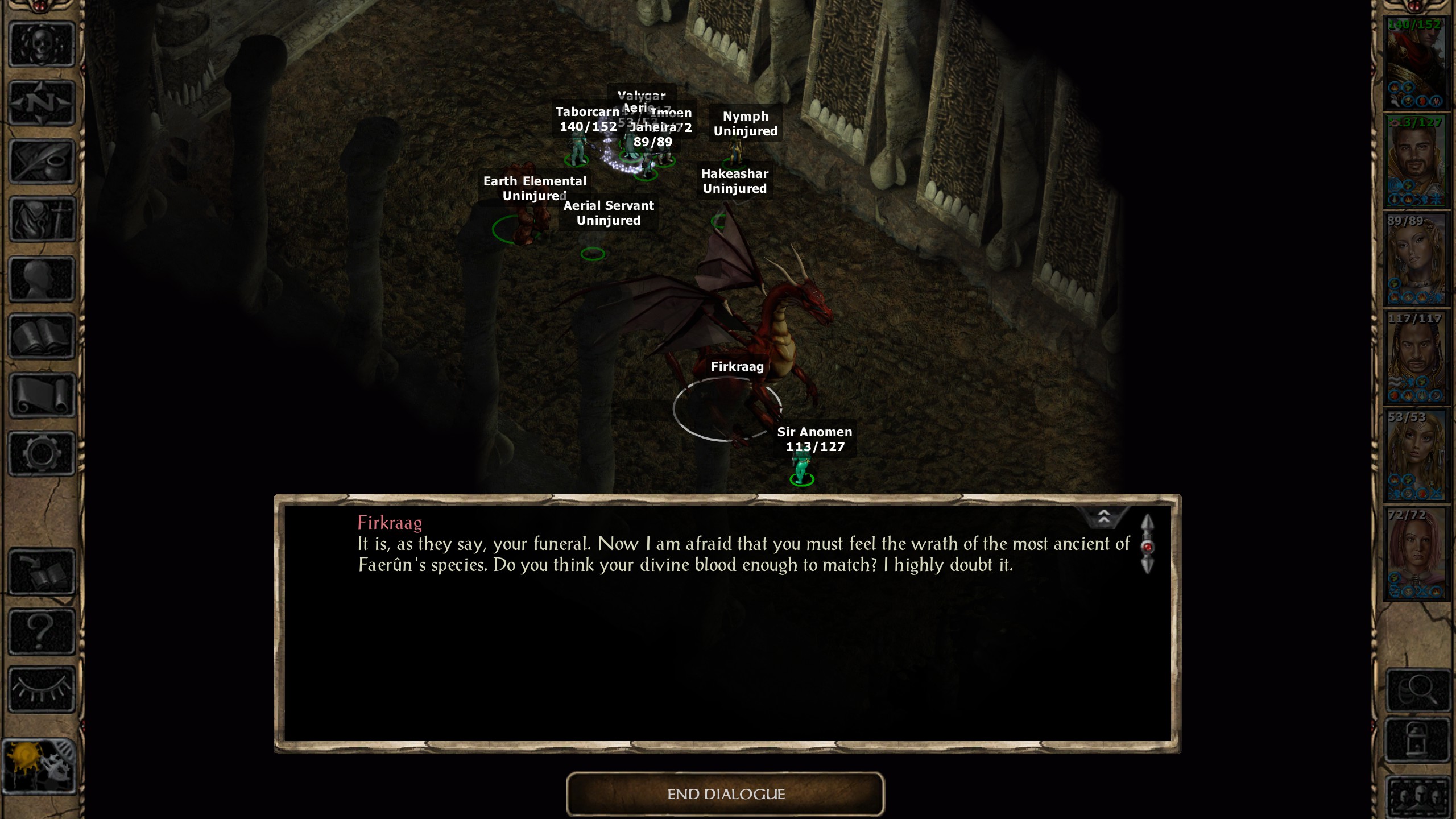 I recover me sweet sweet sword and head back the Order HQ to finish off a job well done. Also I speak to the head of the Order about the big fight coming up, and he agrees to help us out with as many paladins as he can. Nice!
One more destination for now, back to the Shadow Thieves guildhall in the docks district. I have a word with the guildmaster about the traitorous sea captain Seamon he set us up with. The guildmaster claims there was nothing he could do, the guy was outsourced and nobody else was willing to sail to that crazy Mage Asylum island. But on a positive note, he also has a bone to pick with the enemies I'm facing in the battle ahead, so he pledges to help us out as well.
Things are looking good. For the upcoming throwdown in the boneyard I've enlisted the help of the Shadow Thieves, the Order of the Radiant Heart, and Drizzt Do'Urdern and his motley crew. I don't know for sure is this is enough, but it sure sounds good on paper. Next time, to battle!